Most Americans Support Mueller Probe Of Russia, Trump Campaign, And Trump Businesses
Given a choice between Robert Mueller and Donald Trump, most Americans are siding with Mueller. Unless they're Republicans that is.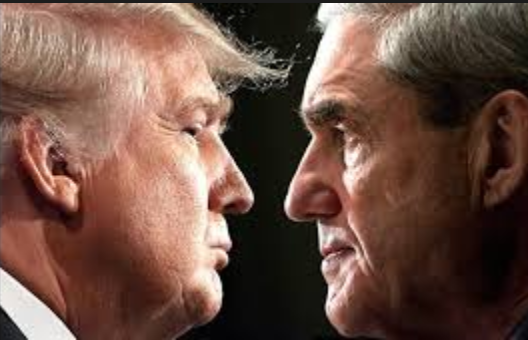 A new ABC News/Washington Post poll finds that most Americans support Special Counsel Robert Mueller's investigation of Russian interference in the 2016 election as well as ties between Russia and the Trump campaign:
A clear majority of Americans support special counsel Robert S. Mueller III's investigation of Russian interference in the 2016 election and alleged collusion with President Trump's campaign, a new Washington Post-ABC News poll finds.

The results show backing for inquiries into Trump's orbit on several fronts.

Nearly 7 in 10 adults say they support Mueller's focus on possible collusion with Russia. Sixty-four percent say they want the special counsel investigating Trump's business activities. And a 58 percent majority supports investigating alleged payments by Trump associates to silence women who say they had affairs with him.

The broad public mandate for Mueller's investigation comes as many Trump allies are calling for the president to thwart the special counsel's work. Trump has considered ousting the Justice Department official overseeing the probe, Deputy Attorney General Rod J. Rosenstein — a move that some Trump associates hope would cripple the inquiry.

Trump this week blasted the Russia investigation as "never ending and corrupt."

(…)

Support for Mueller's investigation also splits sharply across partisan lines. Over half of Republicans oppose the probing of each subject tested in the survey. A narrow 51 percent majority of Republicans oppose Mueller investigating possible collusion between Trump's campaign and the Russian government in 2016, while a larger 62 percent oppose investigation of Trump's businesses, and 64 percent oppose investigating if there were hush-money payments to Trump's alleged mistresses.

Democrats are more united, with over 8 in 10 expressing support for Mueller investigating each issue. Independents undergird support for Mueller's probe, with 7 in 10 saying he should investigate Russian interference, 65 percent saying he should examine Trump's business activity and 59 percent saying he should probe alleged hush-money payments.

Beyond Mueller's probe, a narrow 51 percent majority say the question of whether Trump engaged in a pattern of sexual misconduct is an important issue, while 46 percent say it's not. Opinions overall are fairly similar to two decades ago when Post and ABC polls found nearly half saying repeated misconduct was an important issue for President Bill Clinton.

But the partisan balance has flipped. The share of Republicans saying sexual misconduct by the president is an important issue has fallen from 70 percent under Clinton to 25 percent under Trump, while the issue has grown in importance among Democrats, from 38 percent under Clinton to 75 percent under Trump.

Men and women differ significantly on two questions about Trump's relations with women. Women are 14 percentage points more likely to say it's important whether or not Trump engaged in a pattern of sexual misconduct, 58 percent compared with 44 percent for men. And women are 15 points more likely to support Mueller investigating hush-money payments to women who say they had affairs with Trump, 65 percent to 50 percent.
The tale of the tape can be seen in these two charts, which show the partisan breakdown on questions regarding Mueller's probe of various aspects of the President's business and personal life: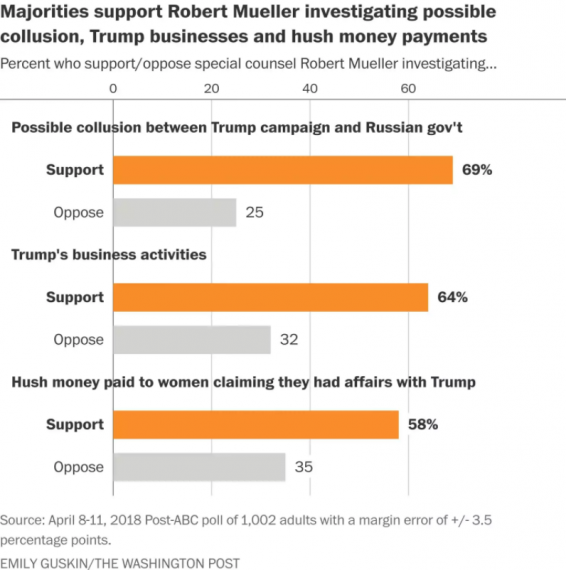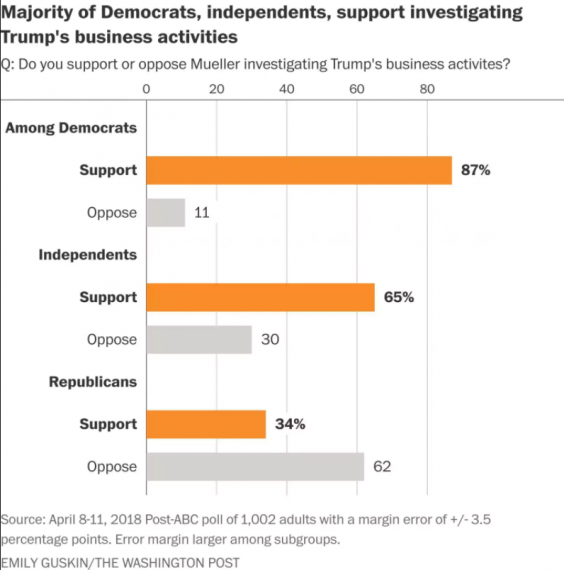 The partisan breakdown isn't surprising, of course. Outside of the small cadre of "NeverTrumpers" that are still out there and making their voices heard, the majority of the Republican Party has turned into a tribe of sycophants, sellouts, and cowards who, along with Trump's fanatical base, are either too craven or too scared to speak out against a clearly unhinged President who seems more interested in protecting himself than governing. This is why we're seeing things such as the President lashing out at James Comey on Twitter, and the rest of the Republican Party is falling in line behind him with a campaign centered around a party-established website called "Lyin' Comey", and it's why we're seeing polling numbers such as these. If it weren't so entirely predictable, it would be utterly predictable.
What all of this suggests, of course, is that the Trump Administration's current strategy of seeking to undermine and obstruct the Mueller investigation will likely continue since it is accomplishing Trump's primary goal of keeping his base together as long as possible. As has been the case since he became a candidate, the President doesn't care about those opposed to him, nor does he really care about the rule of law. The only thing that matters to him is protecting himself and those around him and, of course, feeding the troll army that defends him in the media on a regular basis no matter how outrageous, ridiculous, and potentially even illegal his behavior, rhetoric, and actions may be. This portends a future that is only likely to get more contentious and to test the boundaries of the Rule of Law, the Constitution, and our democratic institution even further than they have been tested over the past fifteen months.