My Fellow Americans, The Problem Is You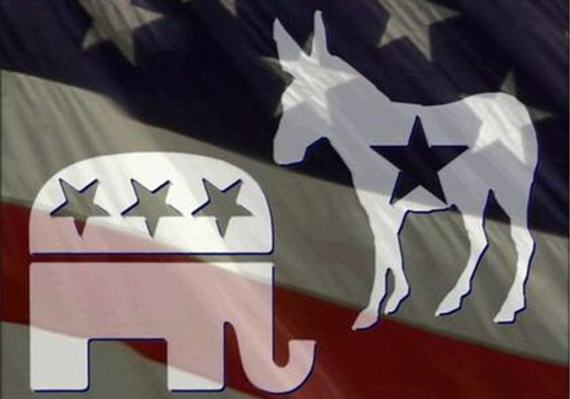 A new Gallup poll, taken before the State Of The Union Address, proves once again that the cause of the Federal Government's fiscal problems is, in the end, the American people:
Prior to the State of the Union address, a majority of Americans said they favor cutting U.S. foreign aid, but more than 6 in 10 opposed cuts to education, Social Security, and Medicare. Smaller majorities objected to cutting programs for the poor, national defense, homeland security, aid to farmers, and funding for the arts and sciences.

In the weeks ahead, Congress and the White House will likely focus on negotiations over government spending and how to cut the federal budget deficit. In addition to broad concerns about the size of the deficit, Congress is under pressure to raise the legal limit on the national debt before U.S. borrowing exceeds the existing limit — or face what Treasury Secretary Tim Geithner describes as "catastrophic economic consequences." Geithner's department predicts the current debt ceiling could be exceeded as early as March 31 of this year.

The new Republican leadership in Congress has indicated it will look for progress on deficit reduction before agreeing to raise the federal debt ceiling, and Americans appear to agree with that point in principle. Half of Americans say the limit on the national debt should be raised only if Congress specifies in advance what measures would be taken to reduce the deficit in the future, compared with 16% who think Congress should raise the debt limit regardless. An additional third of Americans have no opinion on the matter.
The real problem, though, comes when you look at what the public is willing to cut from the budget: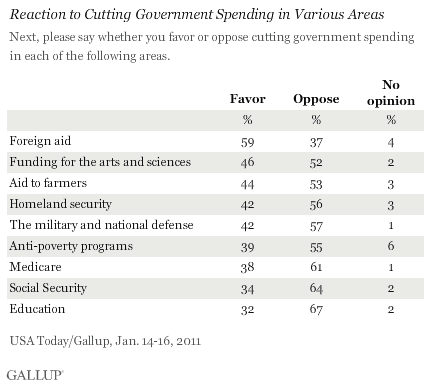 That's right. There's just one area where a majority of the public supports cuts. It's foreign aid and it accounts for about $25 billion out of a $3 trillion budget.. In other words, it amounts to nothing. So, don't blame Washington for our fiscal problems when it's immensely clear that Congress is just following the wishes of the people that elected them.