Navy Fires Captain for Calling Attention to Navy Inaction
A public health crisis turns into a public relations crisis.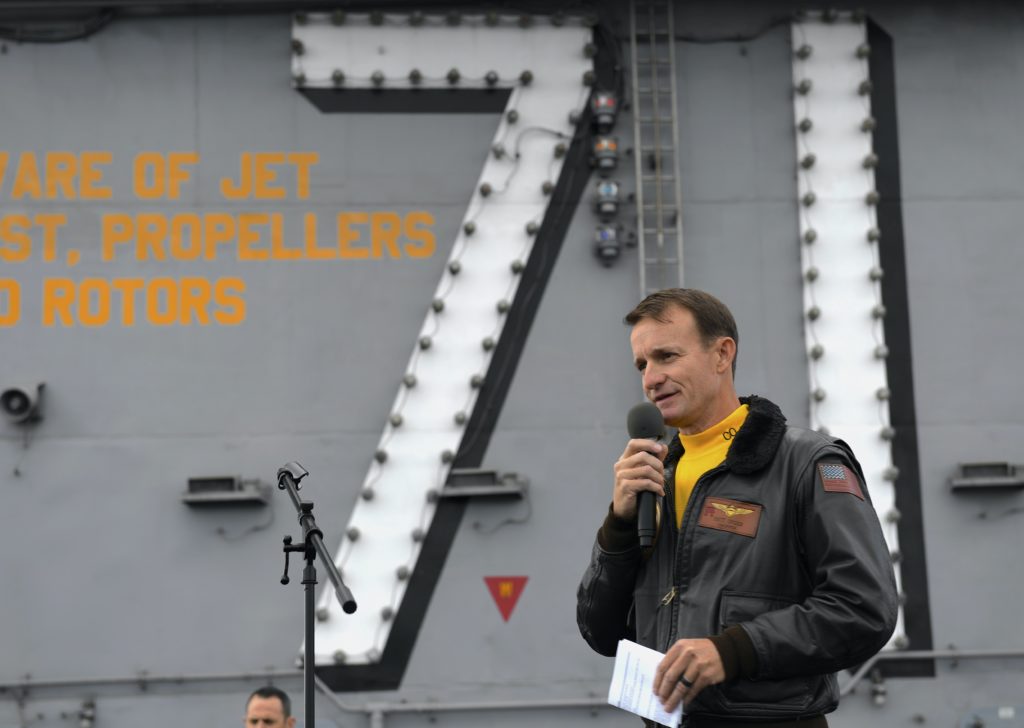 The Acting Secretary of the Navy has lost confidence in the captain of an aircraft carrier whose plea for belp went viral.
Early last week, three sailors from the Teddy Roosevelt tested positive for COVID-19. Navy Times' David Larter ("Sailors on board carrier Theodore Roosevelt test positive for COVID-19"):
Three sailors aboard the carrier Theodore Roosevelt have tested positive for COVID-19, the Navy announced Tuesday, the first cases of the disease caused by the novel coronavirus on a ship underway.

In a press conference with Acting Secretary of the Navy Thomas Modly and Chief of Naval Operations Adm. Michael Gilday, Modly announced the three cases, adding that the service was working on evacuating the sailors as soon as possible.

The spread of COVID-19 on an underway warship raises the frightening prospect of a new cluster of cases among 5,000-plus deployed sailors, and marks a new chapter in the Navy's fight to contain the spread within its ranks. The service has documented nearly 90 cases to date, Modly said.

The Roosevelt was last in port in Da Nang, Vietnam, 15 days ago, Gilday said. The decision to go forward with the port visit in early March was made when Vietnam had only 16 total cases, all isolated in the northern city of Hanoi, he said.
Tuesday, the captain's four-page letter pleading for more urgent action from his superiors leaked to the San Francisco Chronicle ("Exclusive: Captain of aircraft carrier with growing coronavirus outbreak pleads for help from Navy"):
The captain of a nuclear aircraft carrier with more than 100 sailors infected with the coronavirus pleaded Monday with U.S. Navy officials for resources to allow isolation of his entire crew and avoid possible deaths in a situation he described as quickly deteriorating.

[…]

"This will require a political solution but it is the right thing to do," Crozier wrote. "We are not at war. Sailors do not need to die. If we do not act now, we are failing to properly take care of our most trusted asset — our Sailors."

In the four-page letter to senior military officials, Crozier said only a small contingent of infected sailors have been off-boarded. Most of the crew remain aboard the ship, where following official guidelines for 14-day quarantines and social distancing is impossible.

"Due to a warship's inherent limitations of space, we are not doing this," Crozier wrote. "The spread of the disease is ongoing and accelerating."

He asked for "compliant quarantine rooms" on shore in Guam for his entire crew "as soon as possible."

"Removing the majority of personnel from a deployed U.S. nuclear aircraft carrier and isolating them for two weeks may seem like an extraordinary measure. … This is a necessary risk," Crozier wrote. "Keeping over 4,000 young men and women on board the TR is an unnecessary risk and breaks faith with those Sailors entrusted to our care."
Within hours, the Navy was heading his advice. Late yesterday afternoon, he was fired.
USNI's Sam LaGrone ("Carrier Roosevelt CO Relieved Over 'Extremely Poor Judgment' in Creating 'Firestorm' Over COVID-19 Outbreak"):
The carrier commander who warned that his crew didn't have enough resources to fight an accelerating COVID-19 infection aboard his ship, has been relieved of command, Acting Secretary of the Navy Thomas Modly told reporters on Thursday afternoon.

USS Theodore Roosevelt (CVN-71) commander Capt. Brett Crozier showed "extremely poor judgment" in how he sent a message asking his chain of command for more resources to treat and isolate the sailors who had contracted the virus over the last month and continued to spread it amongst the carrier's crew.

Crozier wrote a four-page letter and sent it over an unclassified network to not only his chain of command but also 20 to 30 other people in the service, Modly said.

[…]

Modly told reporters he didn't know if Crozier leaked the letter to the paper, but the manner in which he handled the information called into question his ability to lead the carrier.

"I'm not trying to suggest he leaked information… What I will say is that he sent it out pretty broadly, and he didn't take care that it couldn't be leaked."

The way he sent the letter "demonstrated extremely poor judgment in the middle of a crisis," Modly said. "Because what it's done is, it's created a firestorm. It's created doubts about the ship's ability to go to sea if it needs to. It's created doubt among the families about the health of their sailors, and that was a completely unnecessary thing to do in the midst of the crisis."

Modly went on to say that the letter had caused "panic" on the ship with senior enlisted leaders unable to answer questions from sailors who saw the letter after it was leaked.
JD Simpkins for Navy Times ("Navy fires Theodore Roosevelt skipper following leaked letter pleading for COVID-19 assistance") notes that the backlash has been swift:
Crozier's hasty dismissal prompted immediate backlash from lawmakers in the House Armed Services committee who accused Modly of acting irrationally.

"Throwing the commanding officer overboard without a thorough investigation is not going to solve the growing crisis aboard the USS Theodore Roosevelt," the committee's statement read.

"What's more, we are very concerned about the chilling effect this dismissal will have on commanders throughout the Department of Defense. Dismissing a commanding officer for speaking out on issues critical to the safety of those under their command discourages others from raising similar concerns."
While my initial reaction to the headline—and that of most of the national security professionals I follow on Twitter—was outrage, I'm less certain after reading the explanation.
If Crozier felt the chain of command was unnecessarily risking the lives of his sailors, it was his duty to get the word out. But if he literally didn't talk to his strike group commander before sending out a four-page letter to dozens of people through open channels, that's unconscionable.
And, yes, the letter being leaked to the press and causing panic among families back home as well as aboard the ship was inevitable. Given that Crozier is from down the road from San Francisco and the letter just happened to find its way to the newspaper there, I'm inclined to think he leaked it himself.
But here's the thing. If the Navy's senior leadership was doing everything it could before the letter leaked, why does it seem that they suddenly shifted into a more urgent mode once it did?
I'm sellable on the notion that getting most of the crew off an aircraft carrier in rapid fashion is challenging when it's thousands of miles from home port. But why were they suddenly able to make that happen once the letter leaked?
UPDATE: Bryan McGrath, a retired Navy SWO who has commanded a destroyer offers some thoughts in a Twitter thread. I'm presenting them in paragraph form below:
A thread on the firing of the CO of USS THEODORE ROOSEVELT (CVN 71). I'm not sure any reader is going to be perfectly satisfied by what I write, but that's the way the ball bounces.

Let's start with what we know. An sophisticated, experienced, Naval Officer in command of anuclear powered aircraft carrier drafted a well-written four page letter laying out his assessment of the emergency facing his crew and desired actions of his chain of command to fix them.

We also know that this commanding officer was removed from command on the orders of the acting Secretary of the Navy as a result of the letter having found its way to the open press. We have heard from the @SECNAV, but we have not heard from the CO (CAPT Crozier).

So now, let's move to things we assert, but which we don't know.

First, I believe CAPT Crozier knew when he hit send on the email containing this letter that it could very well result in his being removed from command. Anyone who commands a Navy ship understands that it is not a birthright, and if you ask most who have (I'm one), they'll tell you that they had more than one conversation with themself in which they acknowledged that there were circumstances in which you would take the command at sea pin and put it on your boss's desk and say "I'm out". I think Crozier reached this point. The interesting question to me is why?

Time and thorough investigations will tell, but the most logical explanation is that he HAD done all these things but that the Chain of Command wasn't acting. I cannot judge this, but statement above indicates that prior to the letter being released, he had gotten assurances from the very top that his needs would be met. But I am not certain of the chronology.

But what I AM certain of is that the manner in which the letter was drafted and circulated (on unclasssified networks) without handling markings (at least For Official Use Only) virtually assured that it would be leaked. I am not saying Crozier leaked it. I'm saying the way he wrote and distributed it ensured its wide distribution.

When this matter is thoroughly investigated, it will be useful to understand the degree to which Crozier was or wasn't being well served by the Chain of Command.

Bottom line for me: Crozier did what he thought was right for the safety and health of his crew, he determined that losing command was worth the risk of saving lives, and he let it ride.

Let us now turn to the institutional Navy. A word of insight–I consult to the Navy. What I am writing here is what I think, and if they asked me, which no one has, would have been what I told them. So, the letter hits the press. — and presumably others — are caught by surprise. It instantly becomes a global news story.

They are trying to manage a large and global organization's response to a pandemic. While CAPT Crozier has unimpeachable and unmatched "on scene" insight, he has little or no understanding of the scope and totality of the problem facing Navy leadership. He is doing his job as he sees fit. And so was @secnav

This is the most important point I can get across here. Both Crozier and Modly have done "a" right thing here. I'm not saying there was only one course of action for either of them. I'm saying that among the right answers, each chose one. '

Crozier wrote his letter knowing it would likely mean his firing. Modly fired him likely knowing it would be an unpopular decision. Both men were right. Both men did their jobs. The Navy's institutional reaction to Crozier and his crew's plight was NOT working fast enough on scene.

Given that Crozier did not know what was headed his way or what the breadth of the response was going to be, Modly's removal of him from this job was warranted. The country simply cannot have a Navy in which its commanders are freely communicating their concerns open source,

NO MATTER HOW RIGHT CROZIER WAS IN THIS PARTICULAR CIRCUMSTANCE. Crozier's action got the attention he sought, good things are happening, and the crew is being taken care of. It cost him his command, but as I said, I suspect he knew it would.

I honor his sacrifice, and hope that the Navy continues to pick men and women for command who UNDER EXTRAORDINARY CIRCUMSTANCES do what is necessary to ensure the safety and readiness of their crew and their ship. But the NORM must continue to be using the chain of command and appropriate networks and transmission paths. The NORM must be the chain of command. That NORM must be protected institutionally by those entrusted with its upkeep…men like @SECNAV.

To conclude–I hope that in his place, I would have done what Crozier did. Had I, I would have known that it would be the end of that command. And if I were in Modly's place, I would likely have done exactly what he did. Command is a unique position in the Navy, and an enormous amount of trust is placed in the CO. Crozier appears to have violated that trust. The optics and the narrative are terrible for the Navy right now, and it occurs to me that there were other "right" paths Modly could have taken. But I do not fault him for the decision he made.
That strikes me as right given what we know now. @JimBrown has a similar take in the comments below.
And it comports with my take Tuesday evening when the news of Crozier's letter hit: