New Horizons Flies By Pluto
New Horizons got within just a few thousand miles of Pluto's surface today, and the data it sends back promises to be amazing.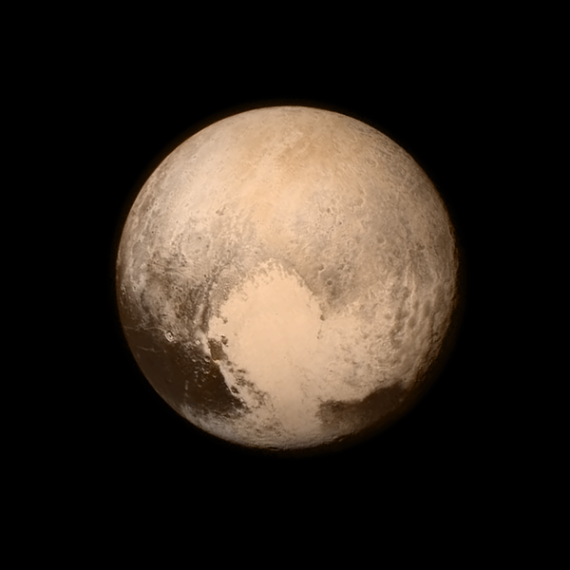 Early this morning, while the East Coast of the United States was still waking up and the West Coast largely still asleep, NASA's New Horizons spacecraft came closer to Pluto than any man made object ever has:
LAUREL, Md. — It was like New Year's Eve in Times Square as the countdown clock ticked down to zero.

"We're going to do our 10-9-8 thing and you can get your flags out," S. Alan Stern, the principal investigator for NASA's New Horizons mission to Plutotold the people gathered at the Johns Hopkins Applied Physics Laboratory here, which is operating the mission. "We're going to go absolutely ape."

At about 7:50 a.m. Tuesday, NASA's New Horizons spacecraft made it closest pass by Pluto, coming within 7,800 miles of the surface.

The crowd, which included the children of Clyde Tombaugh, the astronomer who discovered Pluto in 1930, cheered.

As soon as it arrived, New Horizons. was leaving, speeding along its trajectory at 31,000 miles per hour.

For now, no one knows how the spacecraft is faring.

New Horizons, which is in the middle of 22 hours of automated scientific observations, will not check in with mission controllers for several more hours, with the signal scheduled to arrive on Earth at 8:53 p.m. By tomorrow, the spacecraft will be mostly finished with the data collecting phase of the mission and begin sending back the trove of information for scientists to delve into.

NASA released the newest color picture of Pluto, which was sent down on Monday and offers the clearest view so far.
New Horizons was launched from Cape Canaveral in January 2006 and over the past nine and a half years it has made its journey deep into the Solar System to a destination that has long seemed like one that we'd never reach. As the craft got closer to its destination over the past several weeks, we started seeing more and more detailed photos of a planet that only years before appeared as a blurry afterthought even in a photo taken through the Hubble Space Telescope. The photograph above, for example, was sent by NASA on its Twitter account just hours before this morning's encounter. Even at that distance, you can begin to make out what appear to be formations on the surface of Pluto as well as color variations on the surface that have led some people to find shapes that have the appearance of hearts and other objects. When we are finally able to start seeing the photographs that were taken by New Horizons during its closest approaches in the next 24 hours or so, the detail is likely to be even more stunning and clear. During the post-encounter briefing this morning, for example, one of the mission's scientists said that the image data they had received so far showed clear indications of snow and polar ice caps on the dwarf planet, which would seem to suggest that there's at least some minimal atmosphere surrounding it. We've also gotten much more detailed views of Charon, Pluto's moon which was only discovered in 1978.
Given the fact that Pluto was only discovered in 1930, by Daniel Tombaugh, who is in some sense along for the ride, the fact that we're now flying a craft by it is really one of those extraordinary accomplishments that probably don't get the attention they deserve because they aren't as sexy as the manned space program. In terms of actual science, though, it's rather clear that the unmanned probes that have been sent into the Solar System, largely by the United States, have been far more important to the expansion of human knowledge than the manned program has been. At some point, perhaps, a manned mission will do what Pioneer, Voyager, New Horizons, and other missions have done, and more, but for now these little robots are our best way to find out more about the universe and they're doing a fantastic job.