Newt Gingrich's Improbable Rise
So, how did we get to the point where a fat, condescending, serial adulterer who left office in disgrace twelve years ago is the latest challenger for the conservative mantle?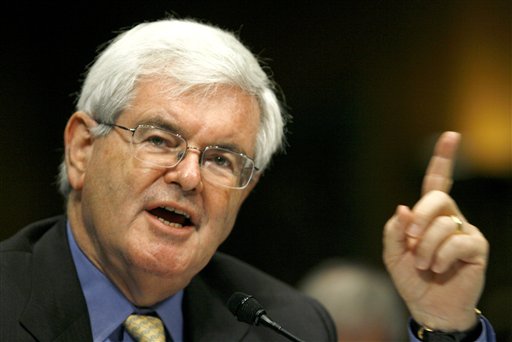 Newt Gingrich has pronounced himself a "co-frontrunner" for the Republican nomination. The polls bear him out. So, how did we get to the point where a fat, condescending, serial adulterer who left office in disgrace twelve years ago is the latest challenger for the conservative mantle?
The Atlantic's Molly Ball argues that there's been a pattern to the Not Romneys:
The revolving-door nature of the 2012 Republican primary has been much noted. But it's not Groundhog Day. Conservative voters don't wake up every day with no memory of what came before and then decide en masse, like goldfish, that there's some new candidate they want to reward with their momentary favor.

Rather, it helps to consider each candidate who's found temporary favor as a reaction to what came before. Michele Bachmann was legitimate, compared to Donald Trump, and authentically passionate, compared to Tim Pawlenty. But she lacked heavyweight experience — so along came Rick Perry. Perry had a great resume, but he was a terrible salesman, so Herman Cain, the ultimate salesman, came along. Cain, though, ultimately couldn't be taken seriously, and he was too much of an unknown quantity.

Gingrich, whose persona is multifarious, manages to embody the response to all the the flawed contenders who preceded him. He has the credentials Bachmann lacks. He's articulate, and then some, as Perry is not. Unlike Cain, he's already been vetted — his baggage, though ample, is already well known. As Garp says after watching a plane hit the house he wants to buy in the movie version of The World According to Garp: "It's pre-disastered. We're safe here."
Well, he's certainly that. And, in fairness, while the path to his getting the nomination, much less defeating President Obama, is hard to envision, Gingrich is actually qualified for the office in a way that the other Not Romneys were not. Gingrich toots his own horn:
"None of them have the national experience and depth that I do," he said. "I think that what I've done for 53 years is a solid, intense effort to find out what America needs and how to explain it and implement it."
Gingrich is a bright guy who's voraciously interested in ideas and the world around him. He has his PhD in European history from Tulane. He served 20 years in Congress, the last 6 of them as Speaker. He's written more books than some of his opponents have read. So, he's by far the most plausible of the Not Romneys to emerge thus far.
The reasons most of us have written him off are manifold.
First, he's got a long history of morally dubious behavior. The circumstances surrounding his two divorces are disturbing. While the first is the stuff of urban legend, I'm actually much more troubled by the second which occurred when he was a middle aged man serving as Speaker of the House and leading the impeachment of a president for minor crimes surround his own affairs. And then there is the flurry of ethics charges while he was in Congress and his questionable lobbying activities afterwards.
Second, he's simply not a good manager–which is a serious issue for someone vying to run the executive branch of our government. He's a shrewd tactical politician and, while some might question those tactics, he was instrumental in taking over the House for the Republicans after decades of Democratic control. But he was horrendously bad as Speaker, allowing Bill Clinton to come back from the dead by the sheer ineptitude of his decisions.
Third, his prickly personality and ego issues are not conducive to either a general election campaign or four years in the White House. Not only is he decidedly not a guy most people would like to have a beer with, he's genuinely unlikable at times.
Fourth, his moment passed quite some time ago. One gets the sense that he's ready to dust off the Contract With America again.
Fifth, he's hardly an antidote to Mitt Romney's serial flip-flopping. While Romney has certainly taken different positions as a candidate for the presidential nomination of a conservative political party than he did as a candidate for and governor of one of the most liberal states in the country, Gingrich has often taken three contradictory positions on the same topic in a given week.
Gingrich is an interesting character and it's good to have him in the race. But it's virtually inconceivable that he'll overcome his flaws to win the nomination. I honestly can't see him winning Iowa or New Hampshire. And we're running dangerously low on Not Romneys.