Gingrich Nearly Tied With Romney In New Hampshire? Don't Be So Sure Just Yet
A new poll appears to show Newt Gingrich surging in New Hampshire, but there are several caveats to take into account.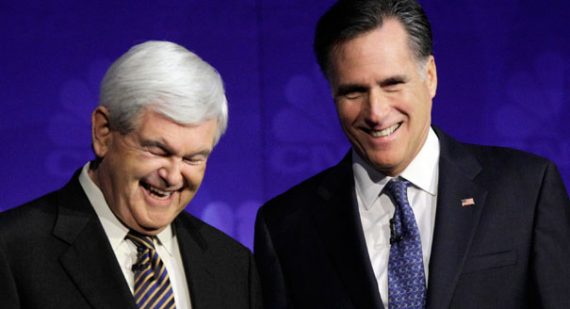 A new poll from NH Journal is drawing a lot of attention this afternoon because it shows something truly shocking, that Mitt Romney's once massive lead in New Hampshire has supposedly collapsed to the point where he now leads Newt Gingrich by only 2 points:
The latest NH Journal poll of likely Republican primary voters conducted by Magellan Strategies shows Romney and Gingrich in a statistical dead heat for the January 10th primary. If the election were held today, Romney would earn 29% of the vote and Gingrich would earn 27%. Texas Congressman Ron Paul continues to show resolve by earning 16%. Herman Cain gets 10%. No other candidate is in double digits.

This is the first time any of NH Journal's polls have shown anyone candidate even close to Romney. It also shows tremendous movement for Gingrich since NH Journal's October survey, in which Gingrich was in third place, but at only 10% versus Romney's 41%. …

A close look at the data shows Gingrich is actually leading Romney among certain important subgroups of the electorate. Among self-identified conservative voters, Gingrich beats Romney 34%-27%. Among self-identified tea party voters, he leads Romney 38%-21%.

However, Romney has a wide lead over Gingrich among Undeclared voters, who give the former Massachusetts Governor 29% over Paul's 19% and Gingrich's 18%. There is also a significant gender gap for both Romney and Gingrich. Romney beats Gingrich 33%-22% among women while Gingrich defeats Romney 32%-24% among men.
These are truly astounding numbers, because every previous poll of New Hampshire Republicans has shown Mitt Romney with a massive and seemingly insurmountable lead for Mitt Romney. A Bloomberg poll released earlier this week showed him with a 23 point lead, a Rasmussen poll had him with a 24 point lead, and a CNN/ORC poll had him with a 27 point lead. All these polls were conducted within the past three weeks. If the NH Journal/Magellan poll is accurate then, Mitt Romney has lost nearly all his lead in a state that has been his virtual second home for nearly four years to, of all people, Newt Gingrich. If it's true and if it were to hold up through January 10th, then it could be a problem for Romney. A loss in New Hampshire would likely be just as fatal to his campaign as his failure to catch on in the early primaries in 2008 had been. And the race for the GOP nomination in 2012 would be thrown into real chaos.
However, there a few things about this poll that should at least give some pause before declaring it definitive. For one thing, it is so different from what we've seen to date that the first instinct would be to think that it's an outlier. As Scott Conroy of RealClearPolitics said on Twitter this morning, it seems advisable to wait for more polling in New Hampshire before declaring that we've got a sea change here. Steven Shephard, the Polling Director for National Journal's Hotline, makes some more substantive criticisms of the poll that are worth noting. For one thing, the Magellan poll is a robocall poll that only dials land lines, which have been known to have accuracy problems in recent years. For another, there are discrepancies between the 2008 GOP Primary Exit Polls and and Magellan's reported sample demographics that make one wonder about it's reliability.
To see what Shephard it's getting at, let's compare the gender breakdowns from the 2008 GOP Primary Exit Poll, the Magellan Poll, and the recent Bloomberg poll of New Hampshire [PDF]
Here's the Exit Poll:

18-24 age group — 9% of voters
25-29 age group — 5% of voters
30-39 age group — 15% of voters
40-49 age group — 23% of voters
50-64 age group — 34% of voters
65+ age group — 15% of voters

Here's the Bloomberg Poll:

18-24 age group — 12% of respondents
25-34 age group — 14% of respondents
34-44 age group — 18% of respondents
45-54 age group — 22% of respondents
55-64 age group — 17% of respondents
65+ age group — 17% of respondents

Here's Magellan:

18-34 age group — 7% of respondents
35-44 age group — 15% of respondents
45-54 age group — 27% of respondents
55-64 age group — 23% of respondents
65+ age group — 28% of respondents
The analysis would be easier if the age groups from the three surveys matched up, but I think the differences between the three are fairly apparent. Magellan says it's poll is properly weighted based on past voter turnout but, based on these numbers alone, it seems pretty clear that they have a sample that is more heavily weighted toward an older demographic than either the Bloomberg Poll released only five days ago, or the 2008 Exit Poll. As noted above, that's most likely due to the fact that their polling methods tend to skip over younger voters and people who no longer have a landline. At the very least then, I would think it wise to wait for another poll or two in New Hampshire before saying that Gingrich is really threatening Mitt Romney in the one state in which he appeared, until now, to have an built an impenetrable fortress.