NLRB Official Rules Football Players At Northwestern Can Unionize
Are student athletes employees? According to an NLRB hearing officer they are, but that's hardly the end of the story.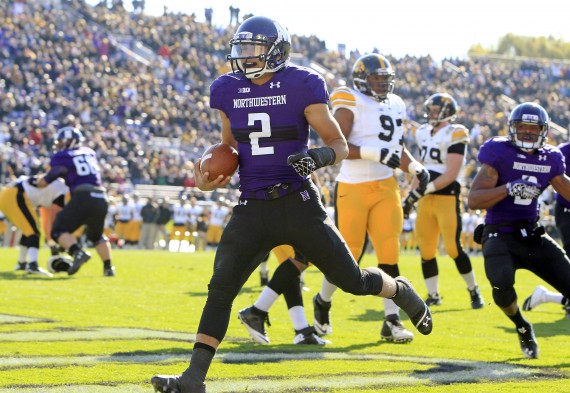 In a decision that is likely to send some shockwaves through college athletics, politics, and  legal circles, an official of the National Labor Relations Board has ruled that football players at Northwestern University can unionize:
Northwestern University football players are employees of the school and are therefore entitled to a union election, Peter Sung Ohr, the regional director of the National Labor Relations Board, said in a ruling released Wednesday afternoon.

The stunning decision has the potential to alter dramatically the world of big-time college sports in which the National Collegiate Athletic Association and the universities strike the deals and set the rules, exerting control over the activities of the players known as "student athletes."

But now they are employees, too, according to the NLRB decision, which will be appealed.

In siding with the union, Ohr said the football players primarily have an economic relationship with the university, which controls and directs their daily activities and compensates them in the form of scholarships.

"The record makes clear that the Employer's scholarship players are identified and recruited in the first instance because of their football prowess and not because of their academic achievement in high school," Ohr wrote.

Football players, he said, are subject to special rules and policies that do got govern the general student population. For example, he said, freshmen and sophomore students on scholarships are required to live on campus. Upperclassmen, he added, can live off campus but are required to submit their lease for approval to their coach, Pat Fitzgerald.

"Even the players' academic lives are controlled as evidenced by the fact that they are required to attend study hall if they fail to maintain a certain grade point average (GPA) in their classes," Ohr wrote.
It's worth noting, of course, that many of these restrictions and regulations that student athletes must comply with exist because of rules imposed by the NCAA, not because of specific rules set by individual schools. To a large degree, those rules are supposedly designed to ensure that the students aren't being illegally compensated by the school, or by alumni with ties to the school, as well as to eliminate as best as possible opportunities for the games themselves to become corrupted. Why those rules, imposed by an outside body, should at all be relevant to the question of whether or not these student athletes are "employees" is, quite honestly, beyond me. Additionally, the fact remains that these are students we're talking about here. Leaving aside the fact that at many schools athletics brings in a lot of money, at the end of the day the men and women who this ruling would apply to are college students who happen to play sports. Outside of their athletic scholarship, they get no extra compensation for being athletes and, indeed, most of them are likely to never play a sport again after college. Calling them employees for purposes of the National Labor Relations Act seems to be a perversion of the word to such an extent as to render it nearly meaningless.
As noted in the linked article, this decision is subject to appeal. As  preliminary matter, it will be appealed to the full National Labor Relations Board in Washington and, beyond that, it is also potentially subject to review by the appropriate United States Circuit Court of Appeals and quite possibly the Supreme Court itself. So, this is hardly the last word on the matter and there seems a fairly good chance that this decision will ultimately end up being reversed on appeal. Nonetheless, we're likely to see this echo through the world of college sports for some time to come, and the consequences for athletic programs at schools where revenue from sports is quite low could be dire indeed.