No 'Blue Wave' But Democrats Retake House
The 2018 midterms were mostly about Donald Trump. The results were idiosyncratic.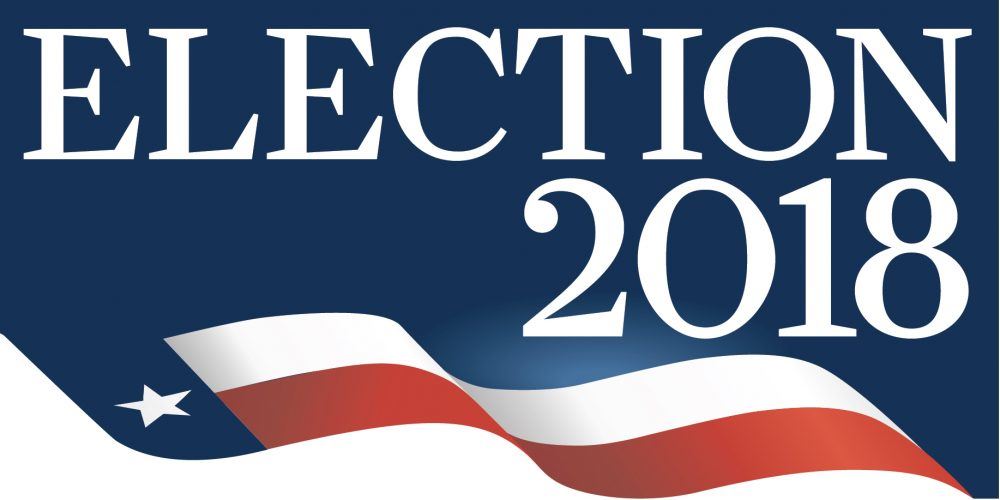 Democrats won twice as many Republican-held seats as they need to retake the House of Representatives and act as a check on President Donald Trump. It was also a night of firsts for minority and LQBTQ groups. Yet the results of Senate and gubernatorial races followed no obvious national pattern.
Propelled by an unprecedented surge of rank-and-file enthusiasm and widespread urban and suburban dissatisfaction with President Trump, Democrats took control of the House of Representatives for the first time since 2011.

The party was even projected to gain more seats than in 2006, the year they delivered what then-President George W. Bush described as a "thumping."

"Thanks to you, we owned the ground," House Minority Leader Nancy Pelosi — likely the next House speaker — said Tuesday night. "Thanks to you, tomorrow will be a new day in America."

Yet with victories in Tennessee, Indiana, North Dakota, Missouri, Florida and Texas, Donald Trump's Republican Party extended its majority in the U.S. Senate, capitalizing on a lopsided battlefield that forced Democrats to defend 10 seats in states Trump won in 2016.

[…]

As the last ballots trickled in, it became clear that America's verdict wasn't mixed so much as divided. The red, rural parts of the country voted heavily Republican. The blue, urban parts voted heavily Democrat. And the purple, suburban areas leaned leftward — far enough to flip dozens of suburban GOP House districts, but not far enough to save moderate Democratic senators such as Claire McCaskill and Joe Donnelly in conservative strongholds such as Missouri and Indiana.

Winning the Senate was always a long shot. Still, the party was depending on Donnelly, McCaskill and Florida's Bill Nelson to hold their seats, and hoping that Phil Bredesen, a popular and moderate former governor, could eke out a win against GOP Rep. Marsha Blackburn. In Texas, Democrat Beto O'Rourke became a folk hero for liberals who thought he might defy gravity and defeat Sen. Ted Cruz, the Republican incumbent.

It was not to be.

Democrats faced serious hurdles this cycle. Republicans largely oversaw the last round of redistricting, redrawing the congressional map in ways that force Democrats to win the national popular vote by seven or more percentage points just to secure a bare House majority. On the Senate side, Democrats were defending 26 seats to the GOP's nine — by far the most difficult map either party has faced in decades. Republicans in some red states passed a set of restrictive voting laws that disproportionately handicap Democratic constituencies. Finally, the economy is humming and unemployment has fallen to a 48-year low — factors that traditionally boost the party in power.
USA Today compiled several "historic firsts for women and minority candidates in 2018":
Jared Polis: First openly gay man to win a governor's race
Polis was elected governor of Colorado. He previously served in the U.S. House.

Alexandria Ocasio-Cortez: Youngest woman elected to Congress
The New York activist and Democrat, 29, cruised to victory after upsetting established Democrat Rep. Joe Crowley in the primary race.

Minnesota's Ilhan Omar and Michigan's Rashid Tlaib: First Muslim women in Congress
Minnesota voters elected Omar, and Michigan voters elected Tlaib. Omar also became Minnesota's first Somali-American legislator and the first woman of color elected to Congress from the state.

Ayanna Pressley: Massachusetts' first black congresswoman
Previously, Pressley became first black woman elected to the Boston City Council. She ran unopposed in Tuesday's election.

Deb Haaland and Sharice Davids: first Native American congresswomen
Haaland is a New Mexico Democrat and member of the Pueblo of Laguna tribe. Davids is a Kansas Democrat and member of the Ho-Chunk Nation; she is also Kansas' first LGBTQ member of Congress.

Michelle Lujan Grisham: New Mexico's first Latina governor
New Mexico Rep. Michelle Lujan Grisham also became the first Democratic Latina governor in the country. New Mexico Gov. Susana Martinez, a Republican, was the first Latina governor.
CNN's exit polls confirm that Trump was on most voters' minds:
Two-thirds of voters say their vote in today's congressional election is about Donald Trump, according to early exit polls, and more say they're showing up at the polls to express opposition than support for the President. The President's approval rating is net negative among the nation's voters, and more say things in the country are on the wrong track than that they are going in the right direction. Still, nearly 7 in 10 say the economy is in good shape, and those who say their personal finances are in better shape now than two years ago outnumber those who feel their finances have worsened.

About 4 in 10 voters turning out to vote across the country choose health care as the most important problem facing the country, and more, 7 in 10, say the nation's health care system needs major changes. About 2 in 10 each choose the economy and immigration as their top issue, and 1 in 10 say it's gun policy.
Among the interesting results: Democrat Heidi Heitkamp's courageous stand against Brett Kavanaugh likely didn't matter; she was simply crushed in her re-election bid in North Dakota.
The governor's races matter least in terms of the national picture, yet provided some of the most interesting contests. Tennessee pitted two very strong candidates against one another but the Republican woman easily bested the former Democratic governor. Republican Larry Hogan easily won re-election in blue Maryland.
There were some satisfying outcomes, wherein rather unsavory characters were defeated. Scott Walker, who was leading big when I went to bed last night, lost. Republican firebrand Kris Kobach lost in deep red Kansas. Joe Manchin, perhaps the only conservative Democrat left in national politics, handily won re-election in red West Virginia. Way down ballot, Kim Davis, the clerk who made national news for refusing to sign marriage licenses for gay couples, lost to Democrat in deep red Kentucky. Dana Rohrabacher seems to have lost his House seat in a mini-wave in California.
Alas, Ted Cruz won (as expected) over Beto O'Rourke, whose popularity nationally (including in my Virginia neighborhood) didn't translate into enough votes in deep red Texas. Brian Kemp's voter suppression campaign in Georgia was more than enough to overcome even Oprah Winfrey's intervention. Ron Desantis' racist dog whistles seem to have worked; then again Andrew Gillum was likely too progressive for red-leaning Florida.