No, Joe Biden Should Not Make A Single Term Pledge
Some reports are indicating that Joe Biden's campaign is considering making a pledge that he would only serve a single term if elected. This would be a mistake.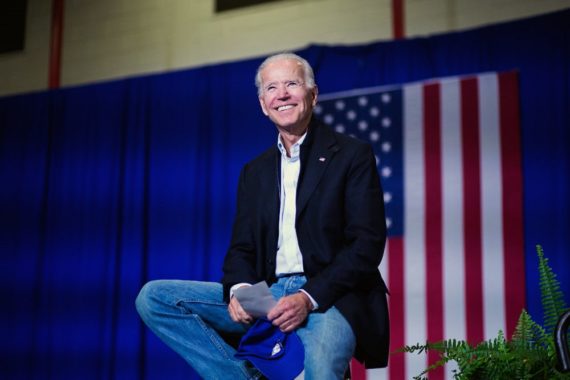 Politico is reporting that former Vice-President Biden and his advisers are weighing the idea of pledging to only serve a single term in office, in what seems like an acknowledgment that his age might otherwise be an issue in the primary fight or in the General Election:
Former Vice President Joe Biden's top advisers and prominent Democrats outside the Biden campaign have recently revived a long-running debate whether Biden should publicly pledge to serve only one term, with Biden himself signaling to aides that he will serve only a single term.

While the option of making a public pledge remains available, Biden has for now settled on an alternative strategy: quietly indicate that he will almost certainly not run for a second term while declining to make a promise that he and his advisers fear could turn him into a lame duck and sap him of his political capital.

According to four people who regularly talk to Biden, all of whom asked for anonymity to discuss internal campaign matters, it is virtually inconceivable that he will run for re-election in 2024, when he would be the first octogenarian president.

"If Biden is elected," a prominent adviser to the campaign said, "he's going to be 82 years old in four years and he won't be running for reelection."

The adviser argued that public acknowledgment of that reality could help Biden assuage younger voters, especially on the left, who are unexcited by his candidacy and fear that his nomination would serve as an eight-year roadblock to the next generation of Democrats.

By signaling that he will serve just one term and choosing a running mate and Cabinet that is young and diverse, Biden could offer himself to the Democratic primary electorate as the candidate best suited to defeat Trump as well as the candidate who can usher into power the party's fresh faces.

"This makes Biden a good transition figure," the adviser said. "I'd love to have an election this year for the next generation of leaders, but if I have to wait four years [in order to] to get rid of Trump, I'm willing to do it."
Another top Biden adviser put it this way: "He's going into this thinking, 'I want to find a running mate I can turn things over to after four years but if that's not possible or doesn't happen then I'll run for re-election.' But he's not going to publicly make a one term pledge."

In elite Democratic circles, conversations about Biden's age and whether to address it with a one-term pledge have become more urgent in recent weeks as Biden has solidified his once shaky standing in the Democratic primaries.

(…)

[F]or now, Biden remains the favorite, a fact that even the online betting markets, which were wildly bullish on Warren from September through November, now acknowledge.

And so the question of how to address Biden's age, which may be the candidate's most significant liability, and the related question of the lack of enthusiasm for Biden's candidacy among the activist wing of their party, has once again seized Democrats.

A top Biden adviser said that Biden ruled out a one-term pledge when the issue was raised before he even entered the race. "He said it was a nonstarter," the adviser said, adding that Biden believed it was a "gimmick."
The focus on the issue of Biden's age is, of course, understandable. Assuming he wins the nomination, he'll be 77 years old on Election Day 2020, three years older than the President and older than the nominee of any major party in American history. If he wins, he'll be 78 years old on Inauguration Day. Looking further ahead, he would be 81 years old on Election Day 2024 and 82 on Inauguration Day should he run for and win a second term. That would make him 86 on his last day in office after a full eight years in office, just four years short of the age that the oldest living former President is today. While he has been healthy in recent years, he has had his own run-in with health issues in the past, including a brain aneurysm in 1988 that kept him out of the Senate for seven months. Obviously, because of all of this, Biden's physical fitness for office and the unspoken issue of his ability to serve two full four-year terms are legitimate questions for voters that Biden does need to address.
All that being said, it would be a mistake for Biden to say, or even imply, that he would only serve a single term if he won the General Election. As a pre-election stunt, it would arguably undercut his argument that he is ready to take up the Presidency even at this current age and hand to Trump and the GOP an issue that they otherwise would not be able to effectively raise. One could imagine, for example, the GOP and the President saying that Biden has already admitted he's not up to the task of being President. They're probably going to raise that argument anyway, but there's no need for Biden to hand it to them with a seeming admission that he might not be up to the job he's running for.
An additional reason for Biden to refrain from making such a pledge is the fact that it would essentially mean that he'd be a lame-duck President from Day One. Even if Democrats maintained control of the House and won back the Senate, that would weaken his ability to advance his agenda as President. On the international stage, it would raise questions of just how permanent any change a Biden Adminsitration would make to American foreign policy might be. Which would make it harder for Biden to repair the damage that this President has done in innumerable parts of the world.
For these reasons, making a single term pledge would be foolish on Biden's part.
That being said, Biden does need to address the age issue at some point, and will most certainly have to address it if he becomes the Democratic nominee. He can do that first of all by releasing his health records, something he has pledged to do but has not yet done. If he does become the nominee, then he needs to pick a running mate that recognizes the possibility that he might not complete his term, or that health issues could require such a potential Vice-President to step in to act in his stead for even a limited amount of time. Biden's close friend, the late John McCain, was faced with that task in 2008 and failed badly. Biden would do well not to repeat that mistake.