No, Newt Gingrich Isn't Going To Drop Out
It looks like we'll have Newt Gingrich to kick around for awhile.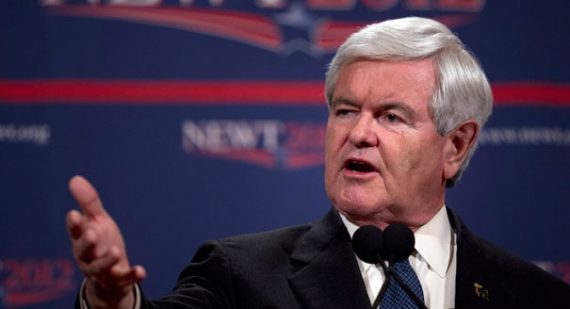 Ever since Tuesday's primaries in Alabama and Mississippi, there's been a back-and-forth discussion among GOP pundits, and the spokespersons for the various campaigns about the fate of the Newt Gingrich Campaign. In a rational universe, Gingrich would drop out of the race at this point. He's won two states out of the 30 contests that we've had since the beginning of voting in January, with one of those being the state he had represented in Congress for 20-odd years. He's third in the delegate race and has an even less likely chance of catching up to Mitt Romney than Santorum does, and he's third in the national polls, with numbers only slightly better than Ron Paul. Once again, there are rumors that Shelly Adelson is on the verge of cutting off donations to his SuperPAC. Faced with this situation, any other candidate with cut their losses, but Newt Gingrich isn't any other candidate:
Despite increasing calls from some Republicans for him to get out of the race for the presidential nomination, Newt Gingrich continued to insist on Friday that he will remain battling all the way to the convention in Tampa, Fla.

Asked on CBS's This Morning "under what circumstances" he would end his campaign before the convention, Gingrich responded: "Probably none." He told host Charlie Rose, "I'll be with you in Tampa, Charlie," adding, "I have 176,000 donors at Newt.org. They want me to stay in the race."

On a later appearance on Fox News' Fox & Friends, Gingrich said voters in Illinois were telling him to stay in the race. "I think the people who are supporting me want to have sort of a Reagan-like visionary, a big ideas candidate," he said.
It's pointless to try to evaluate Gingrich through traditional political parameters, because Gingrich is not a normal politician. If he were, he would have been out of the race weeks ago. If he really wanted to give a conservative the chance to take Mitt Romney one on one, he'd drop out race now and let Rick Santorum, who has a more realistic shot at Romney than he'll ever will, take Romney. But he's not doing that. I can't believe that it's because he wants to sell more books or something, because at this point he's actually risking annoying conservatives rather than staying in. Instead, it seems rather clear that Gingrich believes he has another comeback in him despite all the evidence to the contrary. He also seems to believe that only he can take on Romney and Obama. Remember, this is a guy who's said that he was running for President to save American civilization. Someone who says that isn't just using hyperbole, they actually believe that they are better than everyone else and destined to be one of history's "Great Men." That kind of arrogance is one of the many reasons I've never really liked Newt Gingrich.
Gingrich is at least somewhat realistic, though, he's basically giving up on Tuesday's Illinois Primary where he is presently trailing Romney and Santorum by 20 points. But that doesn't mean he's giving up, though, he's just convinced himself that the secret to his comeback lies in the south by concentrating on next Saturday's Louisiana primary, and he's doing so by returning to that Gingrich-ian arrogance I was referring to:
"I am going to fine-tune my message to say that 'without vision the people perish,' " Gingrich said Thursday, quoting Scripture while touring a manufacturing plant here. Gingrich's trip to Illinois was essentially a layover for the campaign before heading to Louisiana, which has a primary more than a week away.

(…)

"Louisiana is sort of halftime," Gingrich said. "I want to see if we can't reset this race around really big ideas and really big solutions and insist the American people have the chance to vote for a dramatically different future."

During speeches here, Gingrich invoked such presidents as Abraham Lincoln, Ronald Reagan and John F. Kennedy, bemoaning to a high school audience Thursday that Kennedy's vision for space exploration was lauded while his dream of moon colonization was lampooned.

"We have to go back to being an America that has big dreams and then liberates the American people to chase their dreams," he told the crowd of several hundred.
And of course, Newt Gingrich is the only man who can do that, he'll tell them. It's not going to work, of course. Even if Gingrich manages to win Louisiana, which is by no means  clear, where does he go from there? He's not going to be competitive in any of the big primaries in April and May and his influence is going to recede as Romney and Santorum pile up the delegates. Even in the unlikely event of a contested convention, his influence will not be anywhere near what he thinks it will be, and there is no chance at all that he'd end up being the nominee, or even on the ticket. But don't tell Newt Gingrich that, he's convinced himself he can win and he's not getting out of the race.