North Carolina Elections Board Orders New Election In Tainted Congressional Election
A North Carolina Congressional Election that was tainted by Absentee Ballot Fraud will be redone.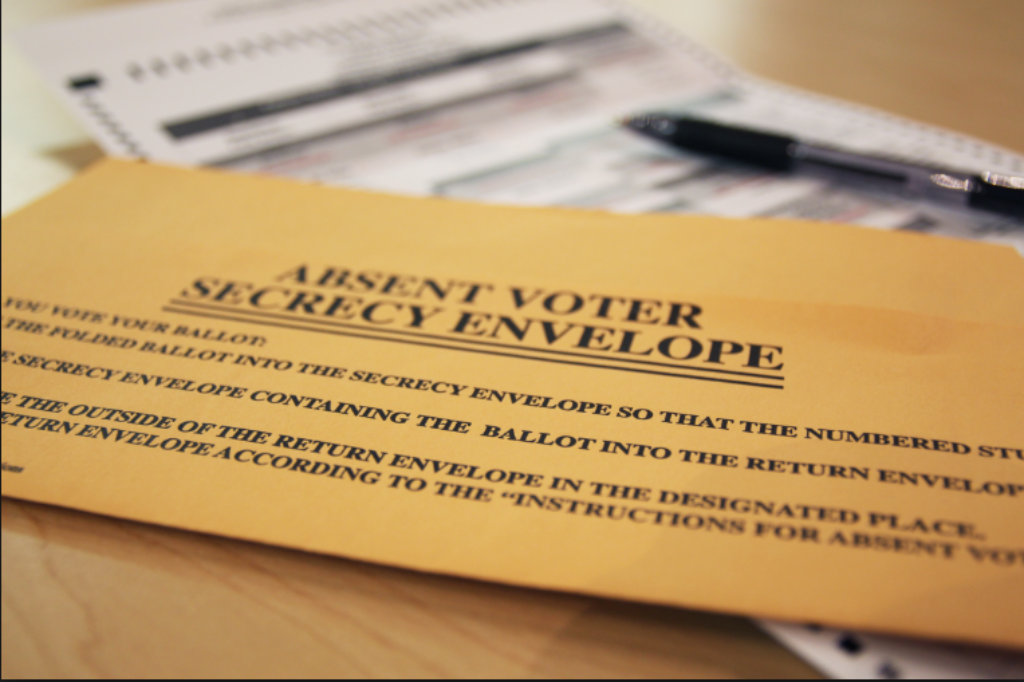 A North Carolina State Elections Board has taken the extraordinary step late yesterday of ordering a new election in a Congressional District where last November's outcome, which showed a narrow win by the Republican candidate, was tainted by accusations of voter fraud that some witnesses claimed the GOP candidate was aware of:
RALEIGH, N.C. — North Carolina officials on Thursday ordered a new contest in the Ninth Congressional District after the Republican candidate, confronted by evidence that his campaign had financed an illegal voter-turnout effort, called for a new election.

The unanimous ruling by the five-member Board of Elections was a startling — and, for Republicans, embarrassing — conclusion to a case that has convulsed North Carolina since November.

And it followed testimony that outlined how a political operative had orchestrated an absentee ballot scheme to try to sway the race in favor of Mark Harris, the Republican candidate. It is now the single undecided House contest in last year's midterms.

Robert Cordle, the state board's chairman, cited "the corruption, the absolute mess with the absentee ballots" when he called for a new election. "It was certainly a tainted election," he said.

Mr. Harris had a 905-vote lead over his Democratic opponent, Dan McCready, but his success in Bladen County — where he won 61 percent of absentee ballots even though Republicans there accounted for just 19 percent of them — alarmed regulators.

When he finally took the stand Thursday morning, Mr. Harris denied knowing of any wrongdoing in the voter-turnout effort led by L. McCrae Dowless Jr., a veteran political operative known as a local "guru of elections."

But in a series of questions, Mr. Harris stumbled and appeared to mislead the board. When he returned to the crowded courtroom after a lunch recess, he asked whether he could read a statement. He apologized to the board and explained that recent medical issues, including two strokes, had impaired his abilities and recall.

And then he asked for a new election.

"It's become clear to me that the public's confidence in the Ninth District's general election has been undermined to an extent that a new election is warranted," Mr. Harris said to audible gasps.

Mr. Harris's surprise announcement represented an abrupt collapse of the Republican effort to stave off a new vote in the Ninth, which includes part of Charlotte and runs through much of southeastern North Carolina.

His political surrender came after a damaging 24 hours for him and his supporters. He acknowledged that some of his testimony on Thursday morning had been "incorrect." Hours earlier, state officials had accused the Harris campaign of withholding incriminating records that were subpoenaed months ago.

The board's decision will leave the Ninth District without representation in Congress for at least several months. It was not clear whether Mr. Harris would run in the new election, which has not been scheduled.

Mr. McCready said, "Today was a great step forward for democracy in North Carolina."

"From the moment the first vote was stolen in North Carolina, from the moment the first voice was silenced by election fraud, the people have deserved justice," he said.
The decision to order a new election, which as noted followed a last minute flip by the GOP candidate, who had been insisting that he was entirely unaware of any wrongdoing associated with the collection of absentee ballots, came at the end of a dramatic week of testimony that included the candidate's own son essentially testifying against him:
The Ninth District controversy ranks among the highest-profile examples of modern election fraud, and also underscores how absentee ballots remain susceptible to abuse.

Witnesses this week have described an enterprise that was rife with misconduct, including the collection and completion of absentee ballots. Witnesses said that both actions, which are illegal in North Carolina, had occurred repeatedly.

(…)

For Mr. Harris's campaign, the hearing was disastrous from its opening moments, when Kim Strach, the executive director of the state board, said investigators had found "a coordinated, unlawful and substantially resourced absentee ballot scheme" that appeared to have cost tens of thousands of dollars.

Two witnesses described an array of misdeeds that they committed at Mr. Dowless's behest — accounts that observers believed that, on their own, might have been enough to warrant a new election. But the state's investigators had a surprise witness: one of Mr. Harris's sons, John Harris, a 29-year-old Justice Department lawyer who, as a high school student, had been elected president of the honor council.

In testimony before a riveted courtroom on Wednesday, the younger Mr. Harris said he had been wary of Mr. Dowless after analyzing returns in the 2016 election. In an email the day after Mr. Harris and Mr. Dowless met, John Harris explained the stakes.

"The key thing that I am fairly certain they do that is illegal is that they collected the completed absentee ballots and mail them all at once," John Harris wrote in an email that he shared with investigators — a document his father's campaign had not done weeks ago, when it said it had complied with a subpoena's demands.

Even though John Harris explicitly noted that he did not believe his father had known of any specific misconduct last year, the email and the testimony crippled the Harris campaign's assertion that there had been no grounds to be suspicious of Mr. Dowless or his methods.

"I love my dad, and I love my mom," John Harris said in his closing remarks, as his father wept. "I certainly have no vendetta against them, no family scores to settle. I think they made mistakes in this process, and they certainly did things differently than I would have done them."

Out of public view, Mark Harris's perils were mounting. Just before his son climbed the witness stand, the campaign's counsel acknowledged that they had more undisclosed documents to share with investigators. That revelation, which a lawyer for Mr. Harris attributed to differing interpretations over a subpoena's scope, stunned state officials.
More from the Charlotte News & Observer:
After a stunning reversal by Republican Mark Harris, North Carolina election officials Thursday unanimously ordered a new election in the 9th Congressional District, which has gained national attention as the last unresolved House race for the 2018 election.

The state elections board's vote came after four days of testimony about what the board's staff called "a coordinated, unlawful, and substantially resourced absentee ballot scheme" in Bladen and Robeson counties. And it came less than an hour after a startling announcement by Harris, who had been fighting to have his apparent victory certified.

"I believe a new election should be called," Harris told the board, citing testimony he'd heard during the week. "It's become clear to me the public's confidence in the 9th District seat general election has been undermined to an extent that a new election is warranted."

Harris, 52, spent the morning answering questions about his relationship with Bladen County political operative McCrae Dowless, an elected official and convicted felon at the center of the controversy. But his attorney stopped the queries after Harris repeatedly denied telling anyone that emails between his son John and him would not be part of evidence. When Harris returned after a nearly two-hour break, he admitted that testimony was incorrect.

And with that a week's worth of drama surrounding the disputed race was all but over.

"Bombshell after bombshell this week, and this was nuclear," Michael Bitzer, a Catawba College political scientist, said in a phone interview.

In the months since the election, Harris — who led the unofficial vote tally by 905 votes over McCready — had maintained he was unaware of any absentee ballot fraud and insinuated there was a plot to deny him a seat in Congress. The state Republican Party and its officers also stood behind him and demanded he be certified the race winner.

At a Feb. 9 meeting of the N.C. GOP executive committee, Harris said, "The Democrats and liberal media have spared no expense disparaging my good name" and blamed "a liberal activist" on the Board of Elections for the whole episode. He called the absentee ballot-harvesting allegations "unsubstantiated slandering," according to a video of that meeting posted online.

At Thursday's hearing, Harris attorney David Freedman concluded "we agree that the actions that occurred in Bladen County likely affected the election."
From here the elections board will move forward with setting a date for new primaries and a new General Election in the district, with the likely earliest date for a primary being some time in May while the General Election would likely occur at some point in the summer. At this point, it's unclear if either Harris or his Democratic opponent will stand for this new election and whether or not they will face opposition in their respective primaries. In the case of the Democratic candidate, it seems as though there would be no reason to challenge him in a primary and deny him a chance at a fair election, which he was clearly denied in November. On the Republican side, though, party leaders and voters may well be eager to see someone other than Harris as their candidate, especially given the fact that there is plenty of credible evidence that he at least should have been aware of what this campaign consultant was doing and some evidence that he probably was aware, at least to the extent that his son warned him before the election that the consultant was not trustworthy and may have been tampering with absentee ballots.
One thing that this entire saga does point out, of course, is the fact that the real vulnerability of our election systems across the country aren't with the kind of in-person voter fraud that Republicans cite to justify in their arguments for Voter ID Laws, but in the absentee ballot area. This method of voting is particularly vulnerable to manipulation in a number of ways. One way, of course, is the possibility the Absentee Ballots could simply "go missing" before making it to the appropriate authority for safekeeping and counting on Election Day. Another is the fact that it is difficult to ensure with complete effectiveness that a ballot has actually been completed by the person whose name is on the ballot. A third problem is a possibility that people who are not mentally capable, such as people in nursing homes, could be manipulated into voting one way or the other. Absentee ballots could also be manipulated by someone like the campaign consultant in this case.
There are some steps that states can try to secure the integrity of Absentee Ballots, but it's not easy. The one seemingly foolproof method would be to require every Absentee Ballot to be Notarized to be valid. The problem with this idea is that many people who request these ballots are homebound or ill and unable to go to a place where a Notary might be found or finding a Notary willing to come to their home. Other methods could include requiring that the voter include a photocopy of their Driver's License or other identification, but this suffers from some of the same practical problems that requiring a Notary would. Ultimately, though, this is a far more serious vulnerability in our election system than in-person voter fraud, which study after study has shown to be a minimal problem at best, and none of the Voter ID laws that Republicans have passed would have prevented.