North Carolina Still Up For Grabs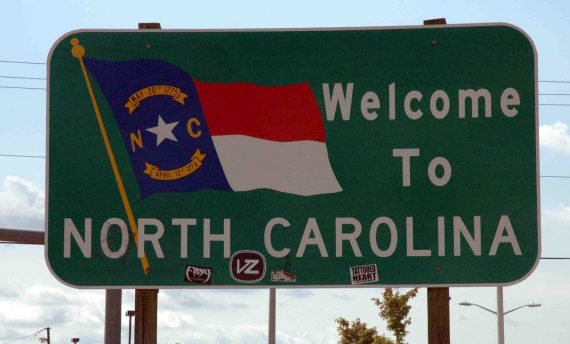 President Obama won North Carolina four years ago by a razor thin margin, and development since then such as the outcome of the 2010 elections in the state and the ongoing problems faced by the state's Democratic Party have led many to believe that it would be hard for him to repeat there this time around. Recent polling, though, is showing that the Tarheel State is still within the grasp of both candidates: 
PPP's pre-Democratic convention North Carolina poll finds the Presidential race in the state all tied up: Barack Obama and Mitt Romney are each at 48%.

Just as we found in Florida, the Republican convention doesn't seem to be giving Romney much of a bounce. 34% of voters say that the convention made them more likely to support the GOP this year, 33% said it made them less likely to do so, and 33% said it didn't make a difference to them either way. Romney's lack of a convention bounce could simply be a product of his not being that good of a public speaker. 56% of North Carolina voters say Obama gives better speeches compared to 35% for Romney.

Although the Presidential race remains a toss up, Mitt Romney has seen some improvement in his image with North Carolinians over the last month. 47% rate him favorably now to 48% with an unfavorable opinion. That's up a net 7 points from our last poll when he was at a -8 spread with 42% of voters rating him positively and 50% negatively. Obama's approval rating has barely changed since early August in the state- 48% of voters think he's doing a good job to 50% who disapprove of him. Romney and Obama are both slightly under water in their favorability/approval numbers.

Obama's areas of strength are pretty predictable. He's up 51-44 with women, 83-15 with non-white voters, and 50-45 with folks under 65. Romney is up 52-44 with men, 60-35 with white voters, and 58-39 with seniors. That wide generational gap is particularly telling- North Carolina might be a swing state for a long time moving forward. Romney's overcoming the Democratic registration advantage in the state thanks to a 51-40 advantage with independents.
The second North Carolina poll shows Romney with a slight lead:
CHARLOTTE, N.C. Republican Mitt Romney appears to have gotten his bounce from his party's national convention – at least in the state hosting the Democratic convention, according to a poll released Sunday.

The new Elon University/Charlotte Observer Poll shows the GOP presidential candidate leading President Barack Obama 47 percent to 43 percent in North Carolina.

The poll, which has a margin of error of 3 percentage points, surveyed likely voters from Aug. 25-30, during the GOP convention in Tampa. Elon did the poll in partnership with the Observer and the News & Observer of Raleigh.

"I would have to say that is a small, modest bump," said poll director Kenneth Fernandez.

(…)

The poll showed:

• While Romney enjoys a 12-point lead among male voters, the candidates are virtually tied among women. Other polls have given Obama a wide lead among women. A CNN/Time survey last week, for example, showed women favored the president by 10 points.

Republicans, including Ann Romney at the Republican convention, directly appealed to women in an effort to close the perceived gender gap.

• Obama may be suffering from an "excitement" gap. Fifty-one percent of Romney supporters described themselves as "very excited" compared to 47 percent of Obama voters.

• Romney has made no inroads among African American voters. Only 1 percent of black voters support him, while 89 percent back Obama. Ten percent say they don't know or refused to answer.

• Romney has a 3-point edge when voters were asked which candidate most shared their values.
Romney currently has a slight lead in the RealClearPolitics average, but as the chart shows, the President is still in a strong position in the state: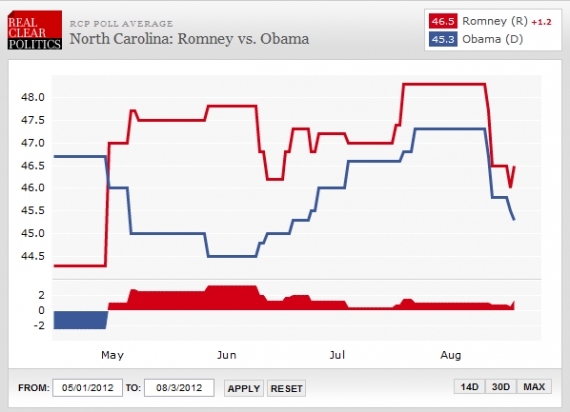 I'd still say that Romney has a slight advantage in North Carolina both due to the state's rightward drift the last two years, but he hasn't pulled away in the state yet and there's still a very good chance that the President's campaign, which has been on the ground there for months now, can still pull out a victory. If that happens, the scenarios for a Romney victory become quite grim indeed.