Not a Punchline. It is Corruption.
Hurricanes and corrupting truth.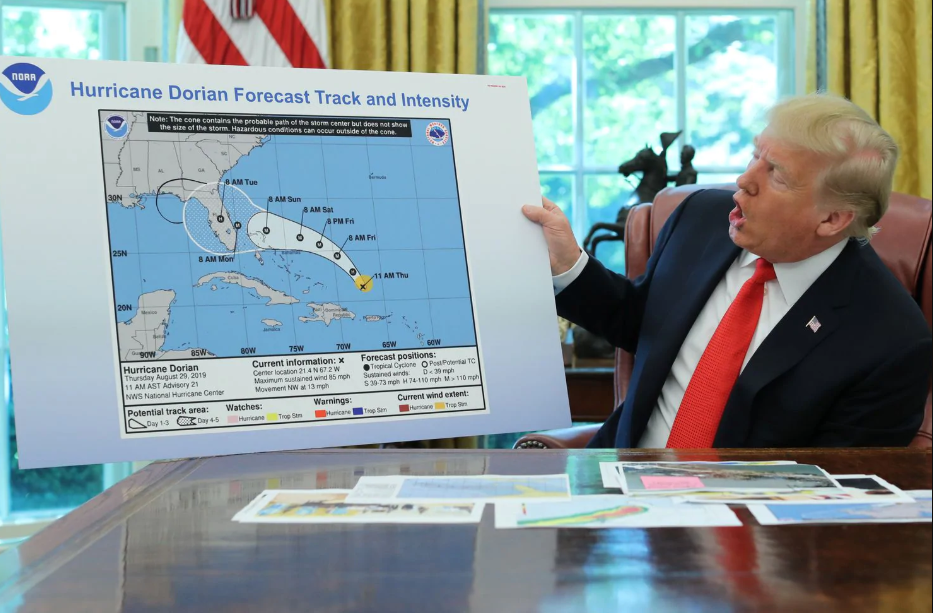 On on level the whole thing is so absurd. As Hurricane Dorian turned northward to harass Florida's east coast on its way to hit the Carolinas, President Trump tweeted the following:
But, of course, by the morning of September 1, the projected path of the storm was as follows: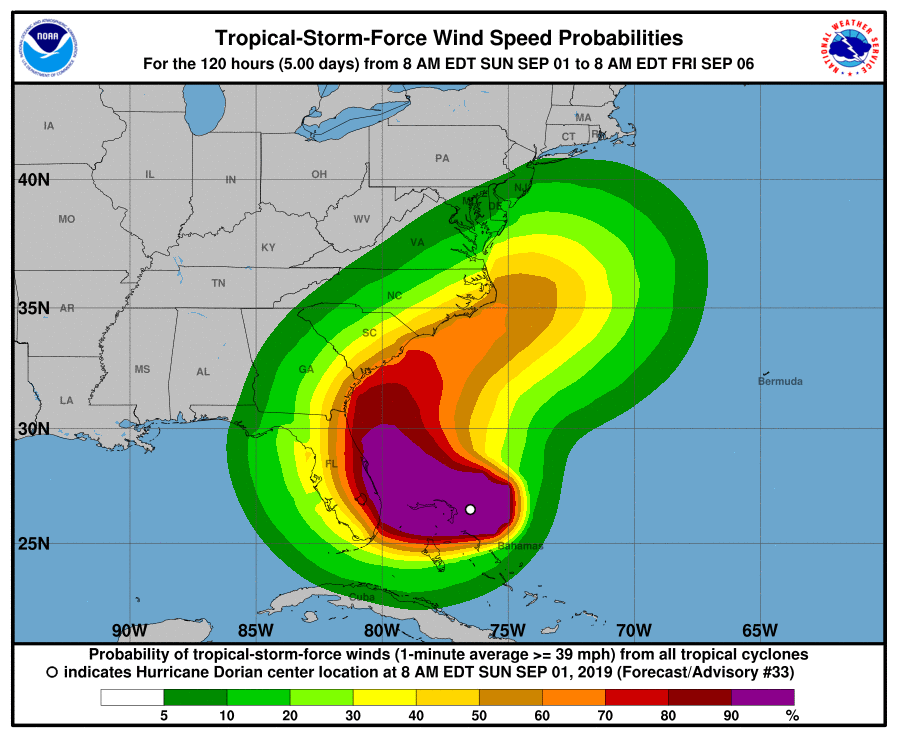 Now, in Trump's defense, there was a point in time wherein there was a chance that Alabama might be directly effected by the storm.
Two days earlier, back on August 30th, the path looked like this:
Of course, that projected path would not really fully comport with Trump's 9/1 tweet insofar as if Dorian had crossed the Florida peninsula, moved into the gulf, and then turned northward into Alabama, that would have meant North and South Carolina would not have had to have worried about a hard hit–indeed, those states would have been spared.
Keep in mind, too, even with that projected pathway the exact probabilities that Alabama would be struck were not that high
My theory at the time was that Trump was paying more attention to TV news and days of hurricane speculation and not really to official briefings. I noted the following last Monday in a comment here at OTB:
My guess is that he remembers seeing some plots from earlier in the week that hard the storm possibly crossing the peninsula and turning north in the gulf. I think he pays more attention to the TV than he does his briefings.
I suppose it is possible that he saw the September 1 map and saw the tiny bit of green on Bama and decided they could get hit. Of course, that would be even more embarrassing that the sloppy thinking/memory theory that I have offered because it would suggest he did not understand what the map was telling him (i.e., that any effect experienced by Alabama would be slight at best).
Or, maybe he just made a simple mistake.
Regardless, instead of either ignoring the error (or, Heaven forbid, issuing a correction), we have instead been treated to a week-long series of rants, to included truly bizarre briefing from the White House wherein the Emperor had to insist, over and over, than he had some really great clothes.
Now, if all of this was just Trump ranting and sharpie-ing it would be disturbing enough (after all, he is POTUS and the CINC of the US military). However, he has corrupted the federal bureaucracy and this has all the makings of bizarre loyalty test.
In regards to the bureaucracy, James Joyner noted yesterday that NOAA issued a statement to back Trump that clearly undercut the Birmingham NWS. Today WaPo reports on a deeper attempt to make sure that Trump was not criticized for his statements: NOAA staff warned in Sept. 1 directive against contradicting Trump.
Nearly a week before the National Oceanic and Atmospheric Administration publicly backed President Trump over its own scientists, a top NOAA official warned its staff against contradicting the president.

In an agencywide directive sent Sept. 1 to National Weather Service personnel,hoursafter Trump asserted, with no evidence, that Alabama "would most likely be hit (much) harder than anticipated," staff was told to "only stick with official National Hurricane Center forecasts if questions arise from some national level social media posts which hit the news this afternoon."

They were also told not to "provide any opinion," according to a copy of the email obtained by The Washington Post.

A NOAA meteorologist who spoke on the condition of anonymity for fear of retribution said the note, understood internally to be referring to Trump, came after the National Weather Service office in Birmingham contradicted Trump by tweeting Alabama would "NOT see any impacts from the hurricane."
This is a corruption of the federal government. It is an abuse of power. And why? Because Trump doesn't want to acknowledge that he was wrong.
Meanwhile, I expect that this issue will become a sort of loyalty test, wherein Trump supporters will be compelled to agree with the great leader. And that is a corruption of the truth.
We just add these corruptions to the self-enrichment that Doug Mataconis wrote about yesterday.
Further, this whole ridiculous narrative fits well into James Poniewozik's thesis in his NYT essay: The Real Donald Trump Is a Character on TV.
His character shorthand is "Donald Trump, Fighter Guy Who Wins." Plop him in front of a camera with an infant orphaned in a mass murder, and he does not have it in his performer's tool kit to do anything other than smile unnervingly and give a fat thumbs-up.

[…]

The institution of the office is not changing Donald Trump, because he is already in the sway of another institution. He is governed not by the truisms of past politics but by the imperative of reality TV: Never de-escalate and never turn the volume down.

This conveniently echoes the mantra he learned from his early mentor, Roy Cohn: Always attack and never apologize.
And deploy a sharpie as needed.