Numbers Of Potential Future Lawyers Hits 13 Year Low
The Law School Bubble has imploded.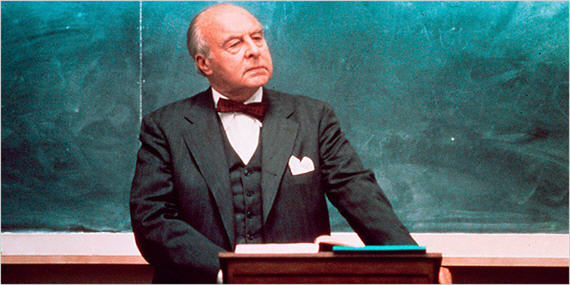 Paul Caron of the University of Cincinnati College of Law reports over at TaxProfBlog that the number of college students taking the Law School Admissions Test has fallen to a 13 year low  and the decline shows now signs of stopping. Here are some figures and a chart that tell the tale: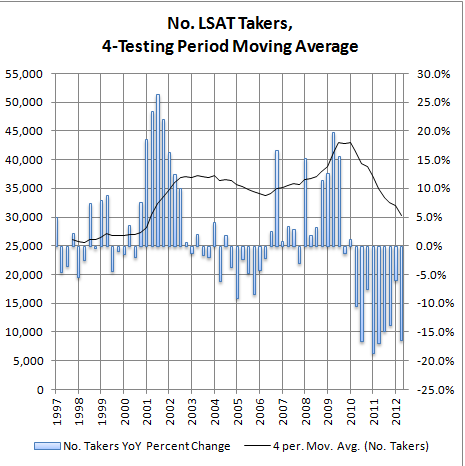 It's not that hard to understand why this is happening. While I'm not going to claim that young lawyers are in worse shape than, say, people in blue collar jobs who found hammered by the Great Recession, the decline of the "Big Law" jobs especially was a familiar story to many between 2007 and 2009. Even now, hiring at many of these law firms is far below what it was in pre-recession days, and the corporate clients that use these firms are far more cautious about their legal budgets than they used to be. Further down the pecking order, where most law students who manage to graduate and pass the bar end up, the market at mid-level and lower firms isn't much better, but neither is the pay. For students coming out of law school with a seemingly unmanageable level of debt, it's a tough situation. For that reason alone, it's no surprise that people would be less inclined to even incur the expense of going to law school.
David Segal made note in the sharp drop in LSAT takers back in March, pointing out that it reflected a rather grim future for aspiring attorneys:
The decline reflects a spreading view that the legal market in the United States is in terrible shape and will have a hard time absorbing the roughly 45,000 students who are expected to graduate from law school in each of the next three years. And the problem may be deep and systemic.

Many lawyers and law professors have argued in recent years that the legal market will either stagnate or shrink as technology allows more low-end legal work to be handled overseas, and as corporations demand more cost-efficient fee arrangements from their firms.

That argument, and news that so many new lawyers are struggling with immense debt, is changing the way law school is perceived by undergrads. Word is getting through that law school is no longer a safe place to sit out an economic downturn — an article of faith for years — and that strong grades at an above-average school no longer guarantees a six-figure law firm job.

"For a long time there has been this culturally embedded perception that if you go to law school, it will be worth the money," said Kyle McEntee of Law School Transparency, a legal education policy organization. "The idea that law school is an easy ticket to financial security is finally breaking down."
In May Paul Campos wrote about this over at Salon:
Approximately half of the 45,000 people who will graduate this year from ABA-accredited law schools will never find jobs as lawyers. (The Bureau of Labor Statistics estimates that over the next decade 21,000 new jobs for lawyers will become available each year, via growth and outflow from the profession.)

Most of those who do find jobs will be making between $30,000 and $60,000 per year.

People currently in law school are going to graduate with an average of $150,000 of educational debt. This debt will have an average interest rate of 7.5 percent, meaning the typical graduate will be accruing nearly $1,000 per month in interest upon graduation. Unlike almost every other form of debt, these loans cannot be discharged in bankruptcy.

In short, one out of every two law graduates will not have a legal career, and most of the rest will never make enough money to pay back their educational loans. This means they will either have to rely on other sources of income (spouses, extended family) to service their debts, or they will have to go into the federal government's new Income-Based Repayment program. This program will keep people in debt servitude for 25 (soon to be reduced to 20) years, during which time the balance on their loans will grow, making it almost impossible for them to qualify for mortgages and many other forms of consumer debt. Finally, the debt – which for many law graduates will have grown to more than $1 million – will be discharged, meaning, of course, that taxpayers will be left to pick up the tab.
All this adds up to a completely unsustainable system – one in which the cost of acquiring a law degree no longer bears any rational relationship to the benefits the typical graduate can expect to receive from it. In this regard, the economic disaster that legal education has become is merely a particularly stark example of the increasingly absurd financial structure of higher education in America.
In many ways, what's happening in the legal profession is an example of the Higher Education Bubble that so many have written about. Ultimately, the only way things will change is if Law Schools themselves start changing. For one thing, perhaps they need to start reducing the number of students that the accept every year. We don't really need 45,000 new lawyers every year, and the days when Law School was a safe place to wait out an economic downturn are long gone, and college students are noticing. For one thing, the schools need to be far more honest with students about the employment situation in the legal market, and the fact that things are not going to return to the heady days when a degree from a top ranked school was an easy ticket to a six-figure a year job (leaving aside the fact that said job will guarantee you have essentially no life for five or more years after you graduate) are long over. Students and potential students need to realize the risks that they're taking, perhaps by actually talking to other lawyers and recent graduates and learning what the world is like outside law school. Because it isn't always pretty.
So, go to law school if you want, but you'd better make sure you know what you're getting yourself into.