Numeracy and the Wall
The numbers should guide policy, not silly symbols.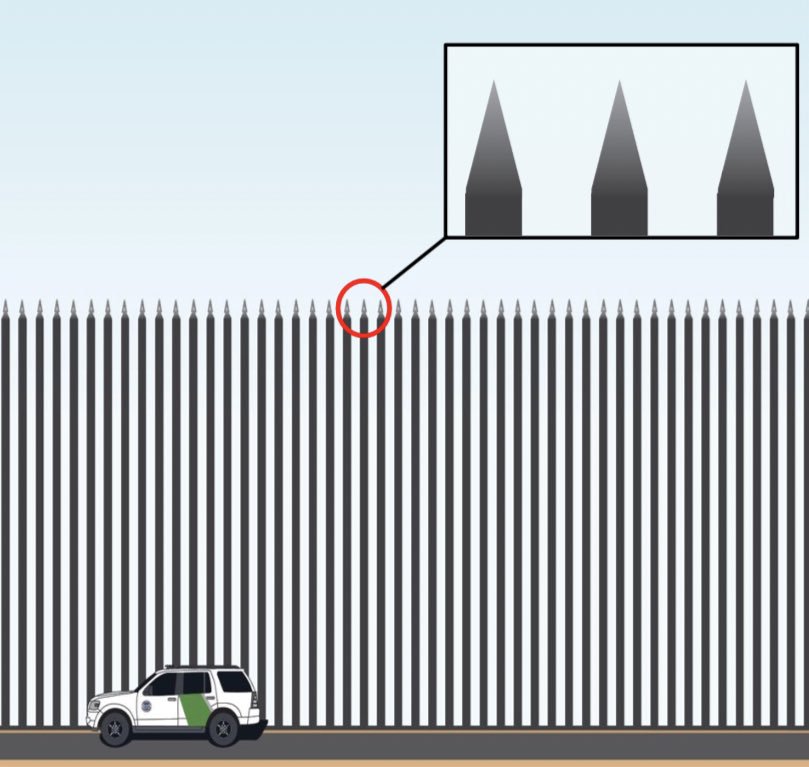 The appeal of the wall is obvious.  People cross the border illegally, and therefore if you put a barrier between them and their destination, they cannot cross and, therefore, the problem is solved! But, of course, that is an extremely simplistic framing of the problem (as well as a naive assumption about the solution).  It is also one that I have long thought results from a lack of understanding (or even consideration) of the numbers involved (e.g., the length of the border, the number of legal crossing per day, the number of undocumented who cross legally, and the actual cost of a wall).
A recent example of this has been the GoFundMe effort to raise $1 billion to help fund the $5 billion request from Trump that has been denied and has resulted in the current government shutdown.  The NYT reports: GoFundMe Campaign to Build Border Wall Raises Millions, Riles Migrant Advocates
The campaign, called "We The People Will Fund The Wall" and launched this week by a disabled Florida veteran, had raised more than $13 million from more than 213,000 people by Friday afternoon. The goal? $1 billion.

"Americans are putting their money where their mouth is," the campaign's founder, Brian Kolfage, said in an interview Friday. "They're willing to put money down to show politicians this is what they want."

Mr. Kolfage — a triple amputee who served in Iraq and who ran a right-wing website that was eventually removed by Facebook — is hoping to raise even greater sums to cover construction of a barrier between the United States and Mexico. He suggested on the GoFundMe page that if the 63 million people who voted for Mr. Trump were to each donate $80, they would raise more than $5 billion, the amount Mr. Trump is seeking for the wall.
As of this writing, the page has actually raised over $17 million over a nine days period, a rate of ~$1.9 million a day (although the rate has not been even and peaked several days ago, early in the process).  My constant mental refrain on this attempt is that it is something of a numeracy test and, I think, is a really good example of how people don't understand policy and, therefore, I suppose, why a wall sounds like a good idea.
Let's consider a few numbers.
A billion is 1,000 million.
$17.2 million is 1.72% of a a billion.
At $1.9 million a day, it would take almost 522 days to raise a billion. (And, again, that is the average amount raised per day to date, bu the campaign peaked in terms of daily rate a few days ago–I started writing this post on Sunday, if I recall properly, and at that time the fund had raised ~$16 million, which means for the last several days the rate of contribution has fallen considerably, as one would expect).
$1 billion is only 20% of the requested $5 billion.
Worse, $5 billion really doesn't buy all that much.
Fox New reports Here's what $5 billion in border wall funding would buy.
According to DHS officials, the funding would cover the construction of 215 miles of "wall system" on the southern border.

What that system would include is a matter of debate.

But DHS officials say it could cover the replacement of "dilapidated" fencing, new wall sections and secondary wall structures, as well as roads and lights for Border Patrol agents.

The "wall system" also includes sensor technology that would enable agents to detect movement coming toward the wall, "starting the clock" for officials to respond before anyone starts to try to scale it.

DHS officials said that of the 215 "linear miles," well over a hundred miles would be brand new wall in places where there is no barrier now. The majority of this construction would be in the Rio Grande area, specifically the Laredo sector, along the Texas border with Mexico.

DHS officials said those 215 miles would be the most "critical" locations that need to be addressed. The total cost of a wall could be upwards of $25 billion – additional funding in the future could go toward other locations.
So, if $5 billion get you 115 replacement miles and 100 new miles, $1 billion theoretically gets you 23 replacement miles and 20 new miles (assuming, for the sake of argument, a similar ratio of replacement to new). Estimates for a full wall vary, depending on the type and configuration, range from $15 billion (Trump's recent estimate) to $21.6 billion (past DHS estimate) to $25 billion as per the quote above or $70 billion (Senate Democrats).   Maintenance and monitoring costs are not included in those numbers, by the way.  For the thing to work it has to be maintained and constantly monitored, else walls can acquire holes.
Speaking of numbers, the border is immense:  approximately 1,954 miles.  As such, 100 new miles isn't much.  And if $5 billion only gets 100 new miles, it is hard to believe that the whole thing could be built for a mere $15 billion.
But, of course, the broader discussion of the wall is steeped in ignorance over basic numbers.  For example, it ignores that the majority of undocumented persons in the country entered legally, and simply over-stayed their visas.  One study, for example, notes that since 2007 overstays well outnumbers those who entered without inspection (i.e., did not cross at a legal crossing).  A wall doesn't fix that issue.
The wall-as-solution ignores that we have seen a substantial decline in border apprehensions which is because less people are trying to cross.  As I noted in a post earlier this year, the numbers are starting to look like the 1970s.  The peak for apprehensions was in 2000, going on two decades ago, and the decline has been steep.
The 2018 border migration numbers, released yesterday, in context. Let's never lose sight of this. pic.twitter.com/kqTWmYjPAJ

— Adam Isacson (@adam_wola) October 24, 2018
These two factors alone suggest that a wall (or, now, steel slats) is not a cost effective expenditure.
A wall also ignores the sheer number of border crossing at numerous points of entry.  You can see the stats here.  For example, in 2017 at just the El Paso crossing, there were 15,898 buses, 12,615,101 passenger vehicles, and 779,410 trucks.  The notion that we have perfect control of those vehicles in ludicrous (and that is just one of 48 ports of entry, albeit the busiest).
In terms of stopping drugs and criminality, the wall is worthless.  Drugs are far more likely to be smuggled in one of millions of trucks that cross the border annually than they are to come across the Sonoran desert.  And even with a wall, drugs and go over and under a wall (as one expects people will do as well, especially under the wall).  Tunnels are already a real issue under the border (not to mention that drugs can be launched over a wall via any number of methods–or through the steel slat version).  But I will reiterate: the vast majority of drugs come via legal ports of entry and, therefore if true security is the issue, better control of ports of entry would be a far better investment.
But, the child-like simplism of our president suggests that if you build a wall, that solves the problem.  And, sadly, a lot of people agree because "wall" is easy to understand.
For those interested, here is a great map of the existing barriers along the border.  One will note that there is a reason why 600 miles of Texas currently have no wall and that building one there would be absurd (and none of this goes to issues like environmental impact and private property rights).