Nurse In Iconic V-J Day Photo Dies At 91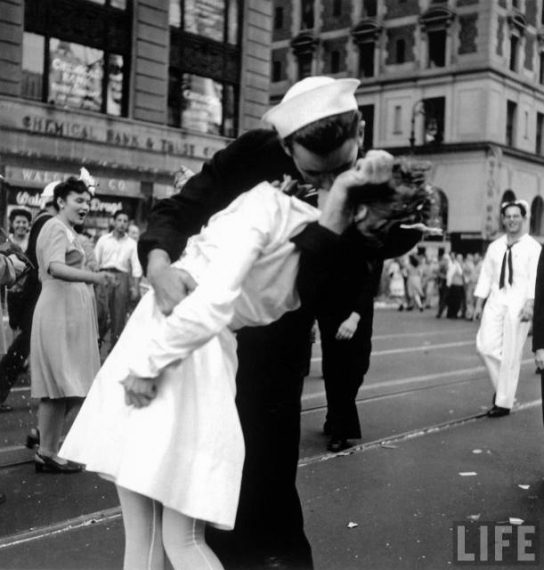 It is perhaps the most famous photo of the World War Two era, and the nurse's name was Edith Shain:
Edith Shain, 91, widely believed to be the uniformed nurse whose lip-locking embrace with a Navy sailor at the end of World War II was captured in a photograph that became one of the most iconic images of the time, died of cancer June 20 at her home in Los Angeles.

Ms. Shain was working at Doctors Hospital in New York on Aug, 14, 1945, the day the war ended with the surrender of Japanese troops. She and thousands of other jubilant New Yorkers flooded Times Square, where a young man in Navy blues was smooching women as he made his way through the crowd.

"Someone grabbed me and kissed me, and I let him because he fought for his country," Ms. Shain said. "I closed my eyes when I kissed him. I never saw him."

The moment was captured on film by famed photojournalist Alfred Eisenstaedt and appeared in Life magazine that month. A symbol of the relief, euphoria and optimism that Americans felt at the end of a horrible conflict, the kiss became one of Life's best-known and most-reproduced images, appearing on numerous greeting cards and dorm-room walls.

The picture, Ms. Shain said in 2008, "says so many things: hope, love, peace and tomorrow. The end of the war was a wonderful experience, and that photo represents all those feelings."
Yep.
It's too bad that Ms. Shain didn't live to mark the 65th anniversary of that day just two months away.