Obama Calls Out 'Woke' Culture
Former President Obama called out so-called 'woke' culture in a talk late last week.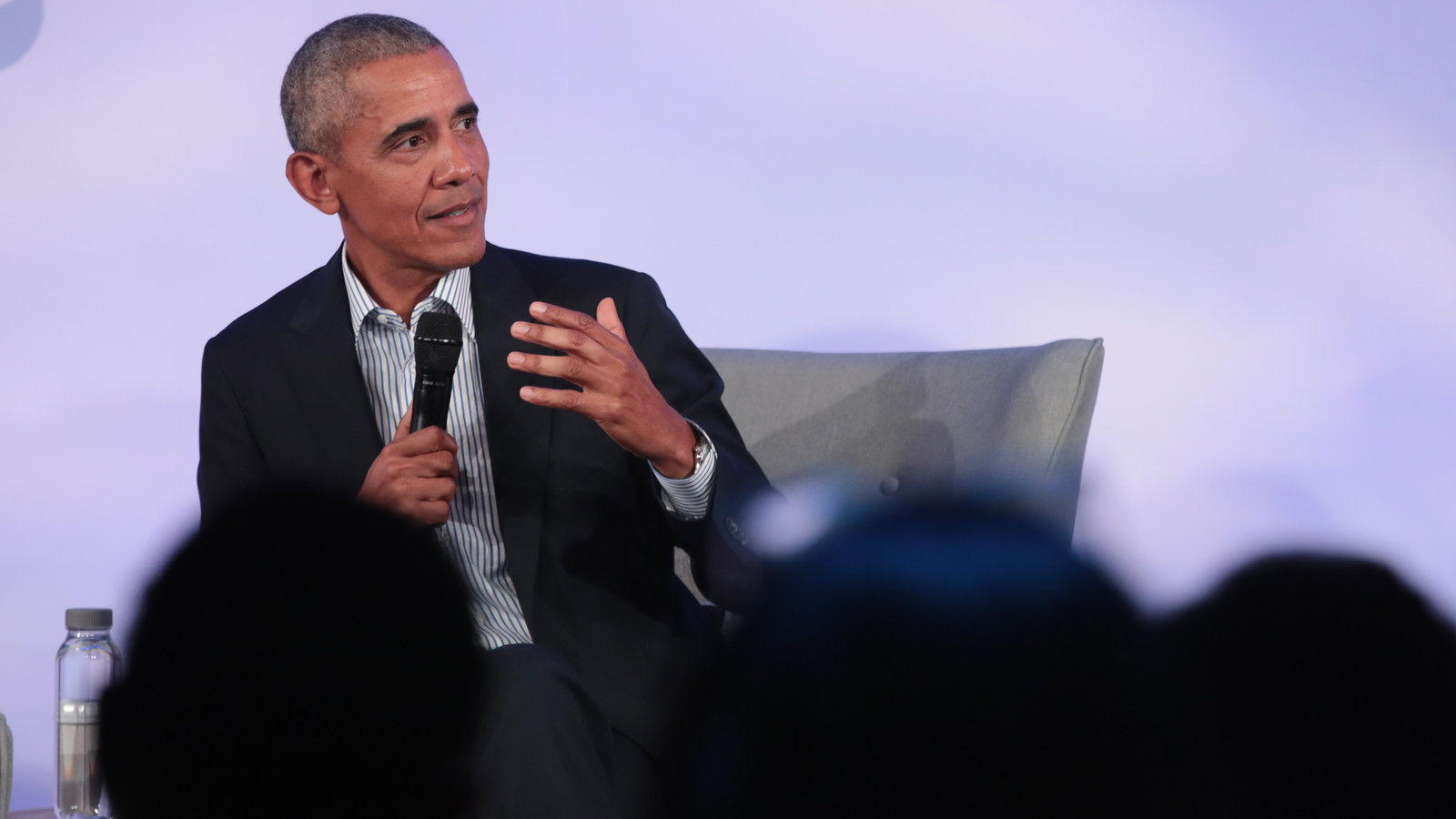 Former President Barack Obama spoke out last week about so-called "wokeness," or what he called "call-out culture," asserting that it isn't real activism and that it isn't accomplishing anything:
Former President Barack Obama made a rare foray into the cultural conversation this week, objecting to the prevalence of "call-out culture" and "wokeness" during an interview about youth activism at the Obama Foundation summit on Tuesday.

For more than an hour, Mr. Obama sat onstage with the actress Yara Shahidi and several other young leaders from around the world. The conversation touched on "leadership, grass roots change and the power places have to shape our journeys," the Obama Foundation said, but it was his remarks about young activists that have ricocheted around the internet, mostly receiving praise from a cohort of bipartisan and intergenerational supporters.

"This idea of purity and you're never compromised and you're always politically 'woke' and all that stuff," Mr. Obama said. "You should get over that quickly."

"The world is messy; there are ambiguities," he continued. "People who do really good stuff have flaws. People who you are fighting may love their kids, and share certain things with you."

Mr. Obama spoke repeatedly of the role of social media in activism specifically, including the idea of what's become known as "cancel culture," which is much remarked upon, but still nebulously defined. It tends to refer to behavior that mostly plays out on the internet when someone has said or done something to which others object. That person is then condemned in a flurry of social media posts. Such people are often referred to as "canceled," a way of saying that many others (and perhaps the places at which they work) are fed up with them and will have no more to do with them.

Mr. Obama talked about conversations he's had with his daughter Malia, who is a student at Harvard with Ms. Shahidi.

"I do get a sense sometimes now among certain young people, and this is accelerated by social media, there is this sense sometimes of: 'The way of me making change is to be as judgmental as possible about other people,'" he said, "and that's enough."

"Like, if I tweet or hashtag about how you didn't do something right or used the wrong verb," he said, "then I can sit back and feel pretty good about myself, cause, 'Man, you see how woke I was, I called you out.'"
Then he pretended to sit back and press the remote to turn on a television.

"That's not activism. That's not bringing about change," he said. "If all you're doing is casting stones, you're probably not going to get that far. That's easy to do."
Here's the video:
The former President's comments brought about rare agreement across the political and cultural aisles:
Former president Barack Obama offered some advice earlier this week to young people hoping to change society: participating in cancel culture isn't the way to do it.

"This idea of purity and you're never compromised and you're always politically woke and all that stuff, you should get over that quickly," the 58-year-old said Tuesday while speaking at the Obama Foundation Summit in Chicago. "The world is messy. There are ambiguities. People who do really good stuff have flaws."

Obama's pointed warning that social media enables "woke" people to be "as judgmental as possible" went viral Wednesday, drawing praise from both the left and right. By early Thursday, clips of Obama shared on Twitter had been viewed millions of times as many stressed that all social media users needed to hear his message.

"He is right on all counts," 2020 Democratic presidential candidate Andrew Yang tweeted, while his opponent Rep. Tulsi Gabbard (D-Hawaii) wrote, "We all need a little more aloha spirit — being respectful & caring for one another."

"Good for Obama," wrote conservative pundit Ann Coulter, adding in parentheses that her comment was "Not sarcastic!"

On Tuesday, Obama was roughly 50 minutes into a discussion with young leaders about their activism when he mentioned that he had started to notice a worrisome trend "among young people, particularly on college campuses."

"There is this sense sometimes of, 'The way of me making change is to be as judgmental as possible about other people,' and that's enough," he said, noting that the mind-set was only "accelerated by social media."

Obama went on to describe an example of the behavior he was cautioning against.

(…)

Obama effectively inserted himself into the ongoing debate that surrounds cancel culture, a term that refers to a mass effort, usually carried out on social media, to call out prominent people for any alleged wrongdoing and demand that they lose access to their public platforms. The strategy has proved vital to holding powerful figures accountable, sparking international movements such as #MeToo. But "canceling" has also been criticized for encouraging mob behavior that often results in major consequences to people's lives and careers over missteps such as old inappropriate tweets, The Washington Post's Abby Ohlheiser and Elahe Izadi reported.

Boycotts have long been considered an efficient method of motivating change, but the intense censoring of people or groups on social media is a newer tactic that has gained popularity on the left over the past several years, according to CNN's Chris Cillizza, who described it as "one of the defining hallmarks of our culture in the post-Obama presidency."

"Say something wrong, tweet something people disagree with, express an opinion that is surprising or contradicts the established view people have of you, and the demands for you to be fired, de-friended or otherwise driven from the realms of men quickly follow," Cillizza wrote.

It is not especially surprising then that Obama, known for promoting compromise, would take issue with an approach that hinges on the premise that everything is black and white — and Tuesday wasn't the first time that he has publicly raised concerns. In his first interview after leaving office, Obama criticized unnamed leaders for using social media to sow division, The Post's William Booth reported.
While conservatives will complain that it is solely something that has arisen on the left from what they refer to as "social justice warriors," the truth of the matter that using social media to call out or attempt to intimidate people on the opposite side is something that both sides of the political aisle have engaged in. All it takes is for someone, and in particular, a celebrity or political figure to say something controversial publicly or on social media and the wolves start to circle demanding their piece of flesh. Sometimes it's something as seemingly inconsequential as trying to get you banned from one social media platform or another, although it's worth noting that for some people that alone can have a significant impact on their ability to do their job. On other occasions, it expands to include demands that the alleged wrongdoer be fired from their jobs.
If you ask the people who engage in this kind of activity, they'll tell you that they're in engaging in "activism" in "calling out" people who have said or done offensive but not illegal things in the past. The truth, though, is somewhere closer to what President Obama said. Using social media or the Internet to attack people you disagree with isn't "activism" no matter what impact it has on your own sense of moral superiority, In fact, one could argue that it's not activism but laziness. Activism means getting out into the world and trying to change it by registering voters, attending rallies, and effect change.
Using your Twitter account and a hashtag to harass someone who crosses a line is easy, involves no sacrifices, and doesn't really require any real work. The only thing such "activism" accomplishes is to make the people who engage in it feel like they accomplished something by just coming up with a clever tweet or Facebook post, and putting the phone back down and returning to whatever show you happen to be streaming on Netflix. It allows you to show your friends and the world how "woke" you are without actually engaging in anything productive or engaging in the kind of action that people such as Martin Luther King, John Lewis, and the civil rights protesters of the 1950s and 1960s engaged in.
So far at least, I haven't seen any blowback directed at the former President for what he said, and perhaps it's possible that his words will have an impact. As he said, not only is the whole idea of "call-out culture" anathema to what activism is really all about but it goes against the realities of a nation where few people are unambiguously good or evil. Attacking people and demanding that they be fired because of something they said in the past accomplishes nothing except, as I said, feeding one's own self-satisfied sense of superiority at no cost.