Obama Under Attack For Not Visiting Louisiana In Wake Of Flooding
President Obama is being criticized for remaining on vacation while Louisiana deals with historic flooding.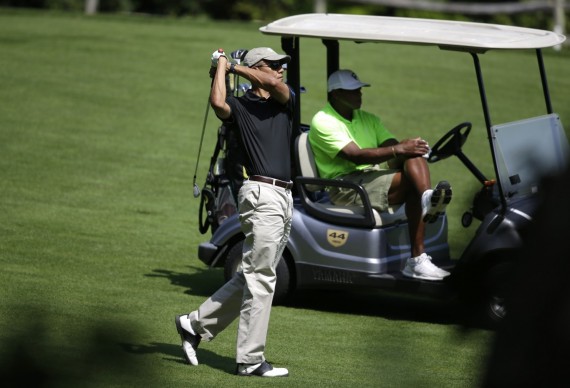 President Obama is facing criticism for staying on vacation on Martha's Vineyard while Louisiana is dealing with some of its worth flooding in recorded history:
President Barack Obama has faced no shortage of criticism for continuing his vacation and golfing on Martha's Vineyard while some 1,600 miles away, people in Louisiana cope with the worst natural disaster in the United States since Hurricane Sandy.

Mike Huckabee laced into Obama as "disgraceful" on Friday for failing to travel to Louisiana in the wake of the state's devastating recent flooding, contrasting him unfavorably to Bill Clinton in similar situations as commander in chief.

"It's a dereliction of duty," Huckabee said on Fox Business' "Mornings with Maria." Homeland Security Secretary Jeh Johnson visited areas affected by the flooding on Thursday, while Obama has remained on vacation on Martha's Vineyard for the past two weeks.

The former Republican governor and presidential candidate made clear that his criticism "isn't about politics," complimenting fellow Arkansan Bill Clinton, who he said "was the best at showing up for things like this."

"And he showed a level of compassion," Huckabee said of the 42nd president. "He represents the heart of America."

Both Donald Trump and Mike Pence traveled to Louisiana on Friday to visit those affected by the natural disaster.

"The president says he doesn't want to come, he is trying to get out of a golf game," Trump told volunteers at a church in Greenwell Springs, Louisiana, according to ABC News.

But Huckabee expressed doubt that Hillary Clinton would follow suit in going to Louisiana, "because now that Donald Trump has gone, it'll look like a 'me, too' rather than a real initiative."

(…)

Baton Rouge's The Advocate newspaper unloaded on Obama with an editorial published Thursday night, drawing a historical comparison to George W. Bush's response to Hurricane Katrina.

"Sometimes, presidential visits can get in the way of emergency response, doing more harm than good," the editorial said. "But we don't see that as a factor now that flood waters are subsiding, even if at an agonizing pace. It's past time for the president to pay a personal visit, showing his solidarity with suffering Americans."

The Advocate called the "optics of Obama golfing while Louisiana residents languished in flood waters was striking" and evocative of "the precedent of the passive federal response to the state's agony in 2005, a chapter of history no one should ever repeat."

While giving credit to the White House for promptly declaring the flooded part of the state a disaster area in order to receive federal aid, Louisiana's largest daily newspaper called on Obama to "pack his bags now."
John Bel Edwards, the Governor of Louisiana, disagrees and says that a visit by the President at this time would be more of a hindrance than helpful:
Gov. John Bel Edwards spent much of a Thursday press conference (Aug. 18) sticking up for fellow Democrat Barack Obama and generally complimenting the federal government on its response to the Louisiana Flood of 2016.

"I am not complaining about our federal partnership in any way" Edwards said, responding to comments about the president not coming to Louisiana. "The president is welcome to visit whenever he wants to visit."

Edwards said a presidential visit could cause additional problems for flood recovery efforts. Obama's motorcade requires many roadways to be shutdown — and many local streets are still closed because of the flooding. Also, a presidential visit puts a strain on law enforcement. First responders shouldn't be pulled away to deal with Obama, when they are needed for search and rescue missions still, Edwards said.

Obama, who is on vacation in Martha's Vineyard, has not come to Louisiana since the Flood started six days ago. He also declined to come to Baton Rouge after Alton Sterling, an African American man, and three law enforcement officers were killed in the Capital city in July, something that local residents were grumbling about just a few weeks ago.

The president had visited Dallas less than a week before the Baton Rouge officers were killed, when five Dallas officers were shot. But Vice President Joe Biden was sent to the Baton Rouge officer memorial instead.

Yet the governor said Obama — despite staying on the East Coast — has been extremely helpful over the past week. He issued federal disaster declarations in a matter of hours, which will provide more federal funding in the long run. He also personally called the governor to talk about the situation.

"I have been in contact with the White House just about every day, with Valerie Jarrett and others," Edwards said, mentioning one of Obama's top staff members.

At the afternoon press conference, Edwards also talked up the fact that two high-profile members of the Obama administration, Homeland Security Secretary Jeh Johnson and the Federal Emergency Management Agency's administrator Craig Fugate, have been on the ground in Louisiana this week touring areas devastated by the flood.

U.S. Rep. Cedric Richmond, D-New Orleans, complimented Johnson's visit to Louisiana as well. "It sends the message that the federal government has our back," Richmond said at the press conference.

Johnson was in Louisiana all day Thursday and standing by Edwards' side ready to answer questions at the press conference. He said he was going to update Obama on the situation "very soon" after the media appearance.

"Well of course the president can't be everywhere" Johnson told the media. "I can tell you the president has been closely monitoring the situation."

According to Johnson, 950 FEMA workers are already on the ground in Louisiana. The U.S. Coast Guard arrived just hours after the severe rainstorm hit.

"He is very much on top of it," Johnson said of Obama. "I know he has a very busy schedule this fall and in the coming days."

"When you are the chief executive of the U.S. government, you can't be everywhere, including places you would like to be," he said.
Governor Edwards' comments about how a Presidential visit would likely be disruptive to immediate rescue and recovery efforts was repeated this morning by the state's Republican Lt. Governor, Billy Nungesser, who has his own experiences in dealing with natural disaster after serving as a Parish President during the BP Oil Spill back in 2010.
This is an area where Presidents seem to always face criticism any time a natural disaster or some other tragedy that hits on a national level occurs. Unfortunately, it has apparently come to be expected that each time one of these events occurs a Presidential visit is required even though such visits often require the diversion of law enforcement and other resources that could otherwise be used to assist in search and rescue and recovery operations. Indeed, it's hard to see exactly what it is is that a President, any President, can do during one of these visits that actually accomplishes anything useful. As it stands, the President responded essentially immediately on Sunday when he issued the Federal Disaster Area declaration for the impacted areas of the state on Sunday almost immediately after Governor Edwards requested that he do so. Since then the heads of FEMA and the Department of Homeland Security have been on the ground, as have the assets the Federal Government can bring to help respond to a disaster of this type. It strikes me that this is far more important than whether the President visits for a few hours to look at some damage and hug a few people.
Many on the right, of course, are arguing that there is some sort of contrast between the way Obama is being treated for staying on vacation and the way President Bush was treated eleven years ago in the aftermath of Hurricane Katrina striking the Gulf Coast. Even if one were to concede that Bush received more criticism for staying on vacation back then than Obama is receiving now, it really strikes me as rather irrelevant. Just as there's very little that President Obama can do by visiting Baton Rouge now other than potentially divert needed resources from disaster relief, there was little that President Bush could have done personally back then. The problem that the Bush Administration faced eleven years ago, though, wasn't just whether or not the President visited the area but also the fact that there was a widespread belief that FEMA's initial response to Katrina was incompetent and not properly planned for, especially to the extent that it failed to move assets into the potential disaster zone prior to the storm hitting the area, thus delaying the arrival of much-needed aid by several days at least. In any case, though, whether or not Bush was criticized fairly or unfairly eleven years ago strikes me as irrelevant to whether it's fair to criticize Obama today.
While I understand the bad optics of a President playing golf while one of Louisiana's largest cities deals with an historic flood, it strikes me that the criticism is unwarranted. If the White House had failed to respond to requests for aid, or if FEMA and DHS were not properly responding to the unfolding disaster, then criticism would be warranted and since Obama is the President he should be fairly criticized if his Administration was not properly responding. That's not the criticism, though. Instead, Obama is being criticized for not being on the ground to…….. well that's just the point. Nobody who talks about things like this seems to be able to articulate exactly what it is that a President can accomplish with a personal visit, and given that it seems to me that this is really just mindless partisanship at its worst.
Update: Shortly after I posted this, it was announced that the President would be visiting the impacted area on Tuesday:
President Barack Obama is planning to visit Baton Rouge Tuesday (Aug. 23) to get a first-hand look at the catastrophic flooding across a large part of Louisiana.

"The President today directed his team to coordinate with Louisiana officials to determine an appropriate time for him to visit, and together they have determined that the President will visit Baton Rouge, Louisiana on Tuesday, August 23rd," the White House said in a statement Friday. "Additional details will be announced in the coming days.  The President is mindful of the impact that his travel has on first responders and wants to ensure that his presence does not interfere with ongoing recovery efforts."

Obama's visit comes as thousands of Louisianians dig out after heavy rains and surging rivers inundated great swaths of 20 parishes in the central part of the state. The president declared a federal disaster for what many officials are describing as an unprecedented flood.
The storms that have ravaged the area are expected to have passed well before Tuesday, so this seems like a good compromise assuming such a visit is even necessary.