Ohio The Only State To Give Special Early Voting Preferences To Military Voters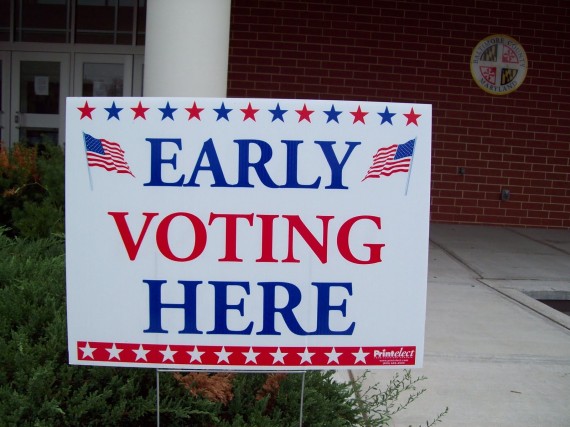 Ohio is the only state in the country that gives military voters special preferences when it comes to voting early:
Despite claims that Democrats' challenge to an Ohio voting law would undermine military voters' rights everywhere, no other states offer soldiers' the special status afforded in Ohio. A report issued Aug. 1 by the nonpartisan Ohio Legislative Service Commission found that no other states have any legal provision that has one early in-person voting deadline for most voters and another for servicemembers, as does the Ohio law being challenged by the Obama campaign and defended by Ohio Republicans and some fraternal military organizations. The report, which has not been released publicly, was obtained by BuzzFeed and has been published here for the first time. The report does note that two states — Indiana and North Carolina — have exceptions in their laws that would allow a very narrow subset of servicemembers to vote early in-person later than other voters. The Obama campaign's lawsuit in Ohio, in which it is joined by the Democratic National Committee and the Ohio Democratic Party, is about early voting. The specific laws being challenged, however, relate only to in-person early voting and not to traditional mail-in absentee voting, which clearly cuts down on the number of affected active servicemembers. (…) As reported at BuzzFeed over the weekend, the lawsuit aims to expand the later early in-person voting deadline to all voters — not to restrict the early in-person voting deadline of servicemembers. Opponents of the suit, however, have expressed concern about the future implications for other servicemember-related voting laws. Ohio Secretary of State Jon Husted questioned why the Obama campaign was focused on Ohio, telling reporters after the lawsuit was filed, "Why isn't it a problem in the 49 other states where they do the same kinds of things?"
Well, now you know why, it's because none of the other 49 states have such a law. The Indiana and North Carolina laws involve members of the military who, because of deployment, may have missed a voter registration deadline, not an extension of the time to vote. As I noted last week, there really is no rational basis for this preference for military voters in early voting and, considering that there is a good chance this all happened because of a legislative mix-up in Columbus, there really is no reason for it continue. Now that we know Ohio is the only state that does this, I would argue that the legal argument in favor of the preference becomes even weaker.