On Marco Rubio And The Issue Of Missed Senate Votes
Marco Rubio is taking heat for missing a lot of Senate votes since he started running for President, but he's not really any worse than other legislators who have run for President.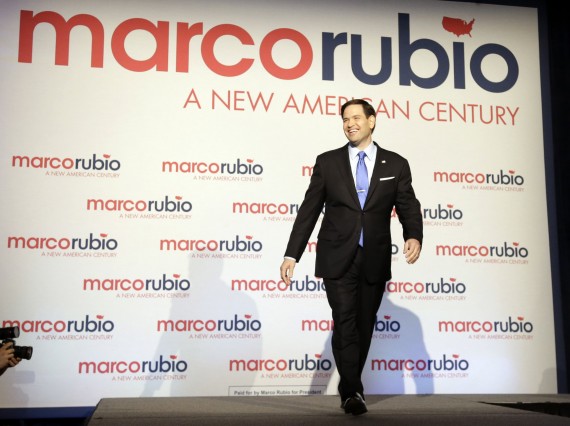 One of Florida's largest newspapers is calling on Florida Senator Marco Rubio to resign his Senate seat due to the fact that his Presidential campaign is allegedly impacting his ability to represent his constituents:
The editorial board of one of Florida's most prominent newspapers has a recommendation for Sen. Marco Rubio: just resign already.

The editorial in the Florida Sun-Sentinel follows an interview the senator did with The Washington Post where he said he was "frustrated" with his chamber. The story also quoted a "longtime friend from Florida" who said "he hates it."

Well, the Sun-Sentinel editorial board has had enough. The Wednesday editorial said that the 2016 presidential candidate "has missed more votes than any other senator this year. His seat is regularly empty for floor votes, committee meetings and intelligence briefings. He says he's MIA from his J-O-B because he finds it frustrating and wants to be president, instead."

So, the editorial continued to Rubio, "If you hate your job, senator, follow the honorable lead of House Speaker John Boehner and resign it."
Boehner announced in September that he would step down from his position. He has opted to remain as speaker until his successor is elected.

A popular criticism among Rubio's critics is that he misses far too many votes in the Senate. A recent NBC News analysis found that Sen. Ted Cruz had missed 57 votes, Sen. Lindsey Graham missed 39 votes, Sen. Bernie Sanders had missed seven and Sen. Rand Paul had missed four. The same analysis found that Rubio had missed 59. All those senators are 2016 presidential candidates.

"Everyone needs to run their own campaign," Rubio said Sunday in an interview with CNN's Jamie Gangel. "I'm not missing votes because I'm on vacation."
This issue of officeholders who run for another office while still holding their current seat is one that comes up quite frequently in American politics, usually as an attack from the candidate's rivals about them allegedly not doing their job. In some sense, of course, it is inevitable that any person who holds one political office while running for another is going to have to find a way to balance their current responsibilities to their constituents with those of running for office. This is especially true in the context of a Presidential campaign, which obviously doesn't follow the same calendar as a legislature and requires a candidate to be in various parts of the country far from Washington for campaign events, fundraisers, and other matters necessary to the operation of a successful campaign. If the candidate in question is an executive such as a Governor, it's a much easier balance to manage since a lot of their business can be conducted via telephone or video conferences with aides and legislators back home. For legislators, though, it becomes more difficult because you have to be present in Washington in order to cast votes and sit in on Committee hearings.
Rubio isn't the first candidate to face criticism over missing votes while running for higher office, and he likely won't be the last. In 2008, of course, we had a number of Senators running for President, including Barack Obama, Hillary Clinton, Joe Biden, Chris Dodd, and John McCain. According to this report from CNN dated November 2nd, 2007, by roughly this point in the 2008 cycle,  Barack Obama had missed some 80% of those that had been taken since September 2007; Joe Biden missed 68 percent of the Senate votes during that period; Chris Dodd and Hillary Clinton both missed 63% of the votes during that period. More extensive study using the Congressional Votes Database kept by The Washington Post found the following:
According to washingtonpost.com's U.S. Congress Votes Database, Obama has missed 74 out of 93 roll-callvotes (79.6%) since the end of the August congressional recess. McCain has missed 63 out of 93 roll-callvotes (67.8%) since the end of the August congressional recess. But for the entire year, McCain has missed 79 more votes than Obama; since January, McCain has missed 212 out of 403 (52.6%) roll-call votes in the 110th Congress, while Obama has missed 133 out of 403 (33.0%) roll-call votes.
The statistics for this cycle, meanwhile, do indeed show that Rubio has missed more votes than the other Senators running for office:
Rubio, a candidate for the GOP presidential nomination, has missed 77 of 263 roll call votes this year, through Wednesday, an absentee rate of nearly 30%. That's more than any other senator, according to a USA TODAY review of votes cast through Wednesday.

Since June 1, the first-term senator has been absent for 60% of votes, as he's stepped up his appearances at campaign events and fundraisers. He's skipped votes on amendments to a massive education bill, changes to defense policy legislation, and a short-term extension of the federal Highway Trust Fund.

The second- and third-ranking senators on the absentee list are GOP presidential candidates as well. Sen. Lindsey Graham of South Carolina has missed 62 votes this year (24%), and Sen. Ted Cruz of Texas has missed 59 votes (22%), according to the review.

The two other senators running for president rarely miss votes. Independent Bernie Sanders of Vermont — running for the Democratic nomination — has missed nine votes (3%), while Republican Sen. Rand Paul of Kentucky has missed only three (1%).

Paul is seeking re-election to his Senate seat while he campaigns for the presidency. Rubio also is up for re-election next year but he's decided not to run for another term.

Aides to Rubio, who campaigned in the key early primary state of New Hampshire this week, say it's not unusual for senators seeking the White House to spend significant time away from their day jobs starting the year prior to the election.

They cite the cases of three former Democratic senators — Hillary Clinton (who missed 23% of votes in 2007), President Obama (who missed 38% in 2007), and Secretary of State John Kerry (who missed 62% in 2003).

Rubio spokesman Alex Conant said campaigning for the nation's highest office is time-consuming and can't be left to surrogates. But that doesn't mean Rubio is shirking his duties, Conant said.

"He has returned to the Senate whenever his vote would be decisive, is regularly briefed on issues before his committees, and keeps up on the important constituent work that his Senate staff does," Conant said. "As he travels the country talking about his agenda to help the middle class, there will be no doubt where he stands on any important issues before the Senate and the nation."
To be fair to Rubio then, he really isn't missing many more votes than many of the candidates who ran in 2008 missed during roughly the same time period, although he is missing more than Sanders and Paul. Additionally, many of the votes that the Senate has taken during this period, and that it took during the periods during which the numbers for Clinton, Obama, McCain and others were compiled, are votes on unimportant matters like naming a post office after someone, procedural votes that don't directly impact the substance of legislation or the outcome of a final vote, or votes where the majority is so lopsided on one side or other that it hardly matters whether a single Senator has voted Yea, Nay, or not voted at all. (Does it matter for example, if a bill goes down to defeat 25-74 or 25-75?) In the context of a political campaign, though, that kind of distinction doesn't necessarily matter and the fact that he has missed votes is obviously going to be something that Rubio's opponents try to use against him. It's fairly easy, for example, for a campaign or SuperPAC to create a short negative ad or piece of direct mail that emphasizes Rubio's missed votes and accuses him of missing votes and not doing his job. It becomes more difficult for Rubio to offer the comparison to past Senators running for office or other distinctions between consequential and inconsequential votes that I discuss above. There's an old adage in politics that "if you're explaining, you're losing" that's been attributed to Ronald Reagan but probably predated him. Whatever the lineage, though, it's accurate to the extent that if voters outside Florida care about the fact that Rubio has missed roughly one-third of Senate votes since entering the Presidential race, Rubio probably doesn't do many favors by reminding them of that fact by offering up an explanation for it. In the end, I personally don't think that this issue is one that should automatically disqualify a sitting politician who is running for higher office. Perhaps it is relevant if and when that officeholder runs for re-election, but Rubio is not standing for re-election in Florida regardless of what happens to his Presidential campaign so that's not really relevant.
In a broader sense, the Rubio story and the Sun-Sentinel Editorial bring up the old question of whether its acceptable for officeholders to run for higher obvious given the obvious distractions that a campaign involves. In some sense, of course, the argument that such politicians should resign if they're running for higher office is disingenuous since politicians always run for re-election while holding their current office. If Rubio weren't running for the Senate, for example, he'd most likely be running for re-election and probably missing at least some votes in the Senate, although perhaps not as many as he has while running for President. At the same time, though, there is at least somewhat of a legitimate objection regarding sitting officeholders who end up spending more time running for a different office than doing their job. In 1996, former Senator Bob Dole handled that issue by resigning from the Senate in June of that year shortly after he had officially secured the Republican nomination for President. In that sense, though, Dole was somewhat unique. Senator Al Gore didn't resign when he became Bill Clinton's running mate in 1992, and he didn't step aside as Vice-President in 2000 when he won the Democratic nomination on his own. John Kerry didn't resign in 2004, and neither did his running mate John Edwards, who was representing North Carolina in the Senate at the time, although Edwards did not stand for re-election in 2004. In 2008, we saw five Senators run for the White House who all stayed in office during the campaign, and both Senator McCain and Senator Obama stayed in office after winning their party's nomination. This time around, we also have five Senators running for President who are retaining their seats, including one, Rand Paul, who faces the prospect of standing for re-election in 2016 if his Presidential campaign does not succeed.
In the end, whether or not it's right for these sitting officeholders to run for office without giving up their position is something that is up to the voters. Personally, I don't necessarily think it's as big a deal as the media makes it out to be. Nonetheless, something like missing votes is the kind of issue that's easy to understand and hard to explain, and it's an issue that opponents like to latch onto. Therefore, Senator Rubio is likely to face questions about it both tonight and going forward.