One Million Dead from COVID-19 Worldwide
Yet another grim milestone.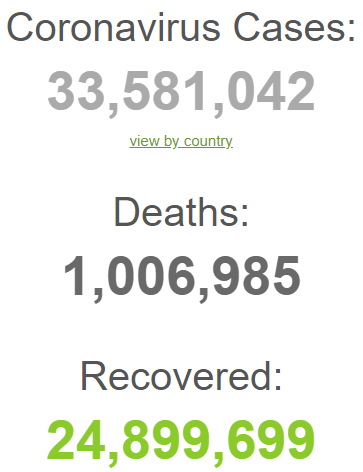 The Independent ("Coronavirus: Global death toll reaches one million"):
The coronavirus pandemic has now claimed more than 1 million lives around the globe, according to the latest official death tolls, with more than 33 million cases.

The grim milestone was passed in the early hours of Tuesday morning. On Monday evening the UK announced a further 13 deaths.

In total, 1,000,555 people have died according to John Hopkins University, which calculates the totals from sources including governments.

Since the first-known cases emerged at a Wuhan wet market in December 2019, the pattern of life has been drastically altered the world over.

Within six months, Covid-19 had taken at least 500,000 lives and infected 10 million people. It has taken just half that time for the known death toll to double.

The virus has now spread to 210 countries and territories, infecting at least 32 million people.

However, the true number of deaths and infections are likely higher due to a lack of sufficient testing and reporting in many countries.
While the Hopkins and Worldometers data, which I've been using at OTB for the sake of consistency, differ slightly both show over a million dead. More than a fifth of them, 209,815, are right here in the USA.
And, yes, the real number is almost certainly much higher. Aside from the deficiency in testing, authoritarian regimes have strong incentives to underreport the toll. Most notably, China—which has over 1.3 billion people and where the virus originated—ranks on 44th in number of reported cases with 85,384 (Poland reports more) and claims a mere 4,634 deaths (fewer than Sweden or Romania). I simply don't believe them.