Outsider Andrew Yang Raises $2.8 Million In Second Quarter
Andrew Yang has been a relatively unknown candidate for the Democratic nomination, but he's slowly risen in the polls and raised more money in the second quarter than several experienced politicians.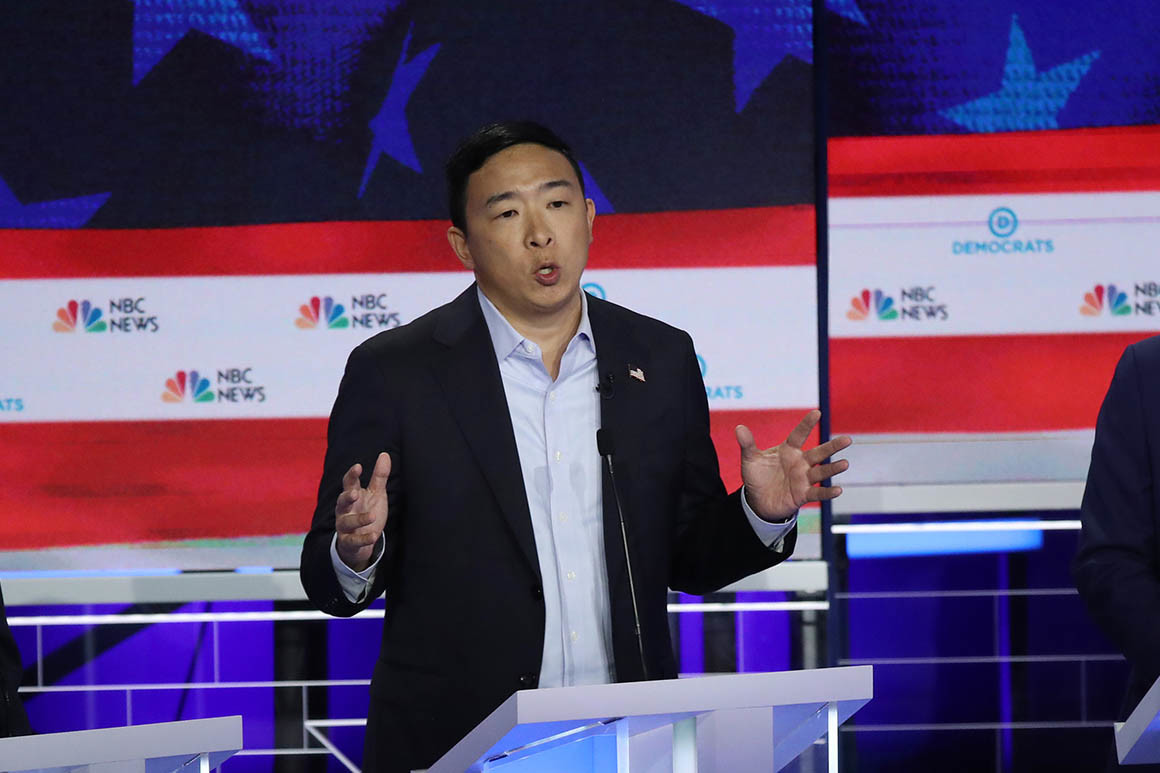 Andrew Yang is one of the little-known candidates for the Democratic nomination for President, mostly polling below 2% in national and statewide polling that has been conducted to date, but be managed to raise $2.8 million in the second quarter of the year:
Former tech executive Andrew Yang raised $2.8 million for his White House bid over the past three months, an improvement from the previous quarter but significantly less than the amount brought in by top-tier candidates.

The vast majority of contributions to Yang's campaign — 81 percent — came from donors giving $200 or less, his campaign said. A more detailed look into his campaign's finances will be available on July 15, the deadline for filing second-quarter fundraising reports with the Federal Election Commission.

While Yang's second-quarter haul pales in comparison to the fundraising totals of better-known candidates — $21.5 million for former Vice President Joe Biden and $19.1 million for Sen. Elizabeth Warren (D-Mass.) — it's a marked increase from the first quarter of the year, when he raised less than $1.8 million.

Yang's recent fundraising total puts him on par with Sen. Michael Bennet(D-Colo.), who also raised $2.8 million over the past three months. It also eclipses the second-quarter numbers of more established candidates like former Colorado Gov. John Hickenlooper and Montana Gov. Steve Bullock, who raised $1 million and $2 million, respectively.
Although he has been at the bottom of the pack for the majority of the race for the nomination so far, Yang did manage to qualify for the first debate and appears to have qualified for the second at the end of the month. There's also been some indication that he may be breaking away from the bottom of the pack in the polls, which consists of people polling under 2%. In one recent poll, for example, Yang was polling at 3%, the highest he has polled in any nationwide poll to date. Whether that will continue or not is unclear, as is the question of whether or not he somehow manages to break out and put himself into the second tier of candidates who at least are likely to survive the culling that is likely to come ahead of the third debate, which will have much stricter standards for invitations than the first two.
As for the question of exactly who Andrew Yang is, all I can report is what I learned from his Wikipedia page. Yang's parents are from Taiwan who met while his father was pursuing his Ph.D. in physics and his mother was pursuing her graduate degree in statistics. He was born in New York in 1974, making him among the youngest candidates in the Democratic field. Yang received a rather elite education, graduating from Philips Exeter Academy, receiving a Bachelor's Degree in economics from Brown University, and a Juris Doctorate degree from Columbia University. After graduation from law school, Yang went to work at one of New York City's top law firms before leaving to pursue a career that involved creating start-up companies and charitable ventures.
Until now, Yang's campaign has not gotten much attention and it's not clear that he's going to get much attention after this. Up to now, the one idea of his that the media has latched onto is the proposal to give every American $1,000 per month, which would effectively constitute a Universal Basic Income. This program would cost the Federal Government roughly $4 trillion per year. If the payment is limited to people over 18, then the cost would still be roughly $ 3 trillion per year. As a frame of reference, the current Federal Budget for Fiscal Year 2019 is just over $4 trillion, so Yang's UBI would double the size of the Federal budget, and he has not explained how he would pay for it. Whether this is the reason for his small bump in the polls and a fundraising number that is better than what some experienced politicians in the field have been able to raise. Whether Yang can make anything out of it remains to be seen.