Pence Leaves Colts Game Over Anthem Protest In Obviously Pre-Planned Stunt
Vice-President Pence left an Indianapolis Colts game early in what was obviously a cynical pre-planned publicity stunt.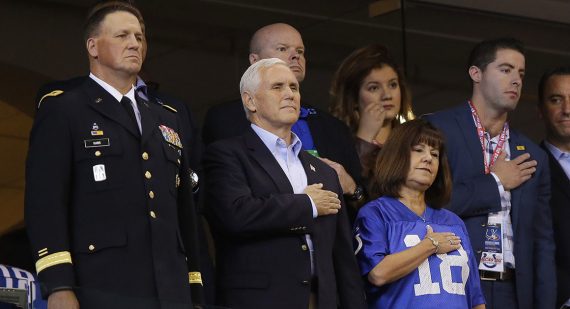 Vice-President Mike Pence walked out of a game at Lucas Oil Stadium between the Indianapolis Colts and the San Francisco 49ers in what was clearly a pre-planned political stunt:
WASHINGTON — President Trump reignited his feud with the N.F.L. on Sunday by telling Vice President Mike Pence to walk out of a game in his home state of Indiana after nearly two dozen players from the visiting San Francisco 49ers knelt during the playing of the national anthem.

Mr. Pence lavishly documented his early departure in a series of tweets and an official statement issued by his office. On Twitter, he declared, "I left today's Colts game because @POTUS and I will not dignify any event that disrespects our soldiers, our Flag, or our National Anthem."

While the vice president portrayed his decision as a gesture of patriotic principle, it had the distinct appearance of a well-planned, if costly, political stunt. He doubled back from a trip to the West Coast to take a seat in the stands in Indianapolis, where the 49ers — the team most associated with the N.F.L. protest movement against racial injustice — were suiting up to play the Colts.

Shortly after Mr. Pence issued his statement, Mr. Trump said on Twitter, "I asked @VP Pence to leave stadium if any players kneeled, disrespecting our country. I am proud of him and @SecondLady Karen."

For Mr. Trump, the vice president's walkout keeps alive a dispute that has proved popular with his political base, even if he has drawn criticism from the N.F.L. and some of its owners for being divisive and politicizing professional sports. On Sunday, a spokesman for the N.F.L., Joe Lockhart, declined to comment on Mr. Pence's statement.

While politicians from both parties concoct situations for political gain, some criticized Mr. Pence's walkout as transparently premeditated. The vice president did not take a pool reporter traveling with him into the stadium; a member of Mr. Pence's staff told the reporter, Vaughn Hillyard, that the vice president might be leaving the game early.

"Manipulation of faux patriotism took new turn today with VP Pence. Preplanned early exit from Colts game after 49ers kneeled, then tweets," Norman Ornstein, a resident scholar at the conservative American Enterprise Institute, wrote on Twitter.

Others pointed out the expense involved: Mr. Pence flew to Indianapolis from Las Vegas, where he had attended a memorial service for victims of last Sunday's mass shooting, and was immediately flying back to Los Angeles.

"After all the scandals involving unnecessarily expensive travel by cabinet secretaries, how much taxpayer money was wasted on this stunt?" Representative Adam B. Schiff, Democrat of California, said in a tweet.

There was little doubt, given the presence of the 49ers, that Mr. Pence would be given an opportunity to make his political statement. The former 49ers quarterback Colin Kaepernick began the dispute over the national anthem last year by taking a knee to highlight the plight of black Americans, particularly the killing of black men by police officers.

Mr. Kaepernick left the 49ers in March and has not been signed by any other team — a situation seen by many as a blacklisting by other team owners. But other 49ers have continued the protest in a show of solidarity with their former teammate.

Last month, Mr. Trump seized on the dispute over Mr. Kaepernick, declaring at a rally in Alabama that any "son of a bitch" who refused to stand for the anthem should be "fired." His comments led hundreds of players to protest during the anthem, though last weekend the furor appeared to be subsiding a bit.

The White House seemed determined to whip it up again. In addition to Mr. Pence's statement and tweets, the press office released a photo of Mr. Pence in a suit, standing with his hand over his heart for the playing of "The Star-Spangled Banner" at Lucas Oil Stadium in Indianapolis. He was standing next to Maj. Gen. Courtney P. Carr, a veteran of the Iraq war who now serves as adjutant general of the Indiana National Guard.

An earlier tweet by the vice president, in which he said that he and his wife, Karen Pence, were looking forward to the game, showed him wearing a Colts cap and casual clothing. He said he was there to honor Peyton Manning, the longtime Colts quarterback whose statue was unveiled in Indianapolis this weekend, and who was set to have his number retired into the team's ring of honor at halftime.

The vice president's office later said that the photo had actually been taken in 2014, when Mr. Pence was governor of Indiana.

In the West Wing, officials privately said they believed that Mr. Pence had sought the controversy, which is a favorite of the president's and which he had voiced his approval of. It came less than two weeks after Mr. Pence's chief of staff, Nick Ayers, told a group of Republican donors that there might need to be a "purge" of the party if people did not get behind the president.
Here are the relevant Tweets from the Vice-President and from President Trump:
Looking forward to cheering for our @Colts & honoring the great career of #18 Peyton Manning at @LucasOilStadium today. Go Colts! pic.twitter.com/C3aCYUNpqG

— Vice President Pence (@VP) October 8, 2017
I left today's Colts game because @POTUS and I will not dignify any event that disrespects our soldiers, our Flag, or our National Anthem.

— Vice President Pence (@VP) October 8, 2017
At a time when so many Americans are inspiring our nation with their courage, resolve, and resilience…

— Vice President Pence (@VP) October 8, 2017
…now, more than ever, we should rally around our Flag and everything that unites us…

— Vice President Pence (@VP) October 8, 2017
While everyone is entitled to their own opinions, I don't think it's too much to ask NFL players to respect the Flag and our National Anthem

— Vice President Pence (@VP) October 8, 2017
I stand with @POTUS Trump, I stand with our soldiers, and I will always stand for our Flag and our National Anthem. pic.twitter.com/B0zP5M41MQ

— Vice President Pence (@VP) October 8, 2017
We were proud to stand – with all our @Colts – for our soldiers, our flag, and our National Anthem 𞿀𞿀 pic.twitter.com/mkZiKMkPDD

— Vice President Pence (@VP) October 8, 2017
I asked @VP Pence to leave stadium if any players kneeled, disrespecting our country. I am proud of him and @SecondLady Karen.

— Donald J. Trump (@realDonaldTrump) October 8, 2017
The trip by @VP Pence was long planned. He is receiving great praise for leaving game after the players showed such disrespect for country!

— Donald J. Trump (@realDonaldTrump) October 9, 2017
NBC News reporter Peter Alexander, who was among the pool reporters assigned to the Vice-President yesterday, meanwhile, reported that the pool was told prior to the game to wait in the press van because there might be an "early departure":
FLAG: Was Pence leaving Colts game a political stunt? Reporters were told to stay in van bc "there may be an early departure from the game."

— Peter Alexander (@PeterAlexander) October 8, 2017
In other words, as much as Pence tried to claim in his tweets that his decision to leave the game early was a spontaneous act, it seems fairly clear that this was a pre-planned political stunt that was choreographed in advance. This is evidence not only by President Trump's own tweets, but by the reports from the press pool that they had been told in advance that Pence would likely be leaving early, and the fact that Pence's ostensible reason for attending the game at all, to watch the halftime ceremony at which Peyton Manning's jersey would be retired. had not even occurred yet. What's particularly galling about the whole affair, of course, is the fact that Pence made this trip from Nevada, where he had been visiting first responders and victims of last week's shooting, and flew to Indianapolis for the game only to turn around before the game had even started, for the explicit purpose of stirring the political pot and waving the bloody shirt of hyper-patriotism just a Trump has been doing since that speech in Alabama, and then flew back West to California where he was scheduled to speak at a fundraiser later in the evening. According to early estimates, this entire spectacle cost taxpayers as much as $100,000, but as Philip Bump notes, it's the planning:
A lot of emphasis has been placed on the cost of the trip, for understandable reasons. CNN figured that the flight alone cost about $200,000 on net — $242,500 in flying time from Las Vegas (where Pence was holding an event in the wake of the massacre there last week) and back to Los Angeles (where he had a political event scheduled). An Air Force Two flight from Vegas to L.A. alone would have cost about $45,000, so: about $200,000.

A spokesman for the vice president told The Washington Post in a statement that this was actually a cost savings, because Pence would otherwise have flown to D.C. for the night instead of Indianapolis. "Instead," the statement read, "he made a shorter trip to Indiana for a game that was on his schedule for several weeks."

But CNN's analysis excludes a lot of other costs, of course. As the Indianapolis Star reported, Pence's appearance introduced another level of security for fans attending the game, prompting the Colts to encourage people to show up early to navigate that security. That extra security cost extra money — as did Pence's travel from the airport to the stadium and back.

There's a ripple through a city whenever a president or vice president visits: street closures, added security, added nuisances. The full costs of those visits are probably incalculable, because they have effects beyond the places directly affected. In this case, it's worth remembering that the ripple was for the purpose of allowing Pence to spend less than an hour at the stadium so he could spend 30 minutes bragging about his principled stand on social media.

(…)

The time of the president and vice president are valuable, and what they do and where they go reflect the things that are important to them. You can always scrounge up more money; you can't create more time. And Trump's visit to Puerto Rico last week lasted only a few more hours than Pence's trip to Indianapolis. Of the 520-odd cumulative days that Trump and Pence have been in power, one was spent traveling to Puerto Rico and one was spent going to Indianapolis. Time is spent in other ways, too: As we've noted before, the president has spent a lot more of his time tweeting about the NFL than he has the devastation of Hurricane Maria.

Pence's flight to Indianapolis was planned for weeks; his social-media response ready to go with a graphic immediately after he left the stadium. It's an impressive level of preparation for an administration, as it turns out, focused on goading the president's base into anger at black athletes.

The trip wasn't free, and the idea that it was a cost savings is ridiculous. But the really galling aspect of Pence's jaunt was that it demonstrated the sort of issue on which the administration is deliberate about having its act together.
And it's significant that the one area where this White House has its act together is one where Trump can accomplish his twin goals of inflaming his base and dividing and polarizing the American public.