Percentage Of Americans Professing "No Religion" On The Rise
The number of Americans professing no religious affiliation is on the rise. This will have some interesting cultural and political implications.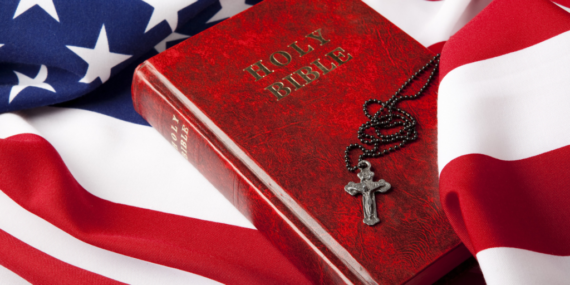 A new study reveals some interesting trends regarding American's religious beliefs and practices:
It's relatively well-known that the portion of the U.S. population with no religious affiliation has been steadily increasing recently. And for those paying attention to research, it's also been obvious for a while that conservative evangelicals were beginning to lose "market share" after years of mocking their mainline Protestant cousins of "dying" because of insufficiently rigorous theology and moral strictures.

But now comes a new set of data from years of polling by ABC News and the Washington Post that puts these trends together in a way that might bust some old preconceptions. Between 2003 and 2017, the percentage of adult Americans professing "no religion" grew from 12 percent to 21 percent. And at the same time, the portion of the population made up by white evangelicals dropped from 21 percent to 13 percent. Indeed, the white evangelical population dropped even faster than the white non-evangelical population (which shrank from 17 percent to 11 percent), and the two groups are converging in size.

Among younger Americans, the trends are even starker. In 2003, only 19 percent of adults under 30 professed "no religion." That percent rose to 35 percent in 2017. That's compared to only 22 percent who identify with any sort of Protestantism.

When you consider the political power of the different types of believer and unbelievers, these numbers are hard to credit. Recently four members of the U.S. House of Representatives formed a "Freethought Caucus," dedicated, among other things, to defense of "atheists, agnostics, humanists, seekers, religious and nonreligious persons" against discrimination. Yet those white conservative evangelicals who are now significantly outnumbered by the "nonreligious" have one of the two major political parties catering to them relentlessly; they are also uniformly thought to represent the political "base" for the president of the United States.
More from ABC News:
The nation's religious makeup has shifted dramatically in the past 15 years, with a sharp drop in the number of Americans who say they're members of a Protestant denomination – still the nation's most prevalent religious group – and a rise in the number who profess no religion.

On average last year, 36 percent of Americans in ABC News/Washington Post polls identified themselves as members of a Protestant faith, extending a gradual trend down from 50 percent in 2003. That includes an 8-point drop in the number of evangelical white Protestants, an important political group.

Reflecting the change among Protestants, the share of Christians overall has declined from 83 percent of the adult population in 2003 to 72 percent on average last year. In the same time, the number of Americans who say they have no religion has nearly doubled, to 21 percent.

Catholic self-identification (22 percent) has held steady during this time. The share of adults who identify with another form of Christianity – including Jehovah Witnesses, Mormons and Greek or Russian Orthodox, for example – has risen modestly, from 11 to 14 percent.

This analysis, produced for ABC by Langer Research Associates, is based on a very large dataset – 174,485 random-sample telephone interviews in ABC News and ABC News/Washington Post polls conducted from 2003 to 2017. We focus mainly on 2003 and 2017 data, including 7,185 and 5,017 interviews, respectively.

Among all Protestants, 56 percent currently say they're evangelical or born-again; that has held essentially steady since 2003, with virtually equal declines in the number who say they're either evangelical or non-evangelical Protestants, down 7 and 6 points, respectively.

Evangelical white Protestants are of particular interest in political terms, since they're a core group within the Republican coalition; 80 percent supported Donald Trump in 2016. Evangelical white Protestants' share of the total adult population has gone from 21 percent in 2003 to 13 percent last year. Non-evangelical white Protestants have gone from 17 to 11 percent.

Part of the decline in evangelical white Protestants reflects the fact that the change in Protestant self-identification overall has occurred disproportionately among whites. Thirty-nine percent of whites now identify themselves as members of a Protestant denomination, down 13 points since 2003. That compares with an 8-point decline among Hispanics (from 22 to 14 percent) and just 3 points among blacks (from 64 to 61 percent). An additional factor is the shrinking white non-Hispanic population, from 69 percent of all Americans in 2000 to an estimated 61 percent in 2016, according to the U.S. Census Bureau.
These two charts show how the numbers have changed among all religions and among Protestants and those professing "no religion"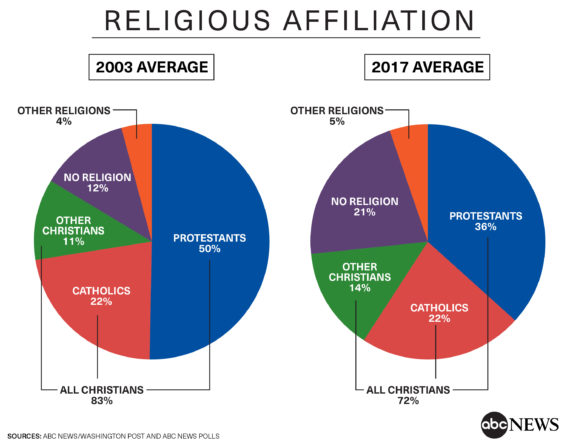 In some sense, of course, this trend is merely a mirror of something that has been happening in other parts of the western world for decades now. In Europe, for example, Church attendance and professed religious belief has been on the decline for decades now even in predominantly and strongly Catholic nations such as Italy and France. The same has been true in nations were Protestant churches predominate such as Germany, the nations of Scandinavia, and the United Kingdom. For a long time, though, the United States has been something of an outlier among western nations. Whether measured by self-professed belief in a supreme being of some kind or regular church attendance, the United States is, and remains, unique among First World nations in that higher percentages of the population are more fervently religious than their contemporaries in other western nations. In many respects, the reasons for this difference can be found in the circumstances surrounding America's founding, including the fact that many of the original immigrants to the United States came here for explicitly religious reasons. As a result, religion has been intertwined with American culture in ways that aren't necessarily true of many nations in Europe.
Those expressing no religious affiliation do definitely fall within some rather unsurprising demographic groups:
As the share of Protestants has declined, the number of adults expressing no religious affiliation has risen from 12 percent in 2003 to 21 percent of all adults in 2017. That includes 3 percent who say they're atheists, 3 percent agnostic and 15 percent who say they have no religion. The proportions were similar 15 years ago.

The largest shifts during this 15-year period include 16-point increases among young adults (age 18 to 29) and political liberals. The smallest changes have occurred among Republicans, conservatives and blacks (+4 points in each group) as well as older Americans, +5 points.

Having no religious affiliation is most prevalent among 18- to 29-year-olds, at 35 percent, vs. 13 percent among those age 50 and older. It's also higher among men than women (25 vs. 17 percent), among college graduates vs. those without a degree (25 vs. 20 percent), and among whites and Hispanics than among blacks (22 and 20 percent vs. 15 percent).

It differs among political and ideological groups as well. Thirty-five percent of liberals report no religious affiliation, compared with 21 percent of moderates and 12 percent of conservatives. Twenty-three and 25 percent of Democrats and independents, respectively, don't report a religion, dropping to 10 percent of Republicans. Indeed the non-religious are something of a political counterpoint to evangelical white Protestants; 67 percent of those with no religious affiliation supported Hillary Clinton in 2016.
There are also some interesting political divisions:
Religious groups differ dramatically in their politics. Evangelical white Protestants, as noted, are a core GOP group; 48 percent identify themselves as Republicans, 31 percent as political independents and just 14 percent as Democrats. Similarly, 53 percent of Mormons are Republicans, 34 percent independents and 9 percent Democrats.

Across the political spectrum, 57 percent of Muslims and 48 percent of Jews say they're Democrats; just 5 and 16 percent, respectively, are Republicans.

Ideological differences are similar. Conservatives account for six in 10 Mormons and nearly as many evangelical white Protestants, compared with 38 percent of white Catholics, a third of non-evangelical Protestants and just 16 percent of Jews. Roughly four in 10 Jews, Muslims and non-religious adults alike are liberals; it's half that, or lower, in other groups.
The cultural and political implications of all of this should be rather obvious. Assuming that these trends continue, then the number of people who define themselves as having "no religion" will increase, and this will, in turn, lead to changes in politics and culture that in some sense are already manifesting themselves. The declining influence of organized religion, for example, has most likely played a large role in the rapid increases we've seen in the acceptance of homosexuality, marriage equality, and the rights of transgender Americans. Additionally, polling has shown that, with the exception of the white Evangelical Protestants that dominate the Republican Party, there is increasing support for the separation of church and state and a rather large antipathy toward government policies that appear to be biased in favor of particular religions or religious faith in general. This is likely to become especially true among younger voters, suggesting that political and cultural changes are likely to become more prevalent in the political sphere as these younger Americans become a larger voice in American politics.
This is not to say that the United States is about to become a non-religious culture at any point in the near future, of course. As the charts above show, people who identify with a particular faith are likely to remain a majority of Americans for some time to come. Additionally, it's important to note that those professing "no religion" aren't necessarily atheist or agnostic. This ABC poll, as well as other polling, has shown that a significant portion of this group includes people who continue to say that they ascribe to some sort of faith while those who say definitively atheist or agnostic remain a decided minority of the population. Many people who place themselves in the "no religion" category instead seem to fall within a group that has spiritual beliefs of some time, but simply do not identify as a member of any particular faith and don't consider church attendance to be an important factor in their lives. Notwithstanding that, it does seem clear that there is a correlation between the "no religion" crowd and an adherence toward political and cultural views that are more accepting of others and less judgmental. To that extent, I suppose, one can only hope that the trend continues.