Pete Buttigieg Surges In New Iowa Poll
A new poll shows Pete Buttigieg surging in Iowa, where the Caucuses are 92 days away.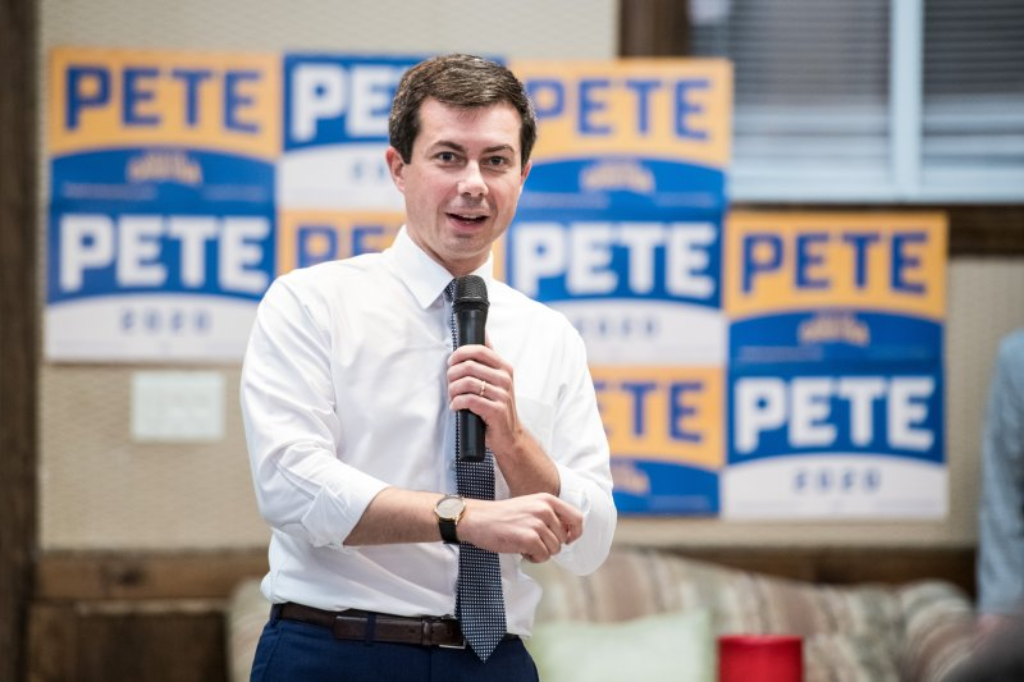 South Bend, Indiana Mayor Pete Buttigieg, who has been quietly rising to the top of several polls over the past month or so, is narrowly leading in a new poll out of Iowa, whose caucuses are less than three months away:
Pete Buttigieg, whose presidential campaign has been steadily gaining ground in Iowa over recent weeks, sits narrowly atop the 2020 Democratic field in the first-in-the-nation caucus state, according to a survey.

A Monmouth University poll published Tuesday shows the South Bend, Ind., mayor is the first choice of 22 percent of likely Democratic caucusgoers — outrunning all other rivals in Iowa for the party's nomination to challenge President Donald Trump.

Former Vice President Joe Biden ranks in second place with 19 percent support, followed closely by Sen. Elizabeth Warren of Massachusetts with 18 percent and Sen. Bernie Sanders of Vermont with 13 percent.

Although no other candidate cracked double-digit support, 5 percent of likely caucusgoers favored Sen. Amy Klobuchar of Minnesota and California Sen. Kamala Harris, billionaire activist Tom Steyer and tech entrepreneur Andrew Yang each received 3 percent. The remainder of the Democratic pack achieved 2 percent support or less.\
This represents a 14-point gain for Buttigieg from the last Monmouth poll of the Hawkeye State and is at least somewhat consistent with other polling showing him doing well in both Iowa and New Hampshire, the first two contest of the 2020 campaign. A recently released Quinnipiac poll showed Senator Elizabeth Warren in the lead at 20%, followed closely behind by Buttigieg at 19%, Senator Bernie Sanders at 17%, former Vice-President Biden at 15%, Minnesota Senator Amy Klobuchar at 5%, California Senator Kamala Harris at 4%, and Andrew Yang, Tom Steyer, and Hawaii Congresswoman Tulsi Gabbard at 3%, and all other candidates at or under 1%.
The RealClearPolitics average for Iowa, meanwhile shows the following:
Elizabeth Warren — 20.0%
Pete Buttigieg — 19.7%
Joe Biden — 17.0%
Bernie Sander — 16.2%
Amy Klobuchar — 4.7%
Kamala Harris — 3.3%
Andrew Yang — 3.0%
Tom Stever — 2.7%
Tulsi Gabbard — 2.3%
Cory Booker — 1.7%
All other candidates at or under 1%
You can also see Buttigieg's rise in the RealClearPolitics average, where Buttigieg is represented by the purple line:
Buttigieg is also doing well in New Hampshire, where the RealClearPolitics average shows Biden and Warren tied for first place at 19.7%, with Senator Bernie Sanders close behind at 19.0%, and Buttigieg at 11.3%. Following Buttigieg, we find the rest of the field lagging in the Granite State. Tulsi Gabbard, for example, comes in fifth place at 4.0%, followed by Andrew Yang and Senator Klobuchar at 3.3%, Kamala Harris at 3.0%, Tom Steyer at 2.3%, and Cory Booker at 1.7%. All other candidates are under 1%.
While Buttigieg seems to be surging in these first two states, his performance elsewhere is not quite as impressive. Nationally, for example, Buttigieg stands in fourth place at 7.5% in the RealClearPolitics and he is under 5% percent in the average in both Nevada, which he is in fourth place at 4.8%, and South Carolina, where he is in sixth place at 4.0%. These last three numbers, of course, are largely reflective of the fact that Buttigieg continues to have problems connecting with minority voters. Whether he's able to turn that around in the coming months will go a long way toward determining if he is able to become one of the top contenders for the nomination or whether he'll end up being a flash in pan. For what it's worth, though, Mayor Pete seems to be beginning to surge at a good point in the calendar. What he does with it remains to be seen.