Politics Stinks
There's no doubt about it, our political culture is pretty horrible.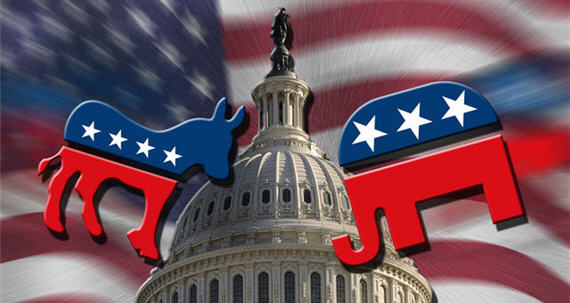 Cato's Gene Healy is pretty much sick of politics, which is a problem since he writes about politics for a living:
I have a confession to make: Even though it's my job to write about politics, I didn't watch a single second of the Republican or Democratic conventions — not even a YouTube clip of Clint Eastwood talking to the chair.

I've long found electoral politics seedy and dispiriting, but that sensibility has lately become a debilitating affliction: like being a sportswriter struck by the unhelpful epiphany that it's silly for a grown man to write about other grown men playing a game for kids.

These days, when I tune in to ABC's "This Week" looking for a column topic, I can't even make it past the first commercial break. Like Peter says to the management consultant in "Office Space," "The thing is, Bob, it's not that I'm lazy; it's that I just don't care."

(…)

Many conservatives are convinced that Barack Obama, who holds the policy positions of your median Prius driver, is bent on destroying the American way of life. Many liberals have convinced themselves that Mitt Romney, the very model of all-American Mormon niceness, is a vicious plutocratic thug who loved to beat up gay kids in high school.

Psychologist Jonathan Haidt, author of "The Righteous Mind: Why Good People are Divided by Politics and Religion," wrote a blog post recently called "Discovering That the Other Side Is Not Really So Loathsome," riffing off an essay by Michael Rubens, a former "Daily Show" producer. It was Rubens' job to interview Rush Limbaugh fans and gun-toting Tea Partiers so Jon Stewart's audience could point and laugh. "[I]magine how irksome it was," Rubens writes, to discover that these folks "generally weren't loathsome persons after all. In fact, to my great consternation and disappointment, I often liked them."

I had to laugh when I saw the very first comment on Haidt's post. "I do not buy this," wrote "Bert Gold, Ph.D.": "[N]o credit for civility to Republicans. … [T]hey humiliated a sitting President and plotted to do so from the night of his inauguration. Despicable is not a strong enough word."
Healy's opinions aren't very far from my own. There was a time when following politics was if not fun at least interesting and seemed to be infused with a sense that there was something important going on. Now, it just seems as though we're either arguing over the same dumb things when the reality is that the two sides of the political debate in this country don't really disagree with each other as much as they like to pretend. If we're not doing that, we're wasting time arguing over stupid things like something silly Mitt Romney said in a stump speech or the fact that Barack Obama ate dog when he was six years old and living in Indonesia. Our "journalists" spend more time talking about whose leading in the latest poll and process issues than they do about the things that voters say repeatedly are their top concerns. And, in both political parties, special interests needle their way into the debate and push their own agendas which have little to do with either the concerns of the voters or the best interests of the nation.
More importantly, the fact that our country has become more polarized between left and right means that politics has found its way into more areas of our life. Now, there are political consequences to what television shows and movies you watch, which actors and musicians you are a fan of, and even whether or not you like chicken sandwiches. People who are strongly political on one side of the aisle or the other tend to think the absolutely worst about those that disagree with them even though, if they actually met one of those people, they'd likely find them to be perfectly decent human beings who just happen to have different political opinions. Most importantly, we are now in a world where it's not enough to merely oppose a politician of the opposite party, one must demonize them and turn them into the worst example of a human being that you can think of. Remember how much flack Mitt Romney took from Republicans during the primary when he said that he thought that President Obama was a decent man who just happened to be in over his head?
As I've written here at OTB several times in the past, the reasons for all of this seem rather clear. Cable "news" networks, talk radio, and the Internet have created a never-ending newscycle that at the same time encourages hyperpartisanship. People are more likely today to get their news from sources that are in line with their ideological biases than they were in the past, thus creating a self-perpetuating Confirmation Bias that just tends to make people more convinced that their views are correct and the other guys are not just wrong, but evil and/or stupid. Add to these the fact that, through things like Gerrymandering and the relative loss of power of party organizations, the political system itself is changing and there is plenty of ripe territory for hyperpartisanship. Thanks to this, and most especially in the Republican Party, dissent from what the base deems to be orthodoxy leads politicians and pundits to be denounced and ostracized, both powerful tools that keep people who make their living in politics "in line" with the party.
Aaron Ross Powell and Trevor Burrus explored the issue recently in a post entitled "Politics Makes Us Worse":
Politics takes a continuum of possibilities and turns it into a small group of discrete outcomes, often just two. Either this guy gets elected, or that guy does. Either a give policy becomes law or it doesn't. As a result, political choices matter greatly to those most affected. An electoral loss is the loss of a possibility. These black and white choices mean politics will often manufacture problems that previously didn't exist, such as the "problem" of whether we—as a community, as a nation—will teach children creation or evolution.

Oddly, many believe that political decisionmaking is an egalitarian way of allowing all voices to be heard. Nearly everyone can vote, after all, and because no one has more than one vote, the outcome seems fair.

But outcomes in politics are hardly ever fair. Once decisions are given over to the political process, the only citizens who can affect the outcome are those with sufficient political power. The most disenfranchised minorities become those whose opinions are too rare to register on the political radar. In an election with thousands of voters, a politician is wise to ignore the grievances of 100 people whose rights are trampled given how unlikely those 100 are to determine the outcome.

The black-and-white aspect of politics also encourages people to think in black-and-white terms. Not only do political parties emerge, but their supporters become akin to sports fans, feuding families, or students at rival high schools. Nuances of differences in opinions are traded for stark dichotomies that are largely fabrications. Thus, we get the "no regulation, hate the environment, hate poor people" party and the "socialist, nanny-state, hate the rich" party—and the discussions rarely go deeper than this.

Politics like this is no better than arguments between rival sports fans, and often worse because politics is more morally charged. Most Americans find themselves committed to either the red team (Republicans) or the blue (Democrats) and those on the other team are not merely rivals, but represent much that is evil in the world. Politics often forces its participants into pointless internecine conflict, as they struggle with the other guy not over legitimate differences in policy opinion but in an apocalyptic battle between virtue and vice.
Of course, politics has been this way from time immemorial and, indeed, there have been times in our history when the political culture has been as bad as it is today, if not worse. Additionally, it's generally been the case that politics has become more vitriolic and partisan in times when the stakes are high or people are unsure about the future. It happened in 1800 and 1828 when the future course of the nation was a stake, in the late 1850s when the very survival of a United States of America was in doubt, it happened in the late 1800s when we were making the transition from an agrarian to an industrial nation, and it happened to some degree in the midst of the Great Depression. So, perhaps, what we're going through now is only temporary and that things will return to something resembling normal after we've finally resolved these political debates we keep having and done something to set the nation right.
I can't say I'm optimistic about things changing anytime soon, though. For one thing, there are too many vested interests out there now who profit both monetarily and otherwise from a divided, hyperpartisan electorate. There are the cable "news" people at Fox and MSNBC who make millions of dollars pitching a message that plays into, and reinforces, this world view. There are the the talk radio hosts who do the same thing. There are the pundits like Ann Coulter who have made their living by saying things that are ridiculously partisan, outrageous, and offensive. There are, of course, the politicians who gain political power by appealing to the very hyperpartisanship that these forces have helped created. And, then, there are the special interests — the bankers, the corportists who profit off of government favors, the defense lobby, the public sector unions — who profit from the hyperpartisanship because it distracts the public attention away from the issues that really matter. Call it the Political-Media-Corporate Complex, if you will, but whatever you call it, it represents the group of interests that are really profiting while we all fight about stupid things that don't really matter.
So yes, politics stinks and it's likely to keep stinking for the foreseeable future. I'd like to say that we can afford to ignore it, but we really can't because if we don't do something to change the status quo, we're all going pay the price.