Post Hoc Ergo Propter Hoc
Did World War II teach us anything about spending-as-stimulus? Not really.
Responding to critics who point out that Franklin Roosevelt's New Deal didn't end the Great Depression and that the American economy didn't fully recover until after World War II, Kevin Drum posts this chart: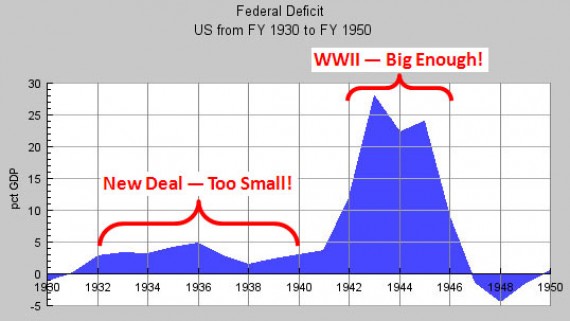 And makes this point:
So why, then, isn't that a good model for getting us out of our current slump? WWII featured five years with federal deficits above 10% of GDP, three of which were above 20% of GDP. And although WWII might have been a good thing for global freedom, all that spending was for war materiel that was completely useless to the U.S. economy. If we repeated this today, we could do better than that even if half the stimulus spending was meaningless makework.

So what's the deal? Did WWII rescue the American economy or not? And if it did, what's the argument for not trying it again, but without the war?
I'm not aware of anyone who makes the argument that Drum seems to be responding to. It's true that the ramp up in war spending that began around 1940, and the switch to a near total war economy after December 7, 1941 and that this put a lot of people who had been previously unemployed to work, or put them in the armed forces and put a weapon in their hand. This wasn't an economic recovery, though, so much as it was a near complete abandonment of the consumer economy and transition to a command-based economy that was devoted solely toward production that benefited the war effort. It wasn't until after the war ended, the command economy largely abandoned, and millions of men came home that the economy recovery began, and it was made possible in large part because normal demand had been suppressed for so long in deference to the war effort.  It wasn't the spending on the war that created the recovery from the Great Depression, it was the end of that spending and the return to a normal economy, along with the fact that the United States stood alone as the only industrialized nation that had gone unscathed by the ravages and destruction of war.
Drum makes the mistake of looking at the post-war economic boom, looking at the war spending that took place between 1940 and 1945, and thinking that it was the spending that caused the post-war boom. It's fairly clear, though, that this simply cannot be the case, and that Drum has gotten himself caught in a post hoc ergo propter hoc fallacy. Considering that most of the money that was spent during those years was spent on things that were either blown up, or used to blow things up, that's a highly dubious conclusion to say the least.
Not surprisingly, history doesn't really support Drum's attempt to turn this into vindication for some program of Super-Keynesian pump priming:
Economically, however, World War II did not spark a recovery so much as it created a financial bubble—not in Internet stocks or housing but in munitions. Once the war was over, the bubble collapsed along with the demand for aircraft carriers and B-17 bombers.

(…)

World War II forced Roosevelt to concentrate on a single area of production: weapons. This focus was maintained for the duration of the war and resulted in a sustained economic bubble. Without a similar attention-focusing crisis, however, current government attempts at stimulus will simply result in economic effervescence—tiny bubbles inflating and bursting as the winds of politics shift lawmakers' attention. Call it the Don Ho School of Economic Thought.

(…)

Contrary to popular belief, the "public works program" known as World War II did not end the Great Depression; it ended the New Deal. The end of the war brought federal spending and tax cuts and the repeal of the Smoot-Hawley tariffs. All these changes combined to pull the nation's economy out of its long and painful slide, and all could have been made without the war. Similar changes made now could restore the world's economy without the massive human suffering that, in their absence, is all but inevitable. Inevitable, yet so avoidable and so unnecessary.
Drum's argument is essentially the same one that Paul Krugman makes in The Return of Depression Economics and the Crisis of 2008
, in which he points to the argument that it was war spending that ended the Great Depression and prescribes the following remedy for the then-still-developing economic crisis:
"Let the government borrow money and use the funds to finance public investment projects—if possible to good purpose, but that is a secondary consideration—and thereby provide jobs, which will make people more willing to spend, which will generate still more jobs, and so on."
Krugman, like Drum, thinks that all we need to do is spending a ton of money and we'll be fine. It doesn't even have to be on anything productive, although I guess that could be a side benefit. Spending money unproductively somehow creates economic growth in his universe. It's an attitude that completely explains Krugman's obsession with Broken Window Fallacy defying arguments, and Drum's failure to comprehend that spending billions of dollars on munitions, ships, and planes does not create economic growth, it merely creates the implements of destruction. In both cases, though, I'm beginning to notice a fixation on war and disaster on the part of Keynesians, because apparently creating something useful doesn't really occur to people who live in Ivory Towers.