President Ghani Flees as Taliban Reach Kabul
The mirage of semi-order faded quickly.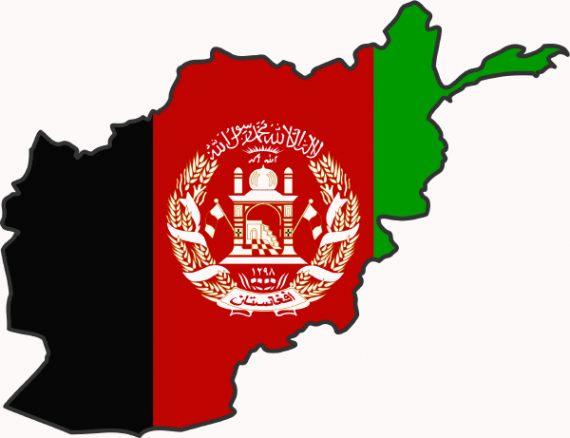 The AP reports, Afghan president flees the country as Taliban move on Kabul.
Afghanistan's embattled president left the country Sunday, joining his fellow citizens and foreigners in a stampede fleeing the advancing Taliban and signaling the end of a 20-year Western experiment aimed at remaking Afghanistan.

The Taliban, which for hours had been in the outskirts of Kabul, announced soon after they would move further into a city gripped by panic throughout the day as helicopters raced overhead to evacuate personnel from the U.S. Embassy. Smoke rose near the compound as staff destroyed important documents. Several other Western missions also prepared to pull their people out.

[…]

President Ashraf Ghani flew out of the country, two officials told The Associated Press, speaking on condition of anonymity because they weren't authorized to brief journalists. Abdullah Abdullah, the head of the Afghan National Reconciliation Council, later confirmed in an online video that Ghani had left.

"The former president of Afghanistan left Afghanistan, leaving the country in this difficult situation," Abdullah said. "God should hold him accountable."
I will admit to struggling to find appropriately accurate language here. For one thing, most of the shorthand we would use in these circumstances are inadequate (i.e., state, country, and government). There is a region on the map called "Afghanistan" to be sure (so, nominally a country) and there was a two-decade attempt by the United States to build a state (a governing apparatus) to control that territory from a government seated in Kabul. But even if local tribal factions hold some collective attachment to "Afghanistan" in the sense of a country in the modern system, they clearly never saw the government in Kabul as exercising sovereign authority over them. And, even more importantly, the government in Kabul lacked the state capacity (and seemingly even the desire) to assert legal and administrative control over the space in question.
The US military presence was clearly all that was holding this whole house of cards together.
I could say that the Afghan government collapsed (and it clearly has) but it never looked like much of a government outside of Kabul to begin with. Yes, on paper it had a 300,000-strong military to enforce its will. Yet, that military ended up to be a fantasy, despite years of US training and spending. It seemed, even a few weeks ago that the government in Kabul had enough capacity to at least pretend for a while that the US occupation had wrought some sustainable good. But it has folded in such a rapid a complete fashion that one has to now ask if it really existed in the first place in any way that really mattered.
It has always been striking to me that in news coverage of these events, in recent weeks one rarely heard from the Afghan President/government officials. Yesterday I heard a report that Ghani had sent out a pre-recorded message, which did not sound like any assurance of serious leadership. I am not shocked in the least that he has fled the place.
The rapid takeover by the Taliban of Afghan territory outside of Kabul, with little to no resistance, underscored the lack of an actual Afghan state (meaning a legal-administration order with known, enforceable rules as dictated and executed by an established and known government). If the military was unable or unwilling to put up even a token resistance that would have slowed this advance even a little shows that there was no military in reality. Lack of basic logistical support was straight-up state failure at its most fundamental (if a state cannot maintain its enforcement mechanisms, the game is over). Desertions just underscored the lack of commitment to the kind of Afghan state and government the US thought it was building.
And, as best as I can tell, there wasn't even significant resistance at the local level by local individuals to the Taliban's advance. That itself is telling of the lack of any successful state-building in the territory known as Afghanistan in the last two decades
What all of this shows is that the degree to which there was an "Afghan state" (and even a government controlling that state) it was largely made up of the United States military.
This was an unsustainable circumstance the suggests we were all going to end up in exactly this place whether we withdrew now, years from now, or had done so years in the past.
It also means that the occupation of Afghanistan by the United States was an utter failure. I don't know how else to put it. Further, I don't know that better planning and execution would have ultimately made much difference. Sure, better is always better and there is also always the assumption that surely there was some formulation that would have produced a better outcome. However, it is wholly possible that such notions are just wishful thinking.
The lesson here should be: nation-building (to use the vernacular, as the issue is really state-building) is extremely difficult and indeed may be impossible via the tool of military invasion and occupation.
None of this is to ignore the true tragedy that is befalling many Afghans today and yes, the advances made for Afghan women are about to be turned back and that is an awful reality.
---
To turn, briefly, to domestic politics on this topic, there is little doubt that Biden will receive understandable and deserved criticism regarding how this policy has played out. After all, not that long ago he promised that this would be orderly withdrawal. He was wrong about that. At a minimum, the administration did a monumentally poor job of estimating what the withdrawal would look like. It is impossible not to look at all of this as a poorly planned process, if not a debacle. And had it happened under Trump, the assumption would have been that it was the result of utter incompetence and there is little doubt that Biden is escaping criticism on this count from many co-partisans that they would have rained down on Trump.
I will say this: did the US government not understand that there was no one to turn Afghanistan over to save, it would appear, the Taliban? Did the Biden administration have reason to believe that a government in Kabul existed apart from a US military presence? If they did, today suggests that they were gravely mistaken.
How this affects Biden's political fortunes will be tests of at least two assumptions. First, the American public supports withdrawal, but it remains to be seen how they will react to a messy one. Second, foreign policy tends not to impact domestic politics as much as foreign policy wonks think it does. I suspect that as long as there are no serious US casualties as a result of this withdrawal, that that maxim will continue to hold.
The reality is that in our polarized reality, it is likely that most Republican-leaning voters and politicians will not favor this action and Democratic-leaning voters and politicians will be generally supportive. The only pro-Biden group likely to be especially upset are never-Trump neocons like Bill Kristol. It is a group with a significant voice, but is also not as significant a group as they think they are.
There is also the reality that the news is currently dominated by the pandemic, and that is likely to increase in the coming weeks as the current surge in infections does not appear to have peaked as yet. The strain on hospitals across the southeast and wars over masking as school starts will almost certainly drown out news from the other side of the world.