President Obama Wades Back Into The Middle East Quicksand
Once again, an American President thinks he can bring peace to the Middle East.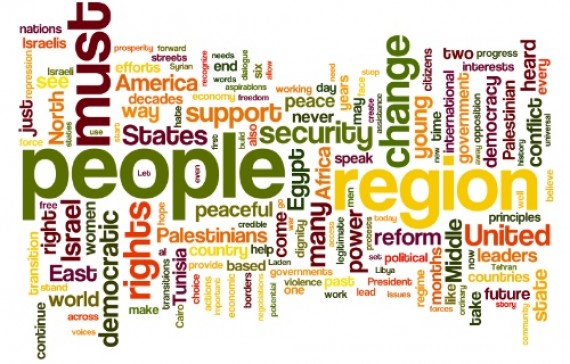 There wasn't anything ground breaking in the President's Middle East speech this afternoon, but it does signal that, once again, the United States seems to be intent on resolving what looks like an irresolvable conflict:
WASHINGTON — Seeking to harness the seismic political change still unfolding in the Arab world, President Obama for the first time on Thursday publicly called for a settlement of the Israeli-Palestinian conflict that would create a non-militarized Palestinian state on the basis of Israel's borders before 1967.

"At a time when the people of the Middle East and North Africa are casting off the burdens of the past, the drive for a lasting peace that ends the conflict and resolves all claims is more urgent that ever," he said.

Although Mr. Obama said that "the core issues" dividing Israelis and Palestinians remained to be negotiated, including the searing questions of Jerusalem and the fate of Palestinian refugees, he spoke with striking frustration that efforts to support an agreement had so far failed. "The international community is tired of an endless process that never produces an outcome," he said.

The outline for an Israeli-Palestinian peace agreement came in what the president called "a moment of opportunity" after six months of political upheaval that has at times left the administration scrambling to keep up. The speech was an attempt to articulate a cohesive American policy to an Arab Spring that took a dark turn as the euphoria of popular revolutions in Tunisia and Egypt gave way to violent crackdowns in Bahrain and Syria, a civil war in Libya and political stalemate in Yemen.

It required a delicate balance, reaffirming support for democratic aspirations in a region where America's strategic interests have routinely trumped its values. While Mr. Obama pushed for Hosni Mubarak's exit in Egypt, he has backed up the Bahraini royal family's effort to cling to power. While he called for the resignation of Col. Muammar el-Qaddafi and supported a bombing campaign against Libya with that ultimate goal, he vacillated as Bashar al-Assad of Syria turned tanks and troops on his people, authorizing sanctions against him only on Wednesday.

Mr. Obama said the events in the region reflected an inexorable desire for democracy that nations — both friend and foe of the United States — could not suppress. He bluntly warned Mr. Assad that Syria would face increasing isolation if he did not respond to those demanding a transition to democracy, though again, he stopped short of explicitly calling for his removal.

"President Assad now has a choice," Mr. Obama said. "He can lead that transition, or get out of the way."

He was no less blunt in the case of Bahrain, a close ally that has brutally crackdown on protests there. "The only was forward is for the government and opposition to engage in a dialogue, and you can't have real dialogue when parts of the peaceful opposition are in jail," he said in one of the few phrases that drew applause from an audience that included State Department officials, lawmakers, military commanders and Arab diplomats.

(…)

Mr. Obama's aides and speechwriters labored on his remarks until the last hours before he delivered it in the stately Benjamin Franklin Dining Room on the eighth floor of the State Department.

Until the end, for example, his aides debated how Mr. Obama would address the conflict that has fueled Arab anger for decades: the division between Israelis and Palestinians. A senior administration official said that Mr. Obama's advisers remained deeply divided over whether he should formally endorse Israel's pre-1967 borders as the starting point for negotiations over a Palestinian state.

That he did so sent a strong signal that the United States expected Israel — as well as the Palestinians — to make concessions to restart peace talks that have been stalled since September.

"Precisely because of our friendship, it is important that we tell the truth," Mr. Obama said. "The status quo is unsustainable, and Israel, too, must act boldly to advance a lasting peace."

At the same time, he emphasized that no peace agreement should be allowed to jeopardize Israel's security, to which he declared the United States had an "unshakable commitment."
For all the hype that this speech got, both here in the United States and in the Middle East, it really didn't say anything about the situation in the Middle East that American Presidents haven't been saying since the 1970's. It was, as Ed Morrissey notes, underwhelming:
The biggest problem for this speech isn't Obama's continuing confusion on working with antagonists and antagonizing allies, or the regurgitation of general principles for resolving the Israeli-Palestinian conflict.  It's that the White House once again inflated expectations for a major address just to deliver routine white-paper positions and lip service on democratization.  The speech was nothing special at all, one that a deputy secretary at the State Department could have just as easily covered.
Of course, the reaction in the United States to this speech isn't nearly as important as how it will be received overseas. While that remains to be seen, ABC News reported earlier today that the President faced a difficult task in turning around Arab public opinion:
When President Obama speaks today on the so-called Arab Spring in the Middle East and North Africa, many people in the region either won't be listening or will take what he says with a large grain of salt.

Obama will encounter a deeply skeptical audience; the confidence and hope generated by his speech to the Muslim world here almost two years ago have now faded with the perception that he has failed to deliver on his promises and U.S. policy in the region remains unchanged.

As uprisings have spread across the region from Tunisia to Bahrain, many critics say, the Obama administration has been slow to act, if at all. Combined with a lack of progress on Iran and the Israeli-Palestinian peace process in particular, the U.S. role has been increasingly seen as irrelevant.

"The Egyptian people and the peoples of the region have invested much in Obama," Hassan Nafaa, a political science professor at the University of Cairo who attended the speech in 2009, said. "They expected he would be able to do something to improve the current situation in the Middle East but he did nothing, as a matter of fact.

"If I have some other things to do [during the speech], I prefer to do them rather than listen to the speech because I don't expect something that will make the difference with the American policy that he's been doing until now.
So, it seems unlikely that the President will win many hearts and minds with this speech, and his call for Bashir Assad to step down is likely to be laughed at in Damascus. Nonetheless, once again, our President has committed the country to another quixotic try at Middle East peace. How many times are we going to try, and fail, before figuring out that there's nothing we can do to force people that hate each other to make peace unless they want to?
Anyway, here's the speech itself, in case you missed it:
Visit msnbc.com for breaking news, world news, and news about the economy
Obama Speech Wordcloud via Taegan Goddard