Public Turning Against Ryan Plan
The GOP seems to be losing the public relations battle over deficit reduction.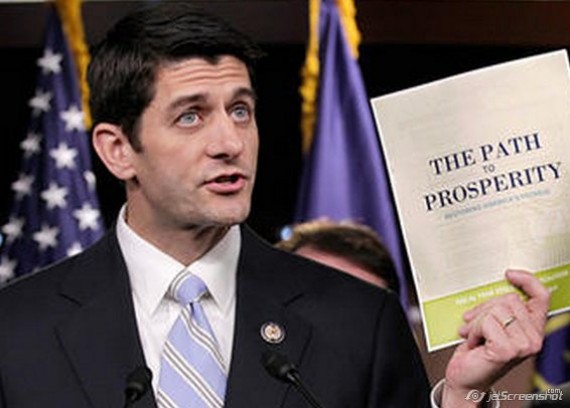 As the nation continues to absorb the news of the death of Osama bin Laden, the focus on fiscal issues has been lost for the moment. It will return, however, and when it does Republicans may find that they are losing the public relations battle over entitlement reform and deficit reduction:
A plurality of voters still have no opinion about Republican Congressman Paul Ryan's long-term budget-cutting plan, but opposition has increased over the past several weeks. By a near two-to-one margin, they don't like his proposal for tackling spiraling Medicare costs.

A new Rasmussen Reports national telephone survey finds that 26% of Likely U.S. Voters continue to favor the budget proposal by Ryan that claims to cut federal spending by $4 trillion over the next decade. But that's unchanged from a month ago.

Now, however, 34% oppose Ryan's proposal, up from 27% in the previous survey. A sizable 40% still don't know enough about the plan to have any opinion of it.
These numbers would seem to suggest that there is still a chance for the GOP to make its case to the public, but the trend should be disheartening considering that it comes after a two week Congressional recess during which these issues were discussed intensely. More importantly, though, it seems clear that the public is highly negative on one of the central provisions of Ryan's plan, Medicare reform:
Just 21% of all voters favor the plan for changing Medicare that is included in the Ryan budget proposal. Thirty-nine percent (39%) oppose that plan. But again 40% are not sure about it. The question did not offer any specifics about Ryan's proposal which includes allowing individuals to purchase private health insurance as an alternative and raising the eligibility age from 65 to 67. Earlier polling showed that voters overwhelmingly believe any proposed changes in Medicare should require voter approval before they can be implemented.
That last part isn't going to happen, of course, but I think it's a measure of just how difficult substantial revisions to programs like Medicare and Social Security (and, to a lesser extent, Medicaid) are going to be to get through Congress. For better or worse, the public has become used to these programs in their present form, and they mostly like them. Changing them is going to require convincing the public that it's necessary, and that they won't lose out under a system, and that they might even be better off. So far, as Jazz Shaw notes over at Hot Air, that isn't being done:
From the beginning it was obvious that getting these types of fiscally responsible changes put through was going to require a massive grassroots educational effort to get voters informed about the cliff we're currently zooming toward. But if these numbers hold, the message isn't getting out there. That will not only severely endanger any chances of a vote succeeding in Congress, but could shorten the political lifespan of those supporting the changes.
I'm not even sure its possible to have a rational debate about these issues in today's political environment, but someone at least needs to give it a try. Otherwise, this chance for reform is going to slip through our fingers and we'll just continue down the path toward a future where change will be both unavoidable and more painful. Once again, the GOP is failing at public relations.