Racist Congressman Steve King Wonders What's So Bad About Being A Racist
Iowa's Steve King has long expressed anti-immigrant and racist views, now he's asking why that's a bad thing.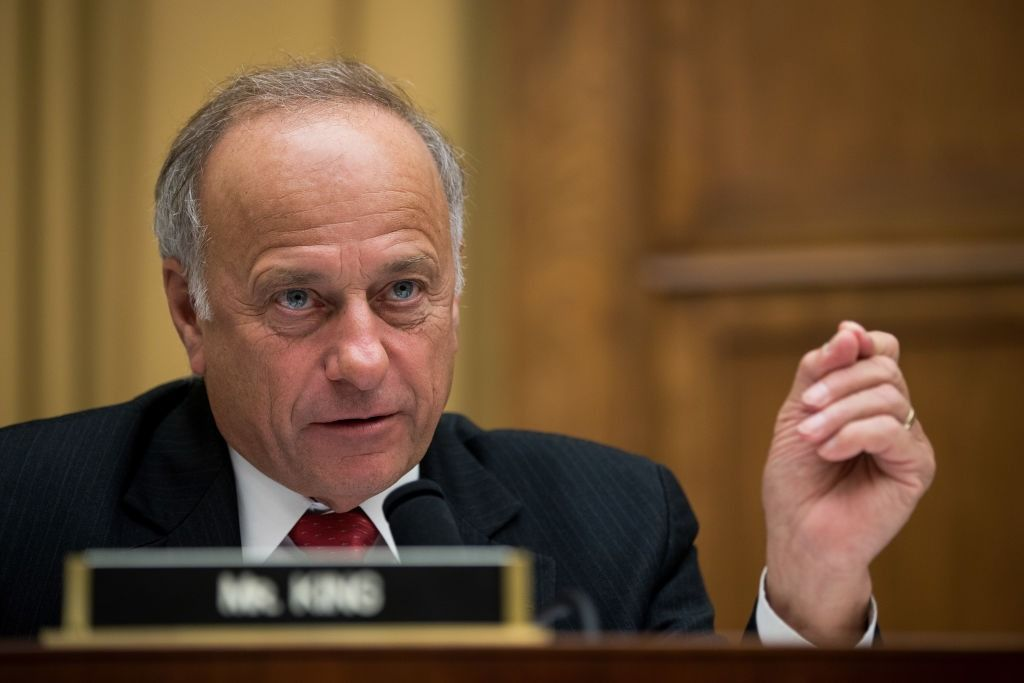 Iowa Congressman Steve King has long made a name for himself as the Republican Party's loudest voice against immigration, including not just illegal immigration but also legal immigration, which he has said shoud be drastically curtailed. He has also been among the loudest voices on the right speaking out against Muslims being allowed in the United States, being allowed to hold public office, or allowed to take the oath of office on the Koran if they are elected. Not surprisingly, King became one of Donald Trump's early supporters in the 2016 campaign, although he had initially backed the campaign of Texas Senator Ted Cruz, and has been among the President's more vocal supporters since Inauguration Day. During that time, King has seemingly become more open in his bigotry and his sympathy for white supremacist views, something that he makes even more clear in a new interview with The New York Times:
Years before President Trump forced a government shutdown over a border wall, triggering a momentous test of wills in Washington, Representative Steve King of Iowa took to the House floor to show off a model of a 12-foot border wall he had designed.

And long before Mr. Trump demonized immigrants — accusing Mexico of exporting criminals and calling for an end to birthright citizenship — Mr. King turned those views into talking points, with his use of misleading data about victims of undocumented immigrants and demeaning remarks about Latinos.

Immigration is Mr. Trump's go-to issue, his surest connection to his most faithful supporters, and his prime-time address on Tuesday night underscored his willingness to use fear and misleading statements to appeal to voters — just as he did with warnings about a migrant caravan before the midterm elections.

The Republican Party hadn't always intended to go this route: Officials tried for years to come up with broad-based immigration reform that would appeal to growing numbers of Latino voters. But Mr. Trump's preoccupation with the wall and anti-immigrant politics reflects how he has embraced the once-fringe views of Mr. King, who has used racist language in the past, promotes neo-Nazis on Twitter and was recently denounced by one Republican leader as a white supremacist.

With the federal government in a third week of paralysis over a border wall, Mr. Trump's positions are a reminder of how Mr. King's ideology and his language maligning undocumented residents helped shape the Republican message in 2016 and 2018 and define Mr. Trump's agenda and prospects for re-election. Mr. King may have been ostracized by some Republicans over his racist remarks and extremist ties, but as much of the nation debates immigration, his views now carry substantial influence on the right.

Early in Mr. Trump's term, the president invited Mr. King — who was long snubbed by establishment Republicans like the former House speaker John A. Boehner — to the Oval Office. There, the president boasted of having raised more money for the congressman's campaigns than anyone else, including during a 2014 Iowa visit, Mr. King recalled in an interview with The Times.

"Yes, Mr. President," Mr. King replied. "But I market-tested your immigration policy for 14 years, and that ought to be worth something."

Mr. King, in the interview, said he was not a racist. He pointed to his Twitter timeline showing him greeting Iowans of all races and religions in his Washington office. (The same office once displayed a Confederate flag on his desk.)

At the same time, he said, he supports immigrants who enter the country legally and fully assimilate because what matters more than race is "the culture of America" based on values brought to the United States by whites from Europe.

"White nationalist, white supremacist, Western civilization — how did that language become offensive?" Mr. King said. "Why did I sit in classes teaching me about the merits of our history and our civilization?"
In response to the Times article, King issued the following statement on Twitter in which he fails to deny making the statements attributed to him above:
My statement on the New York Times article. pic.twitter.com/IjBHgZYgRD

— Steve King (@SteveKingIA) January 10, 2019
As the article goes on to note, King has been quite open about his anti-immigrant views from his early days in Iowa politics, such as when as a member of the state legislature he sponsored a bill making English the state's official language at a time when workers from Mexico and Central America were becoming more common on the state's farms and in the slaughterhouses that processed beef and other livestock as part of the vast agricultural industry. Once he was elected to Congress he became one of the Republican Party's most vocal anti-immigrant voices, joining forces with Colorado's Tom Tancredo, who effectively passed the torch to King when he left Congress after the 2008 election. He also found allies in fellow Republican Members of Congress such as Texas Congressman Louie Gohmert and former Minnesota Congresswoman Michele Bachmann, who echoed many of the same anti-immigrant, xenophobic comments that King did although not with quite the same amount of fervor that King does.
Since the rise of Donald Trump, though, King has seemingly joined a number of other white supremacists such as those who organized the summer 2017 "Unite The Right" rally in Charlottesville that included members of the Ku Klux Klan, Neo-Nazis, and other hate groups, and which resulted in the death of a counter-protester at the hand of one of the men who participated in the rally in becoming far more open in his racism. Over the course of the past several years, for example, King has endorsed a candidate for Mayor of Toronto, Canada who has neo-Nazi ties, he has met with the leaders of a far-right political party in Austria that has been accused of questioning and downplaying the seriousness of the Holocaust. Among the accounts he follows on Twitter is an activist on the far-right of Australian politics who has, among other things, called for the hanging of a portrait of Adolf Hitler in every classroom in that country. On Twitter, he follows an Australian anti-Semitic activist, who proposed hanging a portrait of Hitler "in every classroom."
When he spoke with a far-right publication in Austria over the summer last year, King seemed quite familiar with several racist conspiracy theories, books, and ideas embraced by white supremacists and neo-Nazis across the globe. For example, as the Times article noted, King spoke of something called "the Great Replacement," which is basically a far-right conspiracy theory that so-called "elites" are seeking to reduce white populations across the globe and replace them with minority groups from other parts of the world. This is the conspiracy theory that inspired the torch-bearing protesters in Charlottesville who chanted slogans such as "Blood And Soil!," a slogan that has its roots in Nazi Germany, and "Jews will not replace us!"  King has also forged close ties with far-right political leaders in Europe such as France's Marine Le Pen and Geert Wilders of the Netherlands, who has built his reputation on being one of the most virulent anti-Muslim politicians in Western Europe and has advocated ideas such as closing mosques. in response to the influx of mostly Muslim refugees and immigrants from Syria and other parts of the Middle East. In March of 2017, King tweeted his endorsement of Wilders in a tweet, saying that "We can't restore our civilization with somebody else's babies."
Domestically, King has become something of a hero those on the so-called alt-right who have become more open about their beliefs in the wake of President Trump's election. For example, Andrew Anglin, who operates the far-right website Daily Stormer, and who joined others on the white supremacist right in celebrating Trump's win in 2016, has been quoted as saying that King is "basically an open white nationalist at this point." More recently, when the new Congress was sworn in last week along with a record number of women and African-Americans, as well as Muslim and Native American women, King apparently remarked that the Democratic side of the chamber looked like "no country for white men."
King's increasingly open display of racism hasn't been without consequence. In the wake of his interview with the Austrian magazine, for example, King lost several top corporate agricultural companies such as Purina, Land O' Lakes, and Smithfield as donor sources. He found himself condemned by the head of the Republican House elections committee, Congressman Steve Stivers of Ohio, who said: "We must stand up against white supremacy and hate in all forms." More recently, Iowa's Republican Governor condemned King's positions. and fellow Republican Congressman Justin Amash of Michigan and Wyoming Congresswoman Liz Cheney have both condemned King in the wake of his recent comments. Additionally, King has picked up a significant challenger for the Republican nomination for his seat in Randy Feenstra, who serves as Assistant Majority Leader in the State Senate and who has said that King is depriving his constituents of a proper representation due to the distractions that his controversial views bring to the table. He has also picked up a second challenger in Bret Richards, a local businessman who has never held office before. All that being said, it's worth noting that King won the Republican primary in 2018 with 75% of the vote, and won the General Election over his Democratic challenger despite some speculation in the weeks beforehand that his seat could be vulnerable. In the end, King's victory by 10,000 votes was narrower than he has seen in many years, though, and that is likely the reason why Feenstra is challenging him now. In any event, King has been an open racist for years now, so one wonders why it has taken this long for someone who might have a chance of winning challenge him for the nomination.
All that being said, removing King from Congress would be satisfying but the fact that he's there in the first place is troublesome in any case. The fact that he has been re-elected, usually by overwhelming margins, by the people of Iowa's 4th Congressional Districts suggests that at some level at least he reflects their own beliefs, including his rhetoric on race and immigration. Additionally, the fact that, like so many other white supremacists, King has seen the election of Donald Trump as an open invitation to be more open about their racism is a sad sign of the kind of nation Donald Trump's America has become. Instead of unity and equality, we have a President who has made it comfortable for racists like King to spew their nonsense. As King himself said in the article above, he "market tested" the same anti-immigrant, xenophobic ideas that have been President Trump's bread and butter since entering the race in June 2016 for much of his 14 years in Texas. In that sense, I guess you could say that Donald Trump is the natural outgrowth of Steve King and that he is the price the GOP and the nation is paying for the failure to properly condemn King and people and like him n the years before Trump came along. That alone is a good reason to reject Trump and all those to support him and to get them out of power as soon as possible.