Ralph Hall, Oldest Member Of Congress, Defeated In Texas GOP Runoff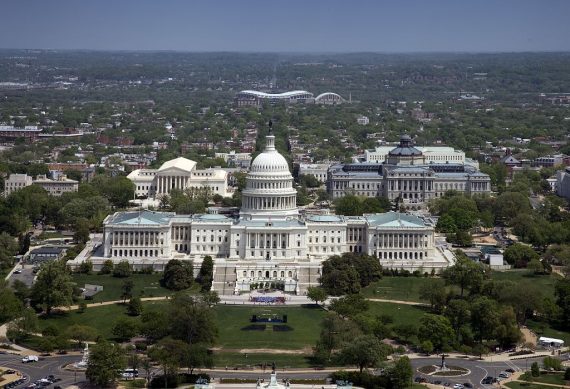 The oldest, and one of the longest serving, Members of Congress lost his primary runoff battle in in Texas last night:
Seventeen-term Rep. Ralph Hall on Tuesday became the first incumbent to lose renomination this cycle, after the Texas Republican was ousted by former U.S. Attorney John Ratcliffe in a primary runoff.

With 98 percent of precincts reporting, Ratcliffe led Hall, 53 percent to 47 percent.

Hall — who at age 91 is the oldest sitting member in the history of the House of Representatives — finished in first place in the March primary but failed to earn the majority of the vote necessary to avoid the runoff that has ultimately ended his career representing the Lone Star State's 4th District.

"I thank Congressman Hall for serving us admirably, and wish him the best moving forward," said Ratcliffe, in a written statement to POLITICO. "I look forward to representing the 4th District of Texas in U.S. House of Representatives and fighting for the conservative values which I've defended throughout my career."

Ratcliffe benefited from the momentum in the days following the primary and courted support from conservative groups such as the Club for Growth and the Senate Conservatives Fund, who were eager to claim a win against a once-untouchable incumbent. The Club for Growth, the Madison Project, and Senate Conservatives Fund all congratulated Ratcliffe soon after the race was called.

Ratcliffe loaned his campaign $400,000 from his personal wealth and funneled that money into well-regarded campaign strategists and digital advertising. Hall's initial strategy, meanwhile, relied heavily on his name recognition and did not initially include an aggressive fundraising push.

Following the primary, the race quickly became an exercise in catching-up for Hall. His campaign aggressively raked in endorsements from high-profile politicians like Minnesota Rep. Michele Bachmann and former Texas Rep. Ron Paul. The campaign also began tapping into Hall's deep network of influential friends — including his colleagues in Congress — to close a fundraising gap.

The race grew increasingly negative during the final month before the election. The Ratcliffe campaign, which had long been careful to avoid questions about Hall's age and instead focused on the length of Hall's tenure in Congress, became gradually more willing to raise Hall's age as an issue. For its part, the Hall campaign sought to call into question Ratcliffe's conservative credentials and his background as an attorney.
Given that the 4th District is reliably Republican, there's no doubt that Ratcliffe will win the General Election in the fall. In some sense, I suppose, one can spin this is one of the few Tea Party wins of the campaign cycle to date, but there were also plenty of other reasons that Hall ended up losing after all this time. For one thing, Hall didn't exactly run an aggressive campaign in response to the attacks from Ratcliffe and his supporters. For another, at some point, the argument that someone who is in their 90s and has been in Congress since Ronald Reagan was elected has been in office too long starts to have some appeal. It's about time we started get new blood in the place.
On a side note, it's worth noting that with Hall leaving Congress in December due to this loss and Michigan Congressman John Dingell retiring, there will now be no more World War II veterans left in the House of Representatives, and there have been none in the Senate since Daniel Inoyue died. A true generational shift.