Release Of Long Form Birth Certificate Sends Birtherism Into The Political Fringe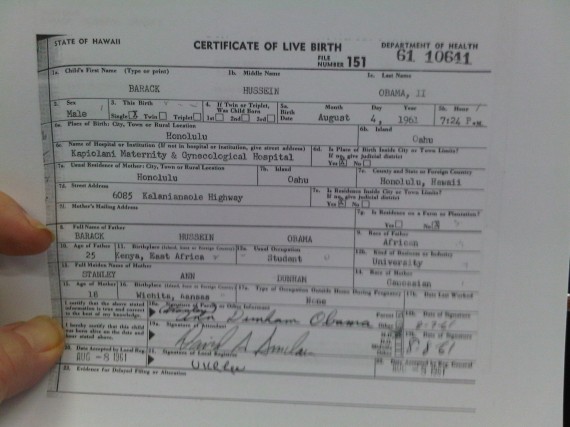 President Obama's decision to release his long-form birth certificate appears to have closed the case for all but the most paranoid Americans:
The number of Americans saying President Obama was born in another country has been sliced in half, according to a new Washington Post poll.

In interviews following the public release the president's "long-form" birth certificate last week, fully 70 percent of Americans say Obama was born in Hawaii, a big bump-up from the 48 percent who said so a year ago. Even more say he was U.S.-born, or call that their best guess, for a total of 86 percent.

Overall, 10 percent of Americans say Obama was likely born abroad, down from 20 percent in an April 2010 Post-ABC poll. Almost all those who now say Obama was born in a foreign country say that it's only their "suspicion;" just 1 percent claim "solid evidence" that the president was born elsewhere (9 percent said so last year).

The drop-off in the mistaken belief that Obama was not-U.S.-born has come most prominently among his sharpest critics. Today, 14 percent of Republicans say Obama was not born in the U.S., down from 31 percent in April of last year. Among the most conservative Republicans, the number of skeptics fell from 35 to 16 percent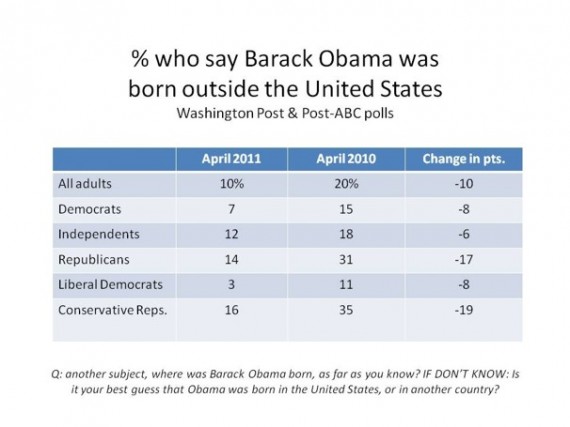 So, that's that I guess.