Rep. Michael Grimm Pleads Guilty To Tax Evasion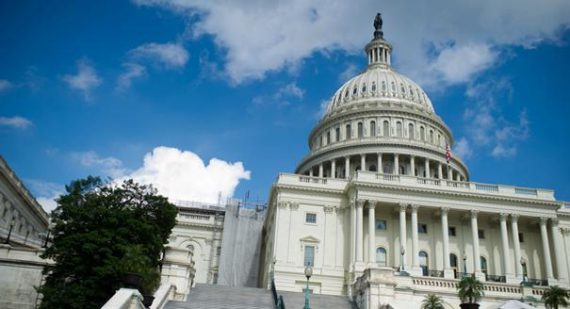 Some eight months after being indicted, Michael Grimm, the only Republican representing a Congressional District inside New York City, has plead guilty to a single count of tax evasion, raising questions about how he can continue in office:
A former Marine and agent with the Federal Bureau of Investigation who first ran for office as a law-and-order corruption fighter, Mr. Grimm, 44, appeared in federal court in Brooklyn on Tuesday to change his plea in the case.

"Guilty," he told Judge Pamela Chen.

Mr. Grimm was charged in a 20-count indictment in April after an investigation by federal prosecutors in Brooklyn, the Internal Revenue Service and the F.B.I. focused on accusations of campaign finance fraud and other improprieties. The indictment charged him with underreporting wages and revenue while he ran a fast-food restaurant called Healthalicious on the Upper East Side of Manhattan. He ran the business after the F.B.I. and before serving in Congress.
News of the guilty plea only broke yesterday afternoon and, because of the holidays, there has been little if any comment from Grimm's Republican colleagues, but his fate seems clear:
New York Rep. Michael Grimm has always been a survivor, so when he stepped into a federal court in Brooklyn Tuesday and pleaded guilty to a felony charge that he evaded taxes, the move will most likely be the beginning of the end for his brief, but spectacularly colorful, political career.

Whether the New York Republican's plea deal will involve prison time won't be decided until a hearing on June 8, although with his record of public service, any period of incarceration would likely be short. Grimm faced as much as 20 years behind bars under his federal indictment.

Yet what is all but certain is that Grimm can't survive politically once he admits guilt. After all, it was Grimm himself who suggested that if he was convicted, he would step down.

"If things don't go my way, right? And I had to step down in January, then there will be a special election, and at least the people of Staten Island and Brooklyn can then have qualified candidates to choose from," Grimm said during an October radio interview.

(…)

[N]ow Grimm's fate could be taken out of his own hands.

Speaker John Boehner (R-Ohio) won't comment on what he'll do until after they've spoken face-too-face, according to a spokesman's comments on Tuesday.

Yet Boehner has historically had little tolerance for beleaguered lawmakers, even for those he considers personal friends. Boehner gives his colleagues plenty of rope, but he will yank it back if they cross the line.

Under his leadership, former Rep. Chris Lee (R-N.Y.) was forced to resign after it was discovered that Lee used his downtime at a GOP legislative retreat to send partially clad photos of himself to a woman he met online. Boehner pushed former Indiana Rep. Mark Souder to resign when it came out that the congressman was having an affair with an aide. Alaska Rep. Don Young was made to give up a top committee slot when he faced a criminal probe. When Democratic Rep. Charles Rangel of New York was under investigation for evading taxes, Boehner called on him to relinquish the chairmanship of the powerful Ways and Means Committee.

Democrats around town are already salivating at Grimm's situation, and they seem ready to pounce once a guilty plea is formally entered. When Republicans have to go home and explain why a criminal is still casting votes in the House chamber, a resignation doesn't seem far off.

Boehner and other GOP leadership typically operate in a quiet, behind-the-scenes manner in situations like this. If they believe Grimm should resign, they will let him know, and then give him time to step down. If he is slow to give up his seat, Boehner will go public and try to pressure him to move on.

This isn't a welcome distraction right now for Boehner and McCarthy. Republicans just won a historic majority in the House, and criminal misdeeds will only distract a GOP leadership looking to finally get things done. Grimm also isn't the only Republican in hot water right now. Texas Rep. Blake Farenthold is facing a civil suit, which alleges improper behavior in his office.

The House Ethics Committee has deferred its own investigation into Grimm while the federal criminal case was ongoing. If Grimm were not to resign, the secretive panel — evenly divided between Republicans and Democrats — would be expected to begin looking into the allegations against him. Potential sanctions by Ethics, which will be chaired by Rep. Charlie Dent (R-Pa.) in the next Congress, could include expulsion, although that would take several months and would formally require a vote by the full House. The last member expelled was the late Rep. Jim Traficant (OhGrio) in 2002.

If Grimm were to simply resign, his departure could very easily cost Republicans a seat. His district is only slightly Republican. Democrats have not had much success fielding strong candidates to take Grimm on, but they have held the seat in recent years. Domenic Recchia, a former New York City councilman, was such a poor candidate that the New York Daily News' editorial page endorsed Grimm despite the criminal indictment, saying Recchia was "so dumb, ill-informed, evasive and inarticulate that voting for a thuggish Republican who could wind up in a prison jumpsuit starts to make rational sense." Grimm won by 16 points.
In a rational world, of course, Grimm would hand in his resignation before close of business today.