Repeal Of Don't Ask, Don't Tell May Happen After All
Democrats are now confident that they have the votes in the Senate to repeal Don't Ask, Don't Tell, but do they have enough time?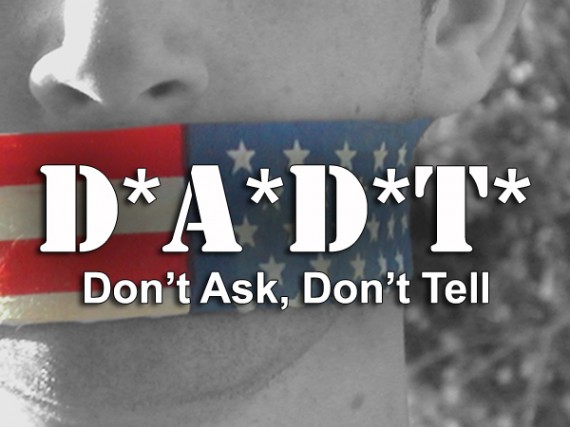 Despite initial post-election signs that the odds of repealing Don't Ask, Don't Tell has slipped significantly, there are now signs that the repeal, and the Defense Authorization Bill it is attached to, will make it through the Senate after all:
Thirteen Democratic senators signaled strong support Thursday for ending the military's "don't ask, don't tell" policy and said they are willing to work well into December to ensure passage of a defense bill that would end the ban on gays openly serving in uniform.

The show of support came as Senate Majority Leader Harry M. Reid (D-Nev.) said this week that he plans to bring the bill up for a vote again after the Thanksgiving recess despite the objections of Sen. John McCain (R-Ariz.), who opposes an end to the policy.

Other Republicans, including Sens. Susan Collins (R-Maine) and Richard G. Lugar (R-Ind.), have said they will vote to move ahead with the bill if Reid allows for a fair debate and others could also support it, senators said Thursday.
Additionally, John Ensign of Utah Nevada and Lisa Murkowski have both hinted that they may also support repeal of the policy after having a chance to review the Pentagon study that will be coming out in December.
However, therein lies what could be a problem with getting this bill through the Senate before the end of the year:
The Senate calendar could be the strongest roadblock to passage of the defense bill. A Pentagon study group reviewing how ending the ban could affect troop morale will submit a report to President Obama and the top military leaders by Dec. 1.

Senate Armed Services Committee Chairman Carl M. Levin (D-Mich.) plans to hold hearings on the Pentagon study shortly after its release and before senators vote on the defense bill. That would leave about two weeks before Christmas for the Senate to debate and pass the bill and for House and Senate negotiators to finalize a conference version before final passage.
Despite the time pressures, Joe Lieberman is confident that the Democrats have the votes they need to invoke cloture on the defense bill:
After an embarrassing defeat in September, Senate Democrats are taking a second try at repealing Don't Ask Don't Tell – and promise they have enough votes to do it.

"There's more than 60 senators, I'm convinced, who are prepared to vote for this bill, including Don't Ask Don't Tell," Sen. Joe Lieberman, an independent who is voting with Democrats on this issue, said in a press conference Thursday morning.
And finally, a new poll shows that repeal is supported by a majority of Americans:
Repeal "don't ask, don't tell," voters say 58 – 34 percent, including 55 – 38 percent among voters with a member of the military in their family. This is the first time military families have supported repeal of "don't ask, don't tell."
Of course, as long as repeal stays attached to the Defense Bill, that makes it more likely that Congress will act since the bill itself needs to pass before the end of the year. Given the fact that repeal would likely be dead for two years or longer (barring Court action) if it's left to the next Senate to deal with, one would hope that they're able to get this done before the end of the year.