Republicans Need To Tread Carefully In Response To Jobs Bill
With the economy at the forefront of the public's mind, the GOP needs to be careful in its response to President Obama's new jobs bill.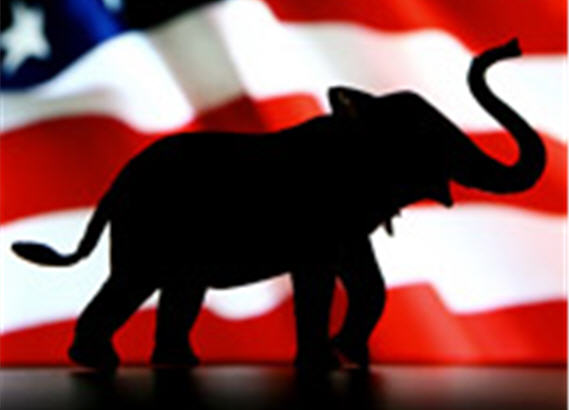 In a Rose Garden speech this morning, President Obama, flanked by teachers, firefighters, construction workers, and police officers, introduced the American Jobs Act, which is being sent to Congress today:
President Obama called again Monday for Congress to support his $447 billion plan to create jobs, accusing Republicans of refusing to work with him because of election politics rather than specific policy differences.

At a Rose Garden appearance, Obama pledged to send Congress the American Jobs Act on Monday evening when the legislative body resumes its session. The president, surrounded by American workers he said would be helped by the bill, held aloft a thick sheaf of papers secured by a large binder clip.

"This a bill that will put people back to work all across the country, that will help our economy in moment of national crisis," Obama said. "It is based on ideas from both Democrats and Republicans. And this the bill that Congress needs to pass: no games, no politics, no delays. I'm sending this bill to Congress today, and they ought to pass it immediately."
Today in Politico, in an article that was published before Obama's speech, Marin Cogan and Jake Sherman take a look at how the GOP is reacting to that plan:
House Republicans may pass bits and pieces of President Barack Obama's jobs plan, but behind the scenes, some Republicans are becoming worried about giving Obama any victories — even on issues the GOP has supported in the past.

And despite public declarations about finding common ground with Obama, some Republicans are privately grumbling that their leaders are being too accommodating with the president.

"Obama is on the ropes; why do we appear ready to hand him a win?" said one senior House Republican aide who requested anonymity to discuss the matter freely. "I just don't want to co-own the economy by having to tout that we passed a jobs bill that won't work or at least won't do enough."

Even with the presence of so many GOP-friendly provisions in Obama's plan — like trade agreements and small-business tax relief — some senior lawmakers are pulling back, wondering how the president will ensure his initiatives will not add to the nation's debt.

"To assume that we're naturally for these things because we've been for them does not mean we will be for them if they cause debt, if they [have] tax increases and if they take money from the free-enterprise sector, which creates jobs," said Texas Rep. Pete Sessions, who heads up the House Republican campaign arm.

So as they try to grab smaller, passable measures from Obama's jobs package, Republicans are also trying to strike their own balance between appearing open to bipartisan solutions and not giving the president an easy legislative victory that could tether them to his ownership of a bad economy.
Matthew Yglesias takes this as a sign that Congress won't pass much of anything:
In a paradigm where the passage of major legislation counts as a "win" for President Obama then anyone who wants to see President Obama go down to defeat, then no major legislation can pass on a bipartisan basis. This is exactly the problem the White House had in trying to overcome GOP filibusters during the 111th Congress and the main problem they face in trying to reach bipartisan accords with the Republican-led House of Representatives in the 112th Congress. This is the fundamental reality of American politics today, but far too few people put it at the center of their accounts of what's happening.
Steve Benen appears to be shocked to find that there's politics going on in this establishment:
For all of the debate over what motivates Republicans on Capitol Hill, could this quote be any clearer? GOP goals have nothing to do with boosting the economy or creating jobs, and everything to do with undermining the president during a crisis.

The correct answer to this aide's question — Americans get back to work is more important than partisan politics — never seems to enter the picture.

Rep. Pete Sessions (R-Texas), chairman of the NRCC, added that no one should assume congressional Republicans will support policies, just because "we've been for them" in the recent past.

No, of course not.
The other possibility, of course, is that there are some Republicans who honestly believe that the policies that the President is advocating in this bill are unwise or will have, at best, a minimal impact on job growth. For example, we've had a Payroll Tax Holiday in effect since January 1st of this year, and the unemployment reports have laid bare the fact that it doesn't seem to have done anything to stimulate job growth, or the economy. As I've noted before, most economists seem to think that the tax credit for hiring that Obama's plan includes will do little to stimulate job growth and will just end up being a subsidy to employers who were already planning to hire anyway. Infrastructure spending was a huge part of the 2009 stimulus bill and it did little to spark hiring, even among the construction companies that got the contracts that were awarded under it. Rather than hiring new workers, most of these employers seem to have decided to go forward with the new projects using their existing staff. Moreover, if there is new hiring for such projects, what happens when the project is done? Unless there's more work out there, those workers are going to get laid off again because it would not make sense to pay them to be idle. In other words, it is possible to be against the President's bill because it's filled with bad ideas rather than simply because one wishes to see the President suffer a defeat. Accusing all opponents of the plan of being in that second group is simply unfair.
That said, Yglesias and Benen do have a point. There are most assuredly Republicans who want to defeat the President, that's why their called the opposition party. In some sense this is how our political system has always worked, the problem is that some Republicans on Capitol Hill don't seem to realize that blanket opposition isn't always in their interest. In this case in particular, I think that the Congressional Republicans are potentially playing a dangerous game, and putting their position at risk. As it was when voters went to the polls in November 2010, the economy remains the top concern of voters according to every poll that's been taken over the past ten months, and the jobs situation is the primary reason so many voters are concerned about the economy. If the GOP lets itself be seen as being nothing but obstructionist on this bill, and the President is able to sell it to the public as something that could do some good, then they're in danger of having the public turning on them over the next fourteen months.
There's already evidence that the public is just as displeased with the performance of Congressional Republicans on the economy as they are President Obama, if not more. Consider, for example, last week's ABC News/Washington Post Poll:
Sixty-eight percent disapprove of the way the Republicans in Congress are doing their jobs, a point from the record high in ABC/Post data since 1994. (And 15 points more than Obama's 53 percent disapproval.) Notably, cutting through partisan predispositions, 33 percent of Americans disapprove of Obama and the Republicans in Congress alike.

Moreover, for all Obama's weak ratings, he still runs about evenly with the Republicans in Congress in trust to handle the economy, 42 percent vs. 39 percent; job creation, 40-40 percent; and the federal deficit, 39-42 percent. Meanwhile record numbers, 16 or 17 percent, volunteer that they trust neither Obama nor the GOP to handle any of these.
There hasn't been any polling yet on the jobs plan. It's far too soon for that, for one thing. However, if it turns out that the public is reacting to it positively, then Republicans will need to tread carefully. If they're perceived as not willing to work together with Democrats to solve the nation's biggest problem, it could come back to bite them when polls open in 2012.
Update: Rasmussen is just out with a poll on the jobs plan, which may not be much of a guide simply because respondents only had the speech from Thursday to go on in making their judgment:
Voters think Congress may pass at least some of President Obama's latest jobs plan but have much more confidence in reducing government regulations to create new jobs.

A new Rasmussen Reports national telephone survey finds that 38% of Likely U.S. Voters favor the $447 billion plan the president introduced to a joint session of Congress last Thursday evening. Nearly as many (36%) oppose the plan which includes the continuation of certain tax breaks, the passage of several stalled free trade agreements with other countries and new spending for education, infrastructure like roads and bridges and the further extension of unemployment benefits. Twenty-six percent (26%) are undecided about the plan.

A look at the partisan demographics suggests, however, that many voters still don't know much about the plan and are just reacting to the fact that it was proposed by the president. Sixty-six percent (66%) of Democrats favor it, while 64% of Republicans oppose it. Meanwhile, a plurality (37%) of voters not affiliated with either party doesn't know enough about it to take a position for or against. Most voters consistently believe that cutting government spending is good for the economy.

Still, 62% of all voters think Congress is at least somewhat likely to approve some of the president's jobs plan. That figure, however, includes just 17% who think passage is Very Likely. Twenty-nine percent (29%) feel Congress is unlikely to approve any of the plan.

At the same time, just 24% of voters believe increased government spending is more likely to create new jobs than reducing government regulations on business. Sixty-two percent (62%) think reduced regulation is a more likely job creator. Fourteen percent (14%) are not sure which course is better.
Take it for what it's worth.