Rethinking Flournoy as SECDEF
Women in national security circles love this woman.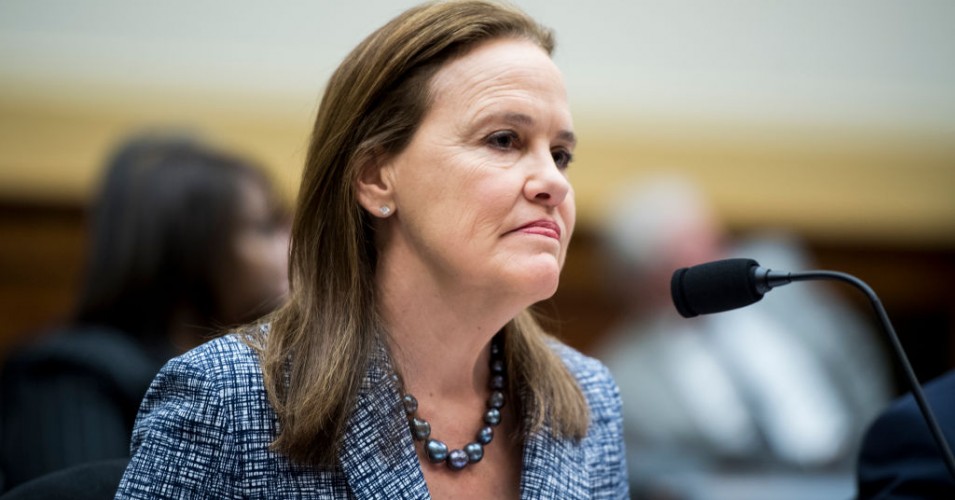 In yesterday's post "Biden SECDEF Pick on Hold?" I observed,
If he's not impressed by [Michèle] Flournoy's policy insights, that's fine. Frankly, I'm not, either. She's well-versed on the issues, to be sure, and perfectly qualified for the job. But there are many Democratic defense experts—several women among them—that I find more impressive in terms of sheer brilliance and imagination.
Challenged as to which women I'd place ahead of Flournoy on Twitter, I responded, "Kath Hicks, Janine Davidson, Mara Karlin, Deborah James, and others come to mind. Flournoy beats them on sheer resume and I think she'd be fine but I think others are more outside-the-box."
But here's the thing: while I've been a national security professional for more than three decades, following defense policy in particular for a long time, I've never worked with Flournoy. My views of her and the others have been formed by a handful of times listening to them speak and reading their published work. The others simply impressed me more as original thinkers and/or charismatic personalities in those venues than did Flournoy (who I've probably heard only three or four times).
Since writing that, though, there's been an outpouring of support from women in the field that I admire, many of whom have worked for Flournoy. And they're simply gushing about her strengths as a leader.
Among them is the aforementioned Janine Davidson, who declared that Flournoy "is the best boss I've ever had. She has mentored scores of us in our national security careers." (She was responding to Doug Wilson's declaration that Flournoy "is one of the most capable, intelligent, steady, decent and humane leaders I've ever worked with. She has virtually singlehandedly nurtured a cadre of women leaders in defense with the same qualities"—so it's not just women who are in her camp.)
Rosa Brooks tweeted yesterday that "I admire everyone on Joe Biden's shortlist for SecDef, & whomever Biden chooses will have the warm support of the national security community. But if it ends up not being Michele Flournoy, there will be a lot of heartbroken women in this town." She added, "Madeleine Albright famously said there's 'a special place on hell' for women who don't help other women. Conversely, hoping there's a special place in heaven for women who DO help other women."
Tamara Cofman Wittes added a long thread that I'm going to take the liberty of de-twittifying for the sake of clarity and formatting:
A personal reflection on the focus right now on women in National Security. Our progress is due to pioneers and mentors who invested in building female NatSec talent. Michele Flournoy's a major figure in that story. More than a role model, she brought many women (& men) into/up through NatSec policy.

As a leader in and out of government, Flournoy set policy and tone to enable her teams to have healthy work and family lives. She grows talent and gives it room to shine. POTUS-elect Biden wants a foreign policy for the rising generation, and she has supported next-gen policy talent for years.

So seeing Flournoy as SecDef wouldn't only be a symbolic first for women in NatSec. It would be a commitment to a new way of leading NatSec policy & the NatSec workforce, one that eschews the toxicity of old images of defense leaders and embraces an inclusive vision for our future.
Shaila Manyam weighed in that, "On 'dels' as a control off you see the bad and ugly along with the good sides of important people. She was all-around wonderful including with our priceless local embassy staff and JOs. Bringing a humanitarian element to #natsec is critical and seeing her work with CARE has been critical."
Nicholas Herres added, "It's not hyperbolic to say that Michèle is one of the premiere mentors in DC. I've never seen someone who could command a room of high ranking people with just a look, stop and take 10 minutes to talk to a young staffer and enjoy every minute of it. She always did."
Barbara Leaf added, "It's not just about 'the first' woman, blah, blah, blah. Flournoy is a leader for our times. And her legions of fans are a testament to her work in mentoring and preparing the natsec next-gen, not only—but quite importantly—including women."
Elmira Bayrasli joined in with, "Aside from Anne-Marie Slaughter, who always walks the walk, Flournoy is the only senior Washington woman foreign policy hand that didn't snub me when I asked her to come onto my podcast. It didn't work out, but she was so supportive of my work—and adamant about helping other women."
That's an impressive string of testimonials and there are many more out there from people I don't follow.
There may be good reasons for Biden to choose someone else, whether because of his personal relationships or on policy grounds. But Flournoy's ability to inspire this sort of loyalty is certainly a plus in leading a huge agency.
UPDATE (0609 11/26): The wagons are definitely being circled, with numerous additional open letters from natsec professionals urging Biden to nominate Flournoy. Defense News ("Lawmakers, former officials surge support for Flournoy to be Biden's defense secretary"):
With President-elect Joe Biden's pick for defense secretary still in flux, a new surge of support for Michèle Flournoy has emerged. Key House Armed Services Committee Democrats, a former defense secretary and a host of other supporters were publicly stumping for her Wednesday to become the first woman to run the Pentagon.

For months, Biden was widely expected to select Flournoy, a former undersecretary of defense for policy and founder of the Center for a New American Security think tank. But Biden announced the core of his national security team Monday without naming his nominee for defense secretary.

In a joint statement Wednesday, House Armed Services Subcommittee on Military Personnel Chair Jackie Speier, D-Calif., and Subcommittee on Intelligence and Emerging Threats and Capabilities Chair Jim Langevin, D-R.I., highlighted Flournoy's experience, and said, "breaking this glass ceiling is long overdue."

"As senior members of Congress, we sincerely appreciate that Ms. Flournoy is held in the highest regard as a preeminent defense policy expert who has worked tirelessly to develop effective bipartisan solutions to the nation's problems," they said.

"She is trusted and empowered by those she works with and those who work for her. Following the tumultuous past four years, Ms. Flournoy's steady leadership, future vision, and firm grasp of strategy, personnel policy, and the next generation of defense technologies is exactly what we need."

[…]

Moulton, the co-leader of HASC's bipartisan Future of Defense Task Force, also offered support for Flournoy as experienced and forward looking.

"Michèle Flournoy has a deep understanding of the existing DOD bureaucracy and the future of our defense. That's a rare combination. I would love to see her nominated for Secretary of Defense," he said in a tweet.

A push for public support of Flournoy's candidacy flooded defense circles Wednesday, when a number of notable women in national security circles began posting testimonials online in support of Flournoy's experience and leadership. Adding their voices to the debate Wednesday night were 29 nuclear experts, including most notably William Perry, who served as defense secretary from 1994 to 1997 under President Bill Clinton.

"We have known and worked with Michèle Flournoy, in some cases for decades," the authors wrioe. "She has a deep understanding of nuclear weapons policy and budgets, and is highly qualified to lead the Department of Defense on the complex and critical issues of nuclear weapons procurement, deterrence policy, and nuclear risk and arms reduction."

"She is best poised to ensure the Department of Defense does not, through momentum and inertia, over-invest in unnecessary or dangerous legacy systems — including nuclear weapons systems — ill-suited to addressing the pressing dangers of today and tomorrow," they conclude. "We believe Michèle Flournoy is the best candidate for the job."

Among the other signatories of the letter are former Obama-era officials Rose Gottemoeller, former undersecretary of state for arms control and international security; Andrew Weber, former assistant secretary of defense for nuclear, chemical & biological defense programs; Jon Wolfsthal, who served as special assistant to Obama and as senior director for arms control and nonproliferation at the National Security Council; and Laura S.H. Holgate, a former NSC official who was ambassador to the International Atomic Energy Agency.

Already, a group of 11 military and veteran support organizations endorsed Flournoy over the weekend, praising her "undisputed expertise" and calling for a swift confirmation, should she be nominated.

And the No Exceptions initiative, which pushed to open all combat positions to women, activated its email network to urgently gather signatures for an open letter to support Flournoy as a historic choice.

As of Wednesday, that letter included the signatures of former Air Force Secretary Deborah Lee James, retired Marine Gen. John Allen and former undersecretary of defense for policy James Miller, among others.