Biden SECDEF Pick on Hold?
Maybe it's not going to be Michèle Flournoy after all.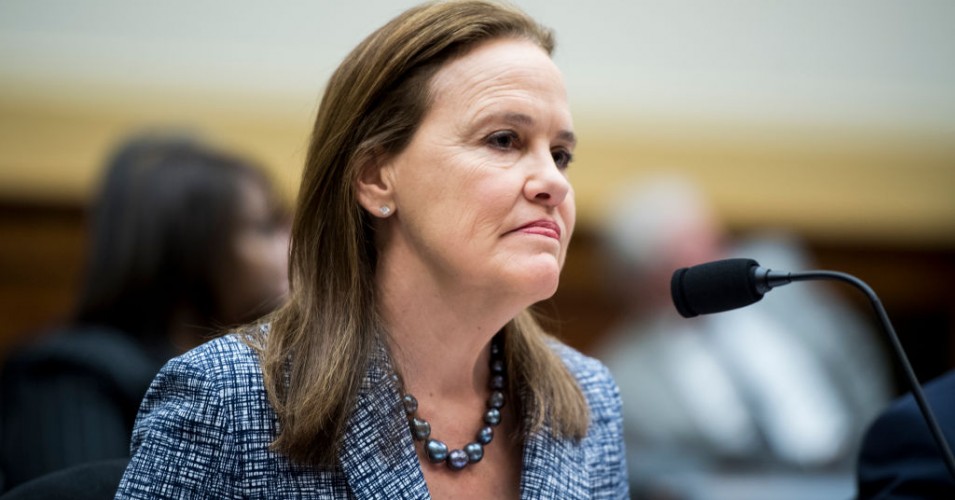 The President-Elect announced his national security team yesterday, including uncontroversial picks for State, National Security Advisor, UN Ambassador, and Homeland Security. Notably absent was his choice for Defense Secretary, widely assumed to be Michèle Flournoy. Several reports out suggest she may not be the nominee after all.
POLITICO ("Biden's choice for secretary of Defense still in flux"):
While Flournoy is still a strong contender, six people close to the transition say Biden is not entirely sold on the woman who was widely seen as Hillary Clinton's pick for Defense secretary if she had won the presidency in 2016.

Two former Obama White House officials who remain close to Biden said he never developed the kind of strong personal relationship with Flournoy that he has sought in his Cabinet picks, and once the dust settled after the election, Biden began leaning toward exploring other options.

Another top contender is Jeh Johnson, Obama's second secretary of Homeland Security, the people said. He would be the first Black Defense secretary in an administration that has promised a diverse Cabinet.

"Michèle is still at the top of the list but they still want to keep looking — and that's a change," said a former senior national security official tracking the transition closely. The sense is: "Let's not be rushed here."

Johnson and Flournoy did not respond to requests for comment. The Biden transition team declined to comment.
While vetting nominees on the basis of personal loyalty might raise flags, it doesn't read like that's what's happening. Rather, he's looking for top-level officials with whom he has a personal bond. Washington is a company town and, unlike any incoming President since George H.W. Bush, Biden has long experience in DC. Flournoy served at high levels in the Obama White House and reportedly was the top choice to replace Chuck Hagel as defense secretary. If she didn't develop a relationship with Biden, she likely wouldn't.
This, though, strikes me as more interesting:
The selection on Monday of Tony Blinken as Biden's secretary of State could further cloud her prospects. The two co-founded WestExec, a strategic consulting firm that keeps its client list a closely guarded secret.

The think tank she co-founded, the Center for a New American Security, also relies heavily on funding from defense contractors.
The revolving door is a legitimate concern. Flournoy certainly cashed in on her Pentagon experience. But how is that disqualifying for her but not Blinken? Granting that she'd be at the Pentagon and he'll be at Foggy Bottom, it's either influence-peddling or it's not.
Although Flournoy is widely seen as the person most qualified for the job, her years of experience in the Pentagon and defense community may actually work against her. Some members of the Biden team are concerned Flournoy, who served as Obama's Pentagon policy chief, is too entrenched to enact progressive change.

"Have you just been there too long? Do you know too many people? And are you unable to enact the kind of progressive change Biden is looking for?" said the former national security official who is tracking the transition closely. "Everyone in the defense policy world loves Michèle, and in a weird way I think it gives you some pause."
I'm not sure I understand this critique, either. If he's not impressed by Flournoy's policy insights, that's fine. Frankly, I'm not, either. She's well-versed on the issues, to be sure, and perfectly qualified for the job. But there are many Democratic defense experts—several women among them—that I find more impressive in terms of sheer brilliance and imagination.
Further, owing to the partisan nature of our selection process for these posts, she's not that entrenched. She served as both Principal Deputy Assistant Secretary of Defense for Strategy and Threat Reduction and Deputy Assistant Secretary of Defense for Strategy during Bill Clinton's administration not far out of graduate school. Those are the lowest-level appointed policymaking jobs, not even requiring Senate confirmation. She then went into the think tank world during the Bush years, ultimately co-founding CNAS. She then spent three years as Under Secretary of Defense for Policy, the number 3 job in the Pentagon, at the beginning of the Obama administration.
That's not any more time than most of the other officials Biden nominated yesterday. And I honestly can't imagine Joe Biden, of all people, thinking it constitutes a disqualification.
The more plausible assault is hinted at toward the end of the POLITICO report but fleshed out in a Foreign Policy report titled "Biden's Likely Defense Secretary Pick Flournoy Faces Progressive Pushback."
In a letter obtained by Foreign Policy organized by No Exceptions, a mostly inactive nonprofit that previously advocated for opening more military service roles to women, expected to be signed by more than 100 former U.S. and military officials and national security experts, Flournoy is described as a consensus-builder able to heal the tensions and mistrust sown during the Trump administration.

"This level of wide-spread trust and confidence will enable Michèle to build a coherent defense strategy and restore trust amongst allies and partners," the authors wrote. "She will repair the actual and reputational erosion of the last few years, while recruiting and sustaining talent to set our country on a confident and renewed course."

In response, progressive groups led by Just Foreign Policy and Demand Progress are planning a letter asking Flournoy and Biden's already-announced top national security picks, Avril Haines and Antony Blinken, to account for perceived past foreign-policy mistakes, including U.S. policy in Yemen, Libya, Syria, and with regards to Saudi arms sales.

The dueling letters reflect the simmering tensions between the progressive and centrist wings of the Democratic Party as Biden tries to hold Democrats together while he prepares to enter the Oval Office. On Monday evening, Biden got a boost in efforts to begin his stalled transition as General Services Administration chief Emily Murphy finally issued a letter of ascertainment certifying the former vice president as the winner of the November election, a move that will formally allow his team access to federal transition resources and to begin onboarding at U.S. government agencies.
While one understands the desire to strengthen the Democratic coalition, it would strike me as odd, indeed, if Biden were to back off the consensus frontrunner for Defense Secretary, arguably the second most important post in the cabinet, on the basis of complaints from splinter factions.
Now, if he thinks Flournoy too interventionist in her mindset, that's one thing. Biden is certainly more circumspect on the use of force than Flournoy, although his record on that front is mixed (off the top of my head: he opposed the first Gulf War, supported the Iraq war but opposed the 2007 Surge, opposed the Libya intervention, and opposed the raid that killed Osama bin Laden).