Rick Perry: Talking About The President's Birth Certificate Is "Fun"
On the day his campaign is set to make a major economic roll out, Rick Perry went the birther route again.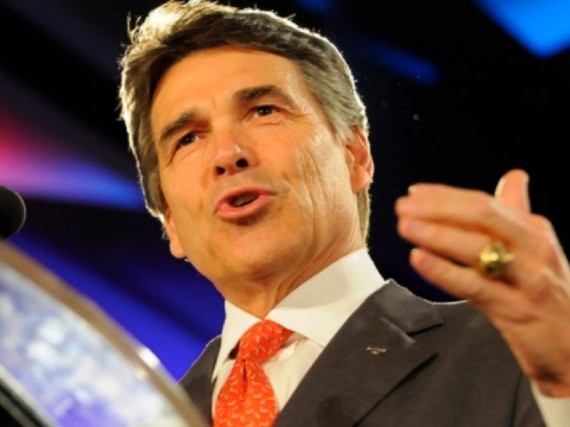 On the same day that he's supposed to be rolling out a new tax plan, and a day after announcing what appears to have been a major staff shake-up, Rick Perry woke up this morning and decided it would be a good idea to wade back into birther territory:
Comments over the validity of President Barack Obama's birth certificate made by Texas Gov. Rick Perry could overshadow the Republican presidential candidate's roll out of his "Cut, Balance, and Grow" economic plan

Tuesday morning the Texas governor unveils his proposal-which includes a 20% new flat tax rate-at a speech in South Carolina, the first southern state to vote in the race for the GOP nomination. But when Perry goes before cameras later in the day at a scheduled news conference, reporters will most likely pepper the Texas governor over comments he made in an interview that appeared over the weekend in the on-line edition of Parade Magazine. Perry also said it's "fun to poke" at Obama over the birth certificate issue in an interview with CNBC.
After the Parade Magazine interview over the weekend, it was inevitable that this question would come up for Perry again and, instead of putting it behind him on the day that the campaign wants the story to be about the tax plan, he does this? How hard is it for someone to say "The President was born here. He produced his birth certificate. There is no reason to doubt any of this. Next question."  ? Mitt Romney has essentially done it. My only thought is that Perry is now so desperate to get back into the good graces of the right that he doesn't want to alienate even the crazy birther fringe. The only problem is that he looks crazy to pretty much everyone else, and he steps all over his own message.
Perry is supposed to take questions after his speech announcing the tax plan. Anyone want to bet on whether the first question will be about the tax plan, or about the President's birth certificate? I don't know if this will hurt Perry or not, but I doubt it helps him and it just looks stupid.
Here's the relevant section of the interview, along with Harwood talking about it on Morning Joe this morning:
Visit msnbc.com for breaking news, world news, and news about the economy
I don't know whether this will help Perry, hurt him, or have no impact at all. My initial guess is that it hurts him to the extent that it detracts from the tax plan roll out, which it most assuredly will for at least one day. Right now, Rick Perry's chief concern should be to find a way to revive a campaign that has fallen far from where it was two months ago. Sticking his toes back into the birther pond every chance he gets is not the way to do that.
Chris Cillizza looks at it from a slightly different perspective:
We've long written that what Republicans in the 2012 presidential race are looking for is someone not intimidated by President Obama, someone willing to stand up to him aggressively and on all fronts.

It's why businessman Donald Trump, the person most responsible for pushing the idea of the president's citizenship into the national limelight, rose in polling earlier this year. (Make sure to read our piece about what Trump can teach the Republican field.)

And it's why Perry is willing to engage in the "fun" of hitting Obama on an issue that has long been settled fact. The birther issue is, oddly, almost beside the point. The idea of simply trying to get under Obama's skin is what matters.

In case you needed evidence that the birther issue for Perry is just a stand-in for aggravating Obama (not to mention Democrats), Perry provided it in the Harwood interview saying: "I'm really not worried about the president's birth certificate."

Perry's willingness to engage in talk of birtherism is not without risk, however. While it may send a signal to the Republican base that Perry isn't afraid to stand up to Obama, it also has the potential to serve as a major-league distraction for a candidate who badly needs to some message-sharpening.

On a day when Perry is hoping that the bulk of the media coverage will focus on his flat tax proposal, which he previewed in a Wall Street Journal op-ed and his interview with Harwood, his mention of birtherism will likely take away some — if not most — of the attention from his economic plan.

Perry's flirtation with birtherism will also likely raise the hackles of some in the GOP party establishment (read: donors) who already harbor doubts about his readiness to represent the party against Obama next fall.
Smart politics? I'm skeptical, but I suppose we'll see.