Rick Santorum: Let's Talk About Sex
Meet Rick Santorum, who's apparently running for Moralist In Chief.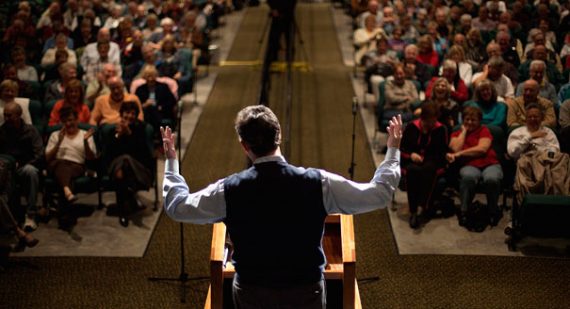 In a lengthy interview with Caffeinated Thoughts given in October that both Ace of Spades and drewmusings wrote about last night, which you can watch here, Presidential candidate Rick Santorum revealed the side of his platform that many Americans are going to find most troublesome:
One of the things I will talk about that no president has talked about before is I think the dangers of contraception in this country, the whole sexual libertine idea … Many in the Christian faith have said, "Well, that's okay … contraception's okay."

It's not okay because it's a license to do things in the sexual realm that is counter to how things are supposed to be. They're supposed to be within marriage, for purposes that are, yes, conjugal … but also procreative. That's the perfect way that a sexual union should happen. We take any part of that out, we diminish the act. And if you can take one part out that's not for purposes of procreation, that's not one of the reasons, then you diminish this very special bond between men and women, so why can't you take other parts of that out? And all of a sudden, it becomes deconstructed to the point where it's simply pleasure. And that's certainly a part of it—and it's an important part of it, don't get me wrong—but there's a lot of things we do for pleasure, and this is special, and it needs to be seen as special.

Again, I know most presidents don't talk about those things, and maybe people don't want us to talk about those things, but I think it's important that you are who you are. I'm not running for preacher. I'm not running for pastor, but these are important public policy issues.
Ace puts it best, I think:
If you say "gee he's just talking about this stuff:" Um, if a plumber starts talking about the bad rap iron pipes have gotten over the years, and how they're really pretty safe, I assume he's open to the idea of using iron pipes in my house.

He is a plumber, speaking about what he considers to be his area of expertise.

So when a presidential candidate starts talking about the importance of the president taking the lead on the evils of birth control, yes, I assume he believes this to be within the proper functions of the executive.

And I do not think he wants to limit it to "just talking." You know how people typically introduce ideas that are currently unpopular and outside the Overton Window? They first suggest "talking about" them. As we saw with Entitlement Reform.

Plus, he himself says these are important "public policy issues."

Not personal morality issues. Public policy issues. In other words, the public, voting, or expressing its will through its chosen legislators, gets a say on these "issues."
Let's leave aside the fact that, depending on the form, contraception is a near-perfect barrier against pregnancy, or the fact that it can also prevent the spread of devastating sexually transmitted diseases. These are important issues, obviously, but beside the point at the moment. Since when are the contraceptive, or private sexual choices of consenting adults a matter of public policy? Ace is right, when you start talking about issues in that kind of terminology it inevitably leads to the idea that there should be some kind of public solution to the alleged problem, and that's where Rick Santorum parts ways with the libertarian wing of the Republican Party, not to mention a large segment of the public at large. Issues like same-sex marriage aside, there is a fairly strong ethos in this country now that what people do behind closed doors regarding matters like this is their own damn business, and as much as he might think it's possible we are not going to return to the days before Griswold v. Connecticut when people accepted the idea that the government had the authority to make it illegal for people to purchase contraceptives. It's not going to happen.
What will happen, though, is that statements like this by Santorum will become part of any General Election campaign if, by some bizarre chance, he ended up becoming the Republican nominee. He will turn off independents, women, and anyone who doesn't think that the government should be guided by the same puritanical principles that ruled the Plymouth Bay Colony. And the Republicans will lose the Presidential election, possibly in a landslide large enough that the House of Representatives slips out of their control. You'd think that Republican voters would be smart enough to realize all of this. Maybe they will, but the way this race has gone so far I'm done with making anything other than short-term guesses about what might happen at this point.  So, could the GOP be crazy enough to nominate a guy who would fit in better at a revival meeting than a Presidential campaign? Crazier things have happened and, as I noted last week, perhaps that's exactly what they need to do to show the world that Santorum's brand of social conservatism isn't going to win elections.