Rick Santorum's Disturbing Foreign Policy Vision
Rick Santorum's foreign policy positions are troubling in many respects.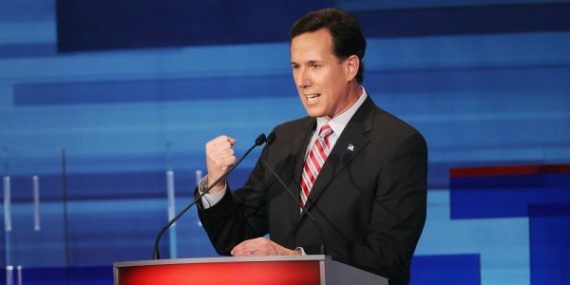 Spencer Ackerman takes a look at the foreign policy positions taken over the course of the campaign by the GOP's newest "Not Romney," and finds much to be concerned about:
Foreign Policy did a piece on Santorum's foreign policy positions back in November when nobody was paying attention to him, and at least a few of the things he's said are, shall we say, interesting:
Military spending: Santorum's budget-cutting zeal does not extend to military spending. He describes Obama's defense cuts as "wrong signal, wrong effort, and wrong time." He has accused the Obama administration of "intentionally trying to degrade our military" and has defended robust U.S. military spending on the ground that it creates U.S. jobs.

Immigration/borders: Santorum has been vocal on the threat of illegal immigration since his time in the Senate. In this race, he has described illegal immigration as a major national security issue and criticized Texas Gov. Rick Perry for being "soft" on the issue due to his opposition to building a fence along the entirety of the U.S.-Mexico border.

Israel/Palestine: Santorum believes "it is the duty of each and every American citizen who abhors terrorism and supports freedom to stand up and say, 'I support Israel.'" He has attacked Obama for putting "Israel's very existence in more peril" and says Palestine's statehood bid at the United Nations is a sign that the Palestinians "feel weakness — they feel it, they see it, they know it — and they're going to exploit it."
Also, as I noted earlier today, Santorum takes the bizarre view that the Palestinians don't exist at all, that all the territory acquired in the 1967 war properly belongs to Israel, and that all the people living their are Israelis. Santorum's positions on military spending and immigration, meanwhile aren't all that different than those taken by most of the other Republican candidates with the exception, in differing respects, of  Jon Huntsman and Ron Paul. His position on China, however, is rather unique:
China: It's not quite the new axis of evil, but Santorum says that China, along with Iran and Venezuela, is part of a "gathering storm" of threats facing the United States. During Oct. 11's debate, Santorum raised eyebrows by declaring, "I don't want to go to a trade war; I want to beat China!" He also said, "I want to go to war with China and make America the most attractive place in the world to do business."
While there's no doubt that the relationship between China and the United States is adversarial in some respects and will likely continue to be for some time, characterizing that relationship in the terms of "war" seems inordinately aggressive. Especially in the economic realm, the United States and China would seem to have far more in common than someone like Santorum would be willing to admit, and the Chinese have as much interest in the stability of world markets, shipping, and commerce as the United States does, perhaps even more so considering the extent to which their economy relies on exports. Much like Mitt Romney, Santorum wants to characterize the U.S.-Sino relationship in the same kind of terms as the Cold War, which is both an incorrect interpretation of the situation and needlessly aggressive. Not surprisingly, the only Republican who seems to have a decent understanding of our relationship with the Middle Kingdom is Jon Huntsman, but it's Santorum who's at the top of the field right now for some strange reason.
More than the details of foreign policy, though, the real concern about Santorum comes when you examine the rhetoric he uses when talking about it and the simplistic manner he allows his view of the world outside the United States to be guided not by reason but by what he thinks his religion tells him about the world. For example, consider this line from a speech earlier this week while Santorum was wrapping his Iowa swing:
"If you look at every European country that has had world domination, a world presence, from the French to the British — 100 years ago, the sun didn't set on the British Empire," Santorum said at an appearance in Sioux City, Iowa. "If you look at that empire today — why? Because they lost heart and faith in their heart in themselves and in their mission, who they were and what values they wanted to spread around the world. Not just for the betterment of the world, but safety and security and the benefit of their country." "We have taken up that cause," Santorum added. But now, he said, "We have a president who doesn't believe in America."
Daniel Larison comments:
Yes, it couldn't have had anything to do with two exhausting global conflicts that cost the lives of millions of British subjects, or the financial ruin of Britain that followed these conflicts. The British just "lost heart and faith in their heart in themselves and in their mission." Obviously, the only thing needed to maintain "world domination" is self-confidence and resolve.
As does Conor Friedersdorf:
It's getting wearisome to take seriously someone who claims to venerate America's founding values, bristles at the notion that foreign occupations in places like Iraq and Afghanistan suggest an imperial mindset, and yet asserts that Great Britain failed the world when it stopped trying to rule a fifth of its inhabitants. One wonders how long he thinks the British should've asserted their will in India, Ireland, and its North African colonies, among other places, and why he thinks maintenance of these colonies always enhanced rather than detracted from the safety and prosperity of the home islands.

"Believing in America" should entail an embrace of the values on which it was founded: the idea that all humans are endowed with self-evident, inalienable rights to life, liberty, and the pursuit of happiness. But in Santorum's twisted formulation, belief in America requires an embrace of its military footprint in multiple foreign nations, something he apparently regards as our "cause." In other words, the problem isn't just that Santorum has a naive, simplistic and woefully inadequate understanding of how empires rise and fall, it's that he regards global domination as this nation's proper object — as if we're called to be a hegemon on a hill rather than a city.
If you want a real example of Santorum's dangerous, bizarre rhetoric, though, just look at what he says about Iran:
Iran's mullahcracy has been at war with us for over 30 years. And in 2009 there was a chance to end that. There was a chance for freedom in Iran. I have been a believer and an advocate for that possibility since my service in the Senate. I authored the Iran Freedom Support Act which, among other things, provided millions of dollars for the pro-democracy movement in Iran. At first my bill was opposed by both President Bush and Senator Obama. Both eventually relented, but neither implemented that provision while president.

As a result we were not ready when the spark struck. So, rather than supporting the dissidents there-dissidents asking for our help-the president continued his policy of engaging (and effectively supporting) the mullahcracy. The result? The dissidents were brutally crushed. Now, instead of being able to face a leadership in Iran that would be grateful to us today, we still have the same leadership in Iran that wants to destroy us and our allies in the region.

Let us make no mistake about what happened there: We sided with evil because our president believes our enemies are legitimately aggrieved and thus we have no standing to intervene.
Of course, Santorum's romantic vision of the Green Revolution, which is shared by many on the right, was an early version of the Arab Spring that would have led to the downfall of the mullahs if one the United States had done something. What that something was that we should have done and how we could have done it are never stated, of course, but that's really not necessarily in an argument like this. It's also not necessary to acknowledge the facts, especially when the contradict your vision. The Iranian protests were not a rejection of the regime, they were a protest over election results. At no point did the protesters, or the men who led them, reject the fundamental ideas of the Islamic Republic. In fact, on more than one occasion, the protests were entreaties to Ayatollah Khameni himself to intervene in the disputed elections on behalf of Mir-Hossein Mousavi and Mehdi Karroubi.  Mousavi participated in the Islamic Revolution, served as Prime Minister in the 80s, and supported the Iranian nuclear program. The idea that there was some group of "Iranian moderates" out there that President Obama failed to support is quite simply false. Moreover, Santorum's charge that the American government was somehow complicit in the government crackdown that brought the protests to the end is simply absurd. Even if the election protests had succeeded, it's not at all clear that anything would have changed in Iran internally, or that our relationship with them would have improved in an significant respect. Much like the belief that war is the answer to Iran's nuclear program, though, Santorum is representative of those on the right that all we needed to do was that mysterious something and everything would've changed.
This is the kind of rhetoric we get from Santorum and, as I said, it betrays a rather simplistic black-and-white view of the world. Perhaps it will play well in a GOP primary, but it has no business in the Oval Office.