Rick Santorum's War Against The National Weather Service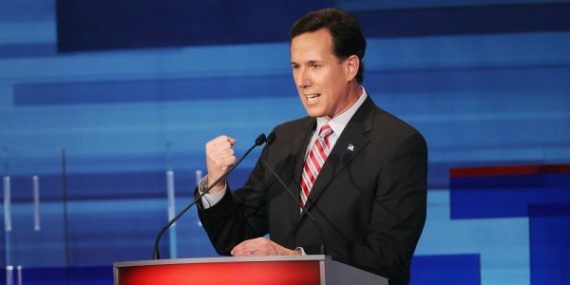 Politico recounts one of then-Senator Rick Santorum's odder Senate crusades, which just so happened to be in the business interests of one of his biggest campaign donors:
While a seemingly obscure issue next to abortion, gay marriage and tax cuts, weather forecasting inspired a defining controversy for the tail end of Santorum's U.S. Senate career: his sponsorship of a 2005 bill aimed at hobbling the federal agency's ability to compete with commercial forecasters like AccuWeather.

The bill went nowhere but brought Santorum a nationwide pasting from bloggers, weather enthusiasts, airline pilots and other critics. Some of them noted that executives from AccuWeather — a company based in State College, Pa., in Santorum's home state — had donated thousands of dollars to his campaigns over the years.

Doubling down later in the year, Santorum also accused the weather service's National Hurricane Center of flubbing its forecasts for Hurricane Katrina's initial landfall in Florida, despite the days of all-too-prescient warnings the agency had given that the storm would subsequently strike the Gulf Coast.

In contrast, fellow Republican Sen. Jim DeMint of South Carolina, who was chairing the Senate Commerce Committee's Disaster Prediction and Prevention Subcommittee, called the agency's work on Katrina "one of the most accurate hurricane predictions we have ever seen."

Weather doesn't show up as a top issue on Santorum's presidential campaign website, and AccuWeather doesn't appear in his 2012 campaign donations. But some of his opponents, such as the liberal website Daily Kos, have tried to revive memories of the 2005 legislation this week — including with headlines claiming inaccurately that Santorum had tried to "abolish" the weather service.

In fact, Santorum's failed legislation would have left the weather service intact, although with significantly reduced ability to distribute its information directly to the public.

Critics of the bill say the legislation reflects an outdated worldview — one that says government data should flow through profit-making middlemen, rather than being released freely to one and all.

"I think what you see out of Santorum — in particular the weather data thing — is that some private businesses should be anointed to make tons of money off the taxpayers," said open-government advocate Carl Malamud. "That's a very 1970s, 1980s mind-set. That's a pre-Internet mindset."
The bill itself would have essentially made private companies the exclusive purveyors of NWS data, despite the fact that the NWS is a public entity:
Under the bill, commercial weather providers like AccuWeather would have continued to get access to the weather service's data, while the federal agency would have been prohibited from providing "a product or service … that is or could be provided by the private sector." The legislation would have counteracted a 2004 policy change by the George W. Bush administration that had broadened the weather service's ability to create new products and release data, including over the Internet.

At the time, Santorum said the bill was needed to prevent the weather service from driving competitors out of business.

"It is not an easy prospect for a business to attract advertisers, subscribers or investors when the government is providing similar products and services for free," Santorum said in a statement when he introduced the bill. He said the bill would also force the weather service to focus on its "core missions," such as improving its forecasts of hurricanes and other severe weather.

Opponents, including Sen. Bill Nelson (D-Fla.), argued that the bill threatened to deny vital information to residents of hurricane-threatened states by reverting the weather service to a "pre-Internet era."

Even some private weather firms came out against the bill, saying the lack of free weather service data would cripple small companies trying to compete with giants such as AccuWeather and The Weather Channel.
Jeff Masters, a former Hurricane hunter with NOAA who founding the web site Weather Underground, wrote about the proposal back in 2005:
It is unclear from the bill's language whether the NWS would be allowed to continue making its routine public and marine forecasts. This decision would be made by the Secretary of Commerce. I believe the expertise of the NWS forecasters is unmatched anywhere in the world, and throwing away their forecasts would be a shameful waste. Although the private weather industry can and does provide routine public and marine forecasts, the quality of these forecasts is sometimes poor and would likely worsen if the NWS ceased issuing forecasts. When I participated in forecasting contests both as a student and an instructor, I discovered that while it was difficult–but not impossible–to beat the NWS forecast, it was nearly impossible to beat the "consensus" forecast–that is, the average of everyone's forecast. Private weather industry forecasters do their own forecasting, but will usually check their forecast against what the NWS says before sending it out. If the NWS forecast differs considerably, there will frequently be an adjustment made towards the NWS forecast, resulting in a better "consensus" forecast. So, with the proposed legislation, not only would we lose the best forecasts available, but the forecasts from the private weather companies would also worsen. Many sectors of our economy depend upon good forecasts, and passage of the bill might result in a loss of millions of dollars to the economy. Elimination of routine NWS forecasts would result in little cost savings to the government. The 24-hour staffing at NWS offices required to make severe weather forecasts would not change significantly, and these forecasters would need to be working all the time making forecasts in order to fulfill their duty to make severe weather forecasts. If the NWS has to keep their forecasting staff in place, why not continue to let them make their excellent forecasts? Ed Johnson, the weather service's director of strategic planning and policy remarked, "If someone claims that our core mission is just warning the public of hazardous conditions, that's really impossible unless we forecast the weather all the time. You don't just plug in your clock when you want to know what time it is."
The bill ended up dying in committee, to no small degree because of the role that NWS warnings played during Hurricane Katrina and Hurricane Rita no doubt. However, Santorum's involvement in such an odd piece of legislation does raise eyebrows, especially since it would have clearly benefited a major campaign contributor.