Romney Leads Paul, Santorum Surges, In Final DMR Iowa Poll
Romney, Paul, Santorum. The last set of Iowa frontrunners seems to be set.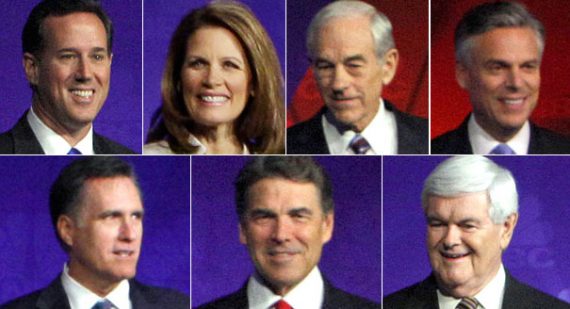 The Des Moines Register released its final poll late last night and, although the order of finish was largely consistent with what we have seen since Christmas, there are signs of momentum going into the final 48 hours that could cause Tuesday night to be very interesting:
The Des Moines Register's latest Iowa Poll shows a surprise three-way match-up in contention to win the Iowa Republican caucuses: Mitt Romney, Ron Paul and Rick Santorum.

Santorum, who has been largely invisible in the polls throughout the campaign season, is now beating the other evangelical choices and has a clear shot at victory Tuesday night.

But political analysts note there's little time for Santorum to cash in and regroup before New Hampshire, where voters weigh in nine days from now, while Romney is positioned to replicate what he's done in Iowa in all the early states.

In four days of polling, Romney leads at 24 percent, Paul has 22 percent and Rick Santorum, 15 percent.

But if the final two days of polling stand alone, the order reshuffles: Santorum elbows out Paul for second.

"Few saw this bombshell coming," GOP strategist David Polyansky said. "In an already unpredictable race this is another stunning turn of political fortune."

What makes Santorum's growth spurt particularly striking is his last-second rise: He averaged 10 points after the first two nights of polling, but doubled that during the second two nights. Looking just at the final day of polling, he was just one point down from Romney's 23 percent on Friday.

Paul has marched higher in every Iowa Poll, but his momentum may have stalled last week. His support eroded from 29 percent on the first day of polling to 16 percent the last.

As for the rest of the field, over the four days of polling, Newt Gingrich is at 12 percent, Rick Perry, 11 percent, and Michele Bachmann, 7 percent. Their support remained relatively steady over the four days.
Santorum's momentum isn't all that surprising. We've seen evidence of it repeated in several polls this week starting with that CNN/Time/ORC poll that came out on Tuesday. Those poll results, in turn, have led to a ton of free media coverage for the former Pennsylvania Senator both nationally and in Iowa. Meanwhile, the negative attacks on Newt Gingrich have continued pushing his poll numbers down. Of all the candidates in the field,  Santorum is the only one who hasn't been tested yet, so it's not surprising that he'd be the one that social conservatives might be flocking to at this point. At the same time, though, this same poll shows that upwards of 40% of likely caucus goers say that they could still change their mind over the remaining 59 hours or so before the caucuses begin. So, while the trend is looking good for Santorum right now that doesn't mean it won't peter out long before he needs it to. Additionally, the fact that Santorum is going up against two campaigns that are both well-funded and reportedly have the best ground operations in the state, one wonders how well Santorum will do at translating this poll momentum into foot traffic, and votes, at the caucuses.
Nate Silver, whose polling model continues to project Romney as having a 63% chance of winning on Tuesday night, offers some words of caution about these late polls:
[I]t should be remembered that polls aren't magic. In fact, there are fundamental constraints on how accurate any poll might be. One of these constraints is imposed by sampling error: somewhere between 100,000 and 150,000 Iowans are likely to attend the Republican caucuses on Tuesday, but a typical poll might survey 400 or 600 or 800 of them.

Another source of error is that polls are conducted some amount of time in advance of the actual voting. This is not always a huge deal in general elections, when voter preferences are locked in early. But in primaries and caucuses — when a great number of voters decide upon a candidate or change their mind at the last moment — taking voters' temperature even 24 or 48 hours in advance of an election can sometimes miss last-minute shifts in momentum.

Meanwhile, relatively few Iowans turn out for the caucuses and the pollsters can at best make some educated guesses about who will and who won't.
Nonetheless, the Des Moines Register poll is well-respected. Exactly four years ago, it showed Barack Obama with a solid lead over Hillary Clinton and John Edwards in the final hours of the Democratic race in Iowa, contradicting what other polls were showing but in the end turning out to be right. Similarly, the paper's poll of the 2008 Republican field showed Mike Huckabee leading the GOP field, although its worth noting that the poll also detected a "McCain surge" in the late round of polling that never materialized on caucus night.  Nonetheless, given the DMR's record in the past, this is a  poll worth paying attention to.
Here's where the race stands right now according to RealClearPolitics: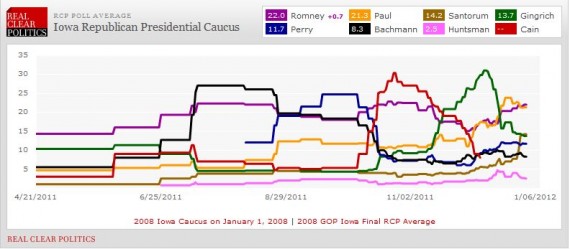 This muddled mess is very different from how things looked exactly four years ago: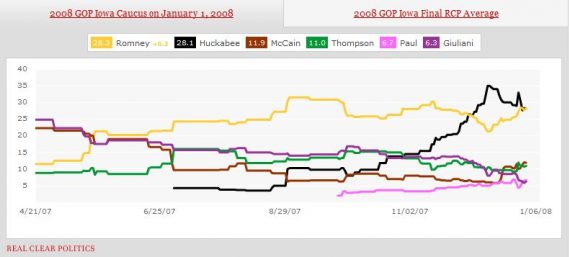 The end of the race chaos in the polling charts is leading many to conclude that anything could happen Tuesday night, and perhaps that's true.  However, it strikes me that we we already know how Iowa is going to turn out regardless of what the final order of finish is. Mitt Romney and Ron Paul are both going to come out of Iowa in fairly good shape. There's still a potential for Paul to come out on top Tuesday night, mostly because of his highly motivated supporters, but even if he does it's not going to matter very much because Paul himself doesn't have much of a future outside Iowa and New Hampshire. Santorum looks likely to finish at least third now, which at least gives him an argument for going on to the next phase of the race, which for him should be to bypass New Hampshire entirely and head to South Carolina for the next two and a half weeks. Romney, however, is going to leave Iowa having effectively neutralized the real competition in this race, Newt Gingrich and Rick Perry. Neither Paul nor Santorum are going to be the Republican nominee, and it seems hard to see how Santorum in particular survives much past January unless he somehow manages to bring in a lot more money than he has so far.  Heading into this, Romney has to like the field that presents itself to him.
There's one more poll left to look at. Tonight, Public Policy Polling releases its last poll.