Romney, Paul At Top In Iowa; Santorum, Gingrich, Perry Splitting Conservative Vote
Yet another clue about what's going on in the Hawkeye State.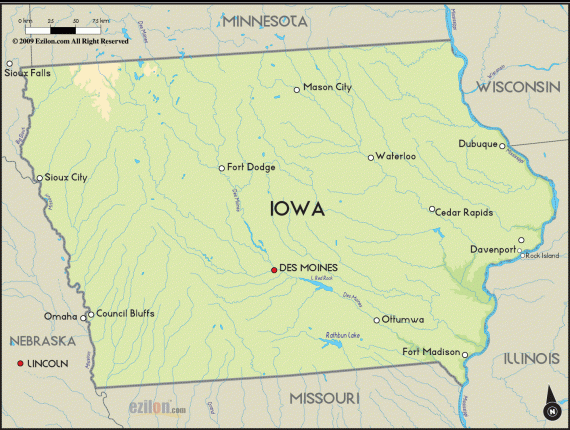 The final NBC News/Marist poll of Iowa is out this morning and it presents a picture that probably looks pretty good to Team Romney:
Former Massachusetts Gov. Mitt Romney and Texas Rep. Ron Paul are running neck-and-neck in Iowa, former Pennsylvania Sen. Rick Santorum is surging and former House Speaker Newt Gingrich collapsing just four days before the state's Jan. 3 caucuses, according to a new NBC News-Marist poll.

Romney drew the support of 23 percent of likely caucus-goers in Iowa – identified based on interest, chance of voting and past participation – ahead of Paul, at 21 percent.

They are followed by Santorum at 15 percent, Texas Gov. Rick Perry at 14 percent, Gingrich at 13 percent and Minnesota Rep. Michele Bachmann at 6 percent.

The poll numbers, which are similar to those published in a recent CNN/Time survey, represent a reversal of fortune for Gingrich, as well as an improvement for Santorum and (to a lesser extent) Perry. The NBC-Marist poll conducted in late November had Gingrich in the lead among likely caucus-goers at 28 percent, Romney and Paul tied at 19 percent, Perry at 10 percent, Bachmann at 7 percent and Santorum at 6 percent. [Jon Huntsman registered at 2%]
As with the Rasmussen poll last night, this poll surveys likely caucus goers and yet seems to confirm the Santorum bump that the CNN poll had purported to find. More interesting, perhaps, is the fact that we are seeing the first evidence of positive movement for Rick Perry since he collapsed in the polls some three months ago. It's a small up-tick, but it is an up-tick nonetheless. Gingrich, meanwhile, has fallen but remains in the middle of the pack with Perry and Santorum. What we're seeing right now, then, is the conservative vote being divided among three candidates and, as long as that continues that's good for Mitt Romney. Even if Gingrich collapses further and it ends up being Perry and Santorum who divide the conservative vote, Romney still benefits because it means that neither one of them will be able to rise about him. Paul's numbers, on the other hand, are what they are. He could end up winning this thing if the vote remains divided, but it's pretty clear that he is at or near his ceiling at this point.
The poll also shows that four candidates (Santorum (59%), Paul (54%), Perry (52%), and Romney (51%)) lead the pack in intensity of support, a potentially important element in determining how likely voters are to turn out for a caucus Tuesday night regardless of what the weather might be like.
Perhaps most interesting number in the poll, though, is how Tea Party supporters are seemingly dividing up  amongst all the candidates at this point, even Mitt Romney:
Rick Santorum — 20% of self-identified Tea Party Supporters
Mitt Romney — 17% of self-identified Tea Party Supporters
Ron Paul — 17% of self identified Tea Party Supporters
Newt Gingrich — 16% of self- identified Tea Party Supporters
Rick Perry — 15% of self-identified Tea Party Supporters
Michele Bachmann — 10% self-identified Tea Party Supporters
The poll's margin of error is +/- 4.7%, which essentially means five candidates are tied for the support of the Tea Party voters in Iowa, while the woman who founded the Tea Party Caucus
Here's where the RCP Poll Average stands:

And here's the RCP graph: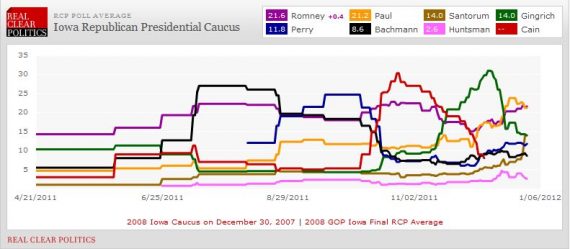 At this point, it would seem that Romney and Paul are most likely to finish at the top of the field next week, with Santorum, Perry, and (possibly) Gingrich battling it out for third and a ticket out of Iowa. Of course, that's what it looks like today. We've still got four days left and at least two polls to come out between now and then. So, stay tuned.