Romney's Realist Foreign Policy
My latest for The Atlantic, "Romney's Realist Foreign Policy Is a Lot Like Obama's," has been posted.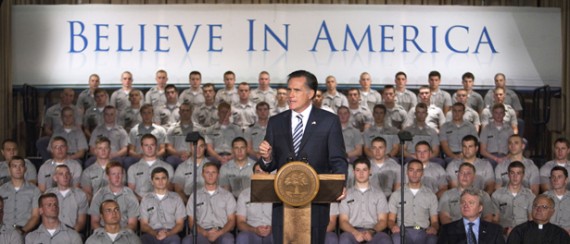 My latest for The Atlantic, "Romney's Realist Foreign Policy Is a Lot Like Obama's," has been posted.
It's ridiculously long, looking at the key points of a 27-page white paper, and therefore defies excerpting. The headline actually does an excellent job of capturing my conclusion:
Aside from the standard point scoring that goes along with a campaign to oust a sitting president, it's remarkable how much continuity there is between Romney's vision and Obama's — which itself isn't all that different from that which George W. Bush campaigned on in 2000 and governed by starting in 2006 or so. There's some shibboleths uttered for the crowd to signal that he's one of them but this is fundamentally a realist foreign policy vision couched in a lot of rhetoric about values.

Like Romney himself, it's not particularly exciting. Nor, thankfully, is it frightening.
Many if not most foreign policy wonks will focus too much on the shibboleths. There's quite a bit of silliness and cheap shots at the Obama administration. But, as I note in the piece, we have to read it with an understanding that "this is fundamentally a campaign document rather than a governing platform." If one reads it with that in mind, there is a lot of sanity in the document–signals that Romney is not a neoconservative ideologue hell bent on invading every last country on the planet to promote democracy and American Greatness.
I point, for example, to this paragraph:
The United States will apply the full spectrum of hard and soft power to influence events before they erupt into conflict. In defending America's national interest in a world of danger, the United States should always retain a powerful military capacity to defend itself and its allies. Resort to force is always the least desirable option, the costliest in resources and human life. A Romney administration will therefore employ all the tools of statecraft to shape the outcome of threatening situations before they demand military action. Though the use of armed force will never be off the table when the safety of America is at stake, a President Romney will take a comprehensive approach to America's security challenges. The tools of "hard" and "soft" power must work together to be effective. They are complements not substitutes for one another.
This is at once incredibly banal and potentially a breath of fresh air. The buzz words "soft power," "all the tools of statecraft," and "comprehensive approach" amount to a coded signal that the days of treating military power as the solution to everything are behind us. Of course, having Eliot Cohen, a signatory to the Project for a New American Century declaration that founded the modern neoconservative movement, write your foreword sends the opposite signal.
This is just a roll-out; one expects Romney's foreign policy vision to evolve somewhat as we get to the point in the campaign where we really start talking about the topic. But, unlike another roll-out four years ago (see "Rudy Giuliani's Dangerously Stupid Foreign Policy Vision") I'm mostly pleased.