Ron Paul Says He's Sorry For Not Paying Attention To Newsletters Written By 'Ghost Writers'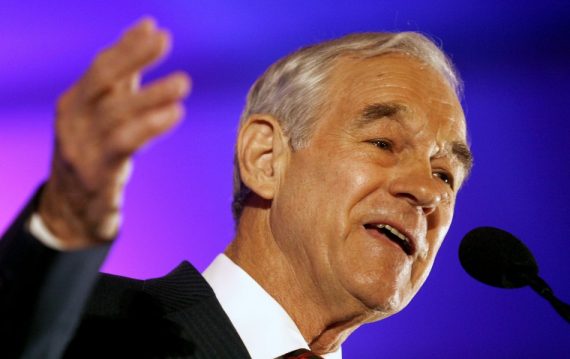 The Ron Paul campaign finally seems to be paying attention to the newsletters controversy rather than ignoring it, the problem is that it seems to be too little too late:
Republican presidential candidate Ron Paul apologized on Friday for not paying enough attention to "ghost writers" he said were responsible for racist and anti-gay messages in newsletters and an ad published under his name two decades ago.

In a statement to Reuters, a spokesman for Paul continued to disavow the messages in the writings, but for the first time the Texas congressman's campaign said he should have done more to prevent them from being published.

Although widely viewed as a longshot to win the Republican nomination, Paul has led in recent polls in Iowa, where caucuses on January 3 will kick off the contest to select a nominee to challenge President Barack Obama in the 2012 election.

Paul's statement came a day after Reuters reported that a direct-mail ad for Paul's political and investment newsletters – they were sent around 1993 and appeared to include Paul's signature at the end – warned of a "coming race war" and a "federal-homosexual cover-up" to play down the impact of AIDS.

"Dr. Paul did not write that solicitation. It does not reflect his thoughts and is out of step with the message he has espoused for 40 years," Paul spokesman Jesse Benton said Friday in an e-mail.

Benton added that "there were multiple ghost writers involved and he does not know who penned the particular offensive sections.

"Ultimately, because the writing appeared under his name and he should have better policed it, Dr. Paul has assumed responsibility, apologized for his lack of oversight, and disavowed the offensive material."
I don't know, at this point I just find it hard to believe that Paul didn't know what was being sent out under his name not just once, but for a number of years. Additionally, blaming the entire thing on 'ghost writers," while believable because it has been known for years that Paul wasn't writing the material personally, is still a dodge because it stil doesn't acknowledge the fact that the person in charge of publishing the newsletter, and most likely writing most of the content, was former Congressional aide who had become an adviser and close friend. I'm not sure what I'm really expecting from Paul at this point, actually. Whatever happens in Iowa, he's not going to be the Republican nominee, and there's really no defending the things that were in his newsletters. Pushing the blame off on someone else without naming names strikes me as a bit of a cop out.