Ron Paul Supporter Likely Violated Military Regulations By Speaking At Rally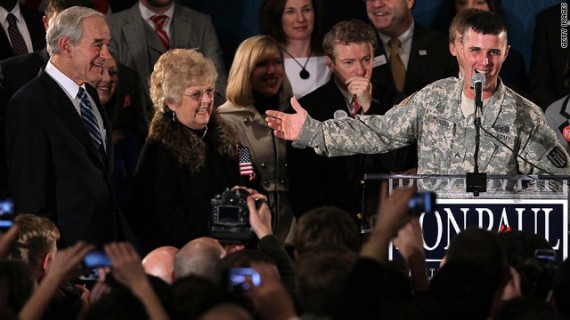 If you watched Ron Paul's victory speech last night, you likely caught the sight of Corporal Jesse Thorsen speaking on behalf of Paul, at Paul's invitation. That invitation came about, apparently, because Thorsen's interview on CNN earlier in the night, also in uniform, had been cut short for some reason. Here's the video of Thorsen's appearance on stage, via HuffPo:
Well, it turns out that Thorsen most likely violated Defense Department regulations regarding political activity while appearing in uniform:
(CNN) – Ron Paul spent Tuesday heralding his support among members of the military, but one active-duty supporter may be in trouble after lauding Paul on stage while wearing his Army uniform.

Army Cpl. Jesse Thorsen spoke during Paul's speech at his headquarters in Ankeny, Iowa, Tuesday night. Paul invited Thorsen to speak on stage after a technical glitch cut short an earlier live interview on CNN.

Guidelines laid out in the federal Hatch Act specifically prohibit uniformed members of the military from making political speeches or taking official roles on political campaigns. Members of the military are permitted to attend political rallies, but must not be wearing their uniform while in attendance. On stage with Paul, Thorsen was wearing green Army fatigues.

On Tuesday evening, Paul Rieckhoff, executive director and founder of the veterans' advocacy organization Iraq and Afghanistan Veterans of America, wrote on his Facebook page that Thorsen would likely be reprimanded.

"The soldier that spoke tonight on behalf of Ron Paul is gonna be in a bit of trouble," Rieckhoff said. "Politics in uniform is a big no-go. And Paul and his campaign should know better. Troops are bound by the (Uniform Code of Military Justice)."
Kate Shephard points out the regulation in question:
the appearance likely violated the protocols for service members included in Defense Department Directive 1344.10, which states explicitly that they are not to participate in political rallies as anything more than spectators. And if they do attend a political function, they're not supposed to do so in uniform.

Active-duty service members can "register, vote, and express a personal opinion on political candidates and issues, but not as a representative of the Armed Forces," the directive states. It also stipulates:

4.1.2. A member of the Armed Forces on active duty shall not:

4.1.2.1. Participate in partisan political fundraising activities (except as permitted in subparagraph 4.1.1.7.), rallies, conventions (including making speeches in the course thereof), management of campaigns, or debates, either on one's own behalf or on that of another, without respect to uniform or inference or appearance of official sponsorship, approval, or endorsement. Participation includes more than mere attendance as a spectator.

And it says that service-members shall not:

4.1.2.5. Speak before a partisan political gathering, including any gathering that promotes a partisan political party, candidate, or cause.

4.1.2.6. Participate in any radio, television, or other program or group discussion as an advocate for or against a partisan political party, candidate, or cause.
It would seem that Thorsen's actions are a flagrant violation of the regulations, and one military law specialist agrees
"My immediate reaction, upon watching Congressman Paul's event, was that the soldier in question was in flagrant violation of department of defense regulations," said Eugene Fidell, who teaches military justice at Yale Law School. "Lord knows there are people in the military, as in the rest of American society, who have very strong feelings about who is elected president. But the tradition is the military stays out of partisan politics."

The issue wasn't necessarily showing up in uniform; it was speaking out at a partisan political gathering. "If he was on active duty, it wouldn't matter if he was wearing a Santa Claus costume or his birthday suit," said Fidell. "Wearing the uniform only makes it worse."
One would have thought someone on Paul's staff, or Thorsen himself, would have known better.