Same-Sex Marriage Advances In Arizona, Will Come To Wyoming By Monday UPDATE: Make That Wyoming By Today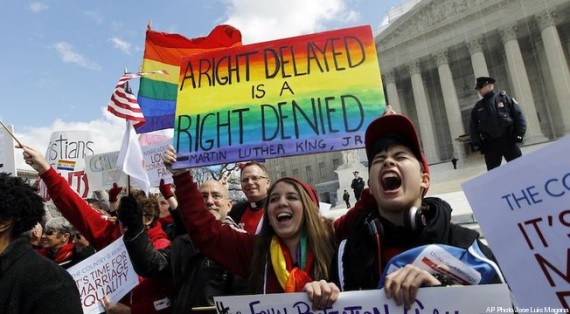 This morning, a Federal District Court Judge in Arizona struck down that state's ban on same-sex marriage, and the nation gained its 31st state where same-sex marriage is recognized:
PHOENIX — A federal judge has cleared the way for legally recognized gay marriages in Arizona by ruling that the state's ban on same-sex unions is unconstitutional.

The ruling Friday by U.S. District Judge John Sedwick bars state officials from enforcing a 1996 state law and a 2008 voter-approved constitutional amendment that outlawed gay marriage.

Sedwick said in his ruling that because the 9th Circuit Court of Appeals had already ruled against gay marriage bans in Nevada and Idaho, he did not need to give a lengthy reason for his ruling and was bound by the appeals' court decision

"A stay of this decision to allow defendants to appeal is not warranted. It is clear that an appeal to the 9th Circuit would not succeed. It is also clear … that the High Court will turn a deaf ear on any request for relief from the 9th Circuit's decision," Sedwick said.

Sedwick, who was nominated to the federal bench in 1992 by President George H.W. Bush, ordered the state to "permanently cease" its ban on gay marriage and declined to stay his order.

The Arizona decision came after the 9th Circuit Court of Appeals ruled on Oct. 7 that gay marriage prohibitions in Nevada and Idaho violated the equal-protection rights of same-sex couples.
As with the weekend decision in Alaska, this is entirely unsurprising. The Ninth Circuit's ruling on this matter is binding in Arizona and a decision to the contrary would have been reversed in fast order, with any Judge who did so being subject to a sharp rebuke from the Circuit Court Judges. After the decision, Arizona's Attorney General announced that the state would not be appealing the decision because any such appeal would be fruitless, and he instructed County Clerk's across the state that they could begin issuing marriage licenses to same-sex couples immediately.
In other news, the Supreme Court has denied a request from Alaska to stay the effect of the decision issued last weekend, which was the expected outcome given how they handled a similar request from Idaho last week. Additionally, the Federal Judge in Wyoming said that he would issue a ruling on the challenge to that state's law by Monday. Since Wyoming is  a Tenth Circuit state, and that court has also ruled that state bans on same-sex marriage are unconstitutional, the outcome there is also foreordained and, the Governor has already said that the state would not be appealing the inevitable ruling striking down the law.
Update: The Wyoming decision came in early and, as expected, that state's ban has been struck down. Of the states in Circuits where same-sex marriage is already the law, that leaves Montana, Kansas, and South Carolina on the block. Expect those bans to fall soon too. Meanwhile, we are still awaiting a decision from the Sixth Circuit Court of Appeals on the cases it heard in August 6th involving marriage bans in four states.