Sanders as the Democrats' Trump
The similarities are rather obvious. But the differences matter.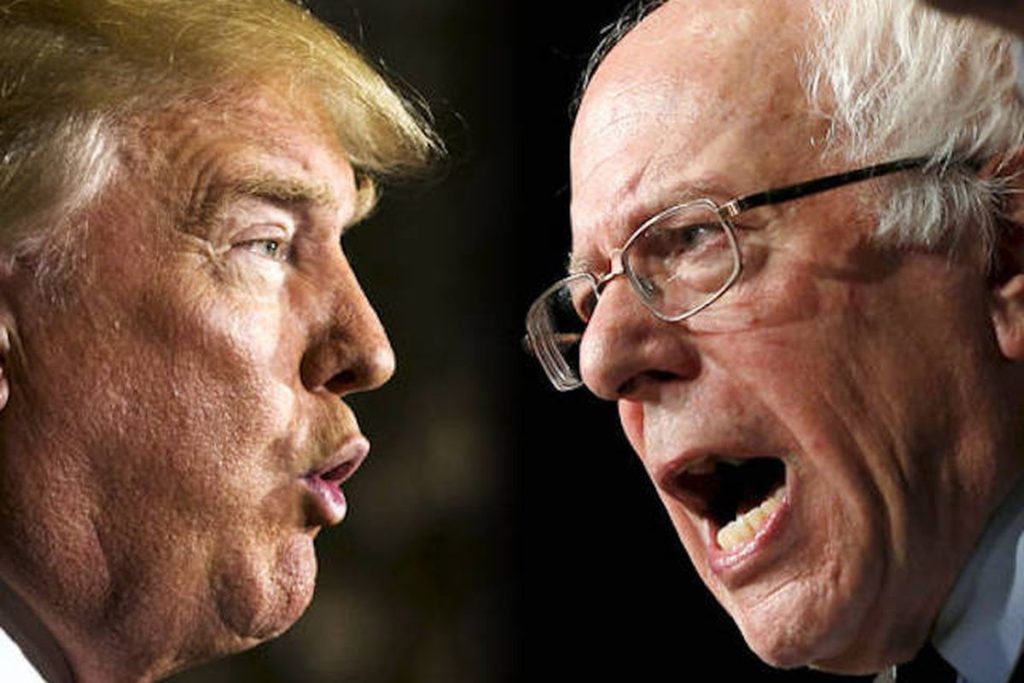 Two #NeverTrump Republicans have columns out attacking the Democratic frontrunner, invoking the obvious comparisons to President Trump.
David Brooks ("No, Not Sanders, Not Ever: He is not a liberal, he's the end of liberalism."):
I've just watched populism destroy traditional conservatism in the G.O.P. I'm here to tell you that Bernie Sanders is not a liberal Democrat. He's what replaces liberal Democrats.

Traditional liberalism traces its intellectual roots to John Stuart Mill, John Locke, the Social Gospel movement and the New Deal. This liberalism believes in gaining power the traditional way: building coalitions, working within the constitutional system and crafting the sort of compromises you need in a complex, pluralistic society.

This is why liberals like Hubert Humphrey, Ted Kennedy and Elizabeth Warren were and are such effective senators. They worked within the system, negotiated and practiced the art of politics.

Populists like Sanders speak as if the whole system is irredeemably corrupt. Sanders was a useless House member and has been a marginal senator because he doesn't operate within this system or believe in this theory of change.

He believes in revolutionary mass mobilization and, once an election has been won, rule by majoritarian domination. This is how populists of left and right are ruling all over the world, and it is exactly what our founders feared most and tried hard to prevent.

Liberalism celebrates certain values: reasonableness, conversation, compassion, tolerance, intellectual humility and optimism. Liberalism is horrified by cruelty. Sanders's leadership style embodies the populist values, which are different: rage, bitter and relentless polarization, a demand for ideological purity among your friends and incessant hatred for your supposed foes.

A liberal leader confronts new facts and changes his or her mind. A populist leader cannot because the omniscience of the charismatic headman can never be doubted. A liberal sees shades of gray. For a populist reality is white or black, friend or enemy. Facts that don't fit the dogma are ignored.
There's quite a bit more but that's the gist.
Michael Gerson ("No, Bernie Sanders isn't authentic. Just like Trump.") makes perhaps a better version of the argument.
I'm not contending that the moral character of the two men is comparable. Sanders's is clearly superior, though this is clearing only an ankle-high bar. But both men have benefited from a certain definition of political authenticity that allows them — no, encourages them — to be unpleasant, ill-mannered loudmouths. The identification of authenticity with incivility and spontaneity is one of my pet peeves. And now my pet peeve has blossomed into a crisis of democratic values.

It is worth noting, first, that speaking your mind without filters is not a sign of political authenticity; it usually indicates a basic lack of respect for others. In almost any human interaction other than politics, Sanders's outbursts on the debate stage would be taken as a sign of general jerkness. For Trump, such gracelessness is a lifestyle. Filtering out the worst of ourselves — demeaning language, crude insults, pushy interruptions — does not hide who we really are. It shows the kind of human beings we want to be.

There is a type of communication that seeks to change minds or clarify important differences. And there is a type of communication intended to establish dominance. The former is essential to self-government. The latter is more appropriate to professional wrestling matches and Trump campaign rallies (but I repeat myself). This is not merely a matter of style. Attempting to persuade someone — even when the source of disagreement is deep — involves the affirmation that they are worth persuading. Shouting someone down is the denial of their dignity.
There's quite a bit more but, again, that's the gist.
It's why, despite having very similar ideological and policy platforms, I would vastly prefer a President Warren to a President Sanders. Even though her temperament and skills would, perversely, make it more likely that she got policies I dislike enacted, she would steer the ship of state in a far less divisive direction. In many ways, Sanders is indeed just a leftist version of Trump.
Now, unlike Brooks, I'm almost certain to vote for Sanders if he's the nominee. While I think they're both jerks, I agree with Gerson that Sanders is a better human being. And, while they're both headstrong and resistant to changing their minds when presented with new evidence, Sanders does surround himself with better people.