Sanders Endorses Biden
A much-needed call for unity.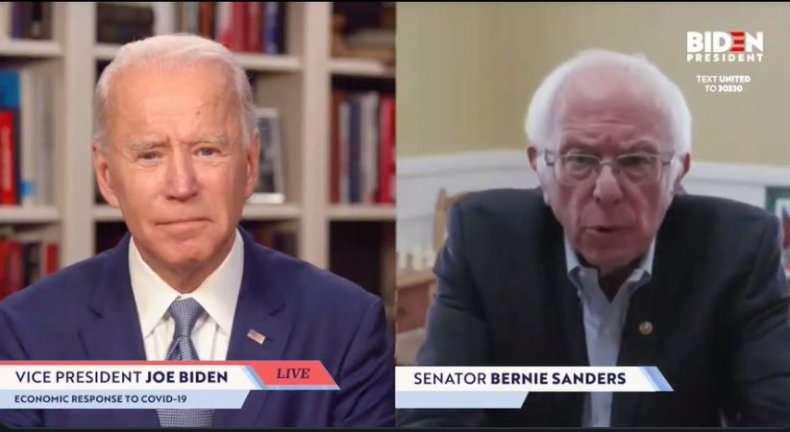 After waiting too long to quit a race he had no chance of winning, the Vermont Independent is quickly trying to heal the party he won't join.
WaPo ("Bernie Sanders endorses Joe Biden, saying Democrats 'have got to make Trump a one-term president'"):
Sen. Bernie Sanders, the independent senator from Vermont who ended his White House bid last week, said Monday that he is endorsing former vice president Joe Biden, the presumptive Democratic presidential nominee.

Sanders made the announcement on a live stream hosted by Biden examining the country's response to the coronavirus pandemic.

"Joe, I know that there is an enormous responsibility on your shoulders right now, and it is imperative that all of us work together," Sanders said on the live stream.

Biden responded: "Your endorsement means a great deal. … I look forward to working with you. And I am going to need you badly."

"You've refused to accept that we can't change what's wrong in our nation," Biden told his former rival, adding that Sanders doesn't "get enough credit" for being a voice that forces Americans to take a look in the mirror and examine whether they are living up to their ideals.

Despite a hard-fought primary battle, Sanders's endorsement of Biden was not a surprise: Both candidates' teams had been in touch in recent days to work on "how we can best go forward together," Sanders said last week.
POLITICO ("Sanders Endorses Biden") adds:
Bernie Sanders endorsed Joe Biden on Monday during a surprise appearance on the former vice president's livecast.

Sanders, who formally suspended his campaign last week, said he needed everyone in the United States – not just his supporters – to back Biden and make sure that Donald Trump becomes a one-term president.

[…]

Sanders said "it's no great secret" that they've differed on policy and they're not going to ignore it. Instead, he said, the two campaigns have been talking for weeks and are setting up task forces to examine policy areas where the two sides of the Democratic Party can come together.
While some of Sanders' more hard-left supporters may be slow to come around, most observers fully expected this from Sanders. By most accounts, he and Biden had a warm relationship going back to their days in the Senate together.
Some interesting observations from Twitter along those lines:
And an interesting twist:
Which, incidentally, would seem to indicate that, while Biden is going to pick a woman as his running mate, it's not going to be her.